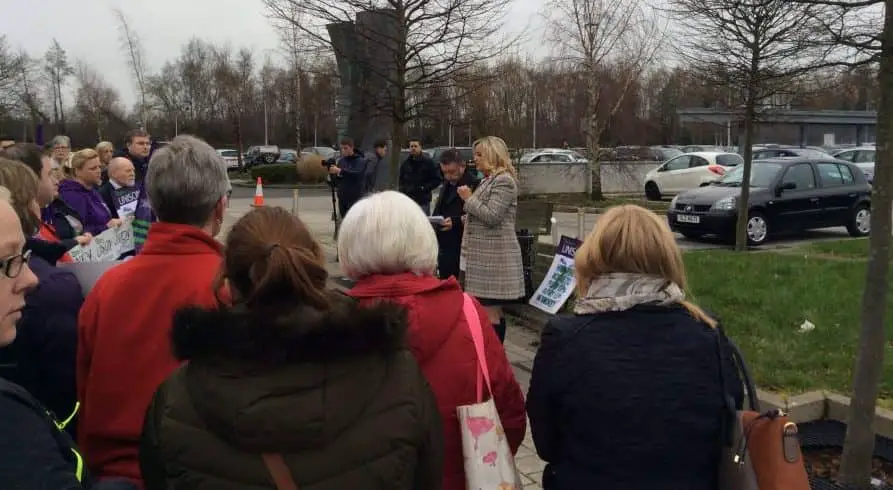 An emergency meeting was facilitated in Craigavon Civic Centre at the behest of Ulster Unionist councillors who have been desperately concerned at the unfolding situation in Bannview Medical Practice in Portadown.
Alderman Arnold Hatch, Cllr Julie Flaherty and Cllr Sam Nicholson met with Dr Sloan Harper, Dr Pat Brolly, Shirlie Murtagh and Dr Phillip Lusty who represented the Board and Trust.
In what was a very constructive meeting, the local representatives were informed of the latest plan to stabilise Bannview Medical Practice.
The Southern Trust have agreed to take over the practice with immediate effect.
Cllr Julie Flaherty said: "This is a new initiative for the Board-we hope it delivers for the patients and staff of this practice who have been so worried over the last number of months.
"We would like to reassure those 5200 patients that a safe service is being provided, triage services will be fully informed at all times and most importantly they have given an assurance that letters will be sent to every patient informing them of recent changes. Communication has been very poor of late, leading to much confusion and worry."
Alderman Hatch commented afterwards: "Provision of community services including GP services is under greater pressure than ever."
The terms and conditions of GP contracts make it more attractive for young GPs to be locum practitioners, leaving it more likely for locums to be managed by the Board in future.
"The days of the family GP practice are changing."
News of some stability for the patients of this practice is welcomed but never the less, a number of concerns remain.
Concluding Cllr Flaherty added: ""The fact remains that the sooner a full time GP contractor is found for this practice the better.
"This is not a problem isolated in Portadown-this GP crisis is being replicated all over Northern Ireland, due in part to a lack of forward planning in General Practice.
"This is not the end of this ever unfolding story in local health care."
Cllr Nicholson does share some concerns regarding pressures GPs in Armagh are already under.
Forward planning by the Board and Department of Health need to come together to address this province wide issue.
Cllr Nicholson added: "I was encouraged to hear that there are plans for moving forward, and we will continue to work closely with the Board to press for a permanent solution.
"The current political impasse has the potential to delay the implementation of the strategic plans for the future of local healthcare outlined in the Bengoa Report."
Read more news:
Community stunned as woman 'murdered' yards from school
Murder investigation launched after woman's body discovered
Department of Infrastructure respond to Armagh parking ticket furore
Thieves ransack elderly lady's home in 'callous' attack
Armagh arson attack 'could have had a tragic outcome'
Police raid suspicious building in south Armagh but it wasn't what they expected
Stolen vintage tractor spotted; owners believe it could be in Armagh area
Sign Up To Our Newsletter