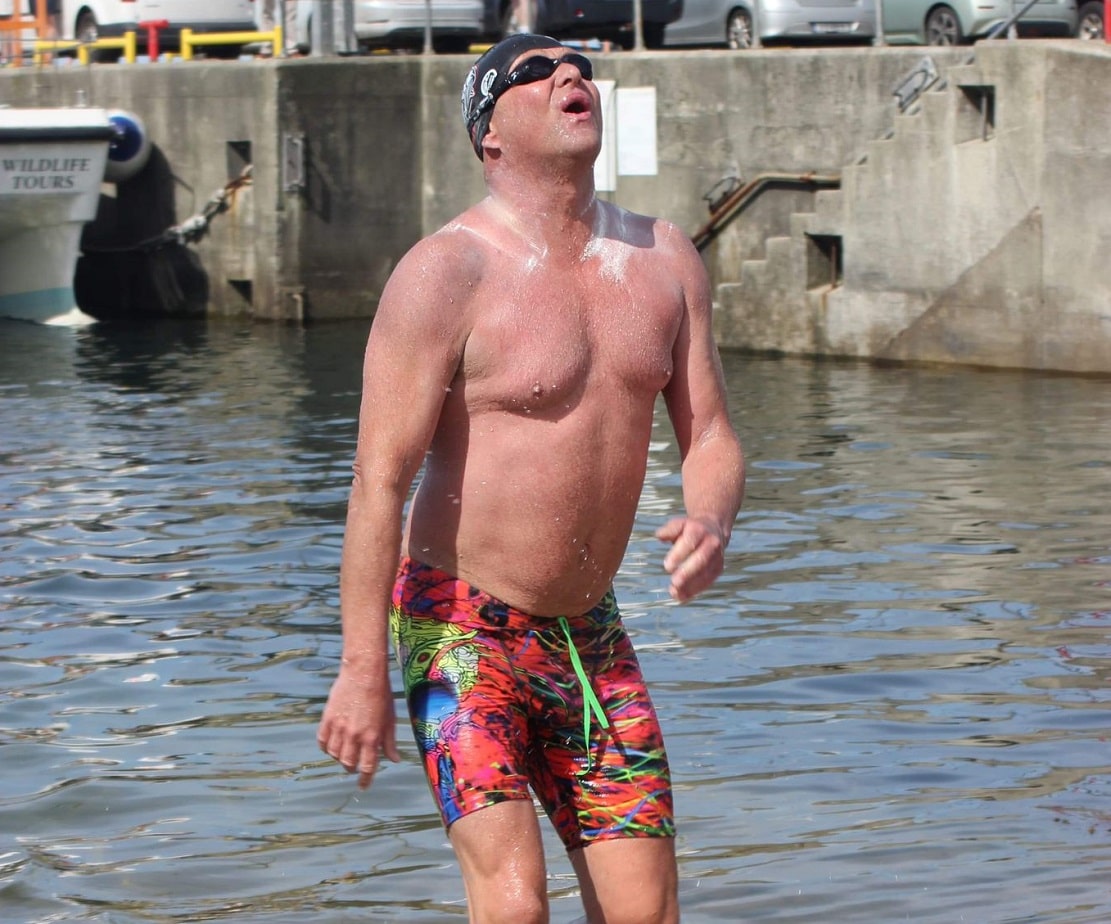 A Portadown swimmer has recounted his proudest achievement in the sport and how he was able to keep positive and reinvigorate his career – despite suffering from a heart attack.
Chris Judge, who last year became the first man from Northern Ireland to complete the Irish triple crown of open water swims, suffered a heart attack back in February – just weeks before his 41st birthday – putting his career on a hold for six months.
Despite going through what he describes as "probably the most challenging time" in his life, Chris says his swimming career is now busier than ever, with plenty of races coming up in the pipeline!
The recovery didn't come overnight however, as for even the hardiest of swimmers like Chris, building back isn't always a walk in the park, or should be say a swim in the pool.
And Chris is the first to admit that recovery was "really hard".
Speaking to Armagh I, He explained: "When I had big swimming events and big goals, I could be swimming eight to nine hours a week. Then I had to strip that right back to one hour a week and build it up slowly.
"I would be swimming in the top lane of the pool. Then I had to go right down to the bottom lane and swim really slow.
"I had three stints in the hospital over six months, when the thought I'd took another one and then they thought I had a blood clot. Thankfully it all came back clear."
A father of three young children, Chris says that this time was even tougher on them too.
"Young kids look at their daddy and think he's superman…but then they're coming in and seeing him hooked up to a heart monitor. They were difficult times but thankfully I'm feeling good and feeling strong again."
Since then, Chris has been, slowly but surely, renewing his love for the sport and has been assisted other young swimmers in realising their dreams.
As the founder of Lough Neagh Monster Dunkers, he has been training a four-person relay team aged between 13 and 17, to swim the length of the Lough, with the aim of being the fastest and youngest relay team to ever complete the swim.
With the issues of algae in the Lough however, this dream proved to be a no-go. They did however, manage to complete a swim in Upper Lough Erne in Co. Fermanagh, swimming around 38,000km in the Lough.
He also support swam Jessika Robson (17), who not only is a member of the relay team but also this year became the youngest ever swimmer to solo swim the North Channel.
Said Chris: "After the heart attack, she asked me if I would support swim her. I knew I wouldn't be 100% for her but I could jump in every three hours and do one hour with her.
"It gave me motivation to get back and do rehab and get myself back to some sort of fitness."
Alongside the coaching, Chris has taken part in a number of smaller-scale swims, with a few podium places under his belt too, including a second place in the Lord and Lady of the Lake 2.5km race at Camlough Lake.
"I also did one in July starting in Omeath and swimming to Warrenpoint and back. I came second in that as well. And that's a quiet year!
"I'm hoping next year to get a few more marathon swims in. The North Channel is 40 km but maybe we'll just taper down a bit and stick to the tens and fifteens."
On the origins of his swimming career, Chris says he grew up in a swimming background, with his dad competing as an Iron Man triathlete in the 1980's.
Said Chris: "There were only two or three in Ireland at the time, so we always had that somebody to look up to."
Chris swam for a number of years but admits he eventually got a "bit of a sickner" and quit swimming in favour of other sports, like football.
After getting back into swimming at the age of 23, Chris says his turning point was when he decided to try out open water swimming at 24, which he described as a "new world".
He explained: "It's like someone opened up a new door. It was unbelievable, I've never felt anything like it. Then, after two years of just entering small races, I started to feel like if I trained a bit harder I could do OK at it."
Chris then boosted his training regime and eventually fifth and sixth places began to turn into podium places, which eventually turned into first places.
"It's a strange feeling. If you ask anyone that does cold water there's a sense of euphoria and buzz about after it.
"After my first real good open water swim, I had never felt anything like it before in my life from training. I remember driving home after it and I couldn't stop smiling and thinking: 'Yeah, this is for me'.
Chris attributes the onset of eyesight problems as to why he was unable to go back to playing football and GAA.
"You lose a lot of co-ordination, so that sort of forced me back into the swimming, but in a way, when one door closes, another one opens and that's how the open water opened for me," said Chris.
The growth of his swimming career eventually led Chris to what he describes as the proudest achievement in his life – the 25 mile North Channel swim from Northern Ireland to Scotland.
Chris completed the 'hardest swim in the world' in September 2017, becoming the 52nd person in the world to have achieved the feat.
Recounting the day, he said: "It was a real fight. There were three people went out that day to attempt it and I was the only one that finished it.
"I was absolutely stung from head to toe and I had wrecked my shoulder five hours in. To finish that was a massive achievement.
"You're just living in a dream world for months after…. But I wouldn't do it again!"
While Chris isn't taking part in quite the same level of swims now, he still has his hands full, being the chair of a swimming club at South Lake and with the Lough Neagh Monster Dunkers seeing hundreds of applicants on a weekly basis.
He's also aiming to complete Ireland to the Isle of Man with his six-man relay team – the Oa Giants – next September, along with "two or three marathon swims myself".
The Oa Giants themselves are record breakers, having completed at the time the fastest relay crossing of the North Channel in August 2020.
A week later, they became the first relay team to swim between Scotland and the Giant's Causeway – a 17 hour swim.
Said Chris: "Relay is a massive team effort, because there's six swimmers and the two crew on the boat. There's a lot of safety involved. People think you just get in and swim, but no, you need a whole team behind you."
Lough Neagh Monster Dunkers, who have produced a ream of swimming talent,  have even been nominated for an award from the Irish Long Distance Swimming Association in Kerry in November, with a number of their swimmers hoping to be recognised for their achievements. 
Added Chris: "I'm really really proud. I founded that group myself and the achievements that have came from the group in like six to seven years is phenomenal.
"That all stems from my North Channel in 2017. I feel that was my platform to go on."
Sign Up To Our Newsletter