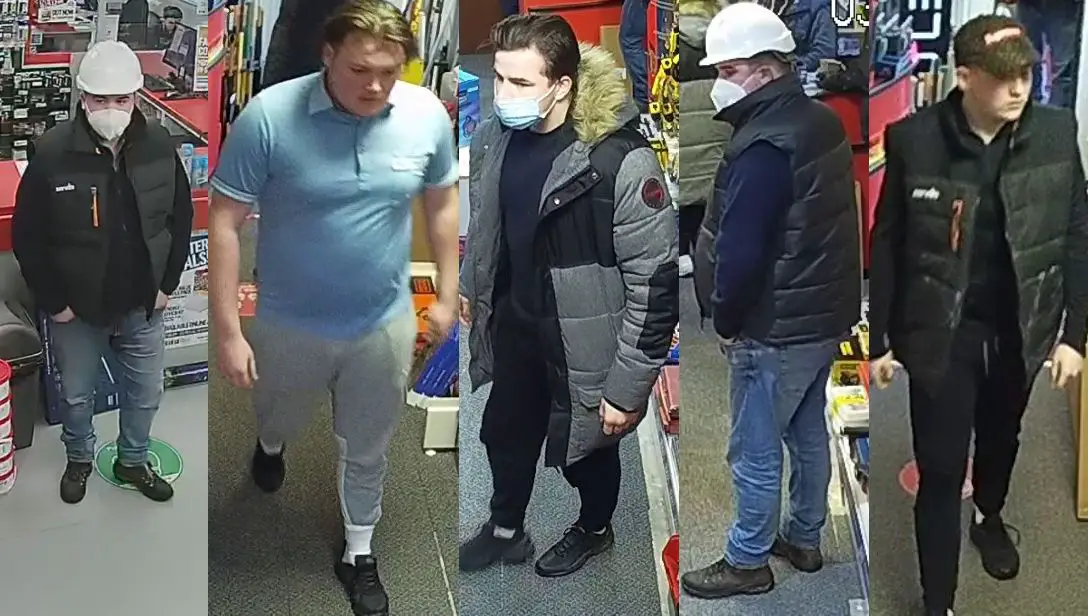 Police have released images of five suspects wanted in connection to a series of hardware thefts in Lurgan, Portadown and Lisburn.
These individuals were captured on CCTV stealing tools to the value of over £2,000 from various locations on October 20, this year.
The images were broadcasted on BBC Northern Ireland's Crime NI as police appealed for anyone who has information on the men featured in the CCTV to please come forward anonymously to CrimeStoppers.
Police have further provided descriptions of each suspect:
Male 1 – early 20's slicked back brown hair, 5'10", medium build. He wore grey and black puffer coat with fur trimmed hood, black trousers, black trainers, white socks.
Male 2 – early 20's, clean shaven 5'7", medium build. He wore a Scruffs body warmer (black on top, grey on bottom,), black trouser, black trainers, peaked dark patterned cap "Supreme" logo in white text on red background, black long sleeved top under body warmer.
Male 3- early 30's, heavy set, 6'. Wore Scruffs body warmer (black on top, grey on bottom), light blue jeans, dark work boots, black jacket under body warmer
Male 4 – mid-20's, greasy brown hair, overweight 6', clean shaven. Wore a light blue polo shirt, grey jogging bottoms, black trainers, long white socks.
Male 5 – large build, 5'8", brown hair. Wore black trainers, dark blue jeans, dark blue T-shirt, black Puffer coat with hood and red logo on left arm, white face mask.
Sign Up To Our Newsletter