Despite having been diagnosed with Spina Bifida at birth, 17-year-old Kingston Bryars is determined to not let his condition hold back his desire to achieve his ambitions.
Kingston is from Portadown and volunteers during the week with the Portadown YMCA, which he became involved with back in 2018.
He is also a Northern Ireland international Powerchair Footballer, with three caps under his belt so far.
Kingston has faced many challenges, obstacles and barriers. He struggles to travel short distances in his local area due to poor roads and infrastructure. He also does not attend mainstream education and cannot use public transport independently. He is often excluded from social activities and opportunities for social development.
Despite these circumstances, Kingston does not allow these barriers to derail his aspirations to collect some outstanding achievements and to contribute positively to society.
Kingston is driven in achieving his goals and wants to be an advocate for change in order to make society a more inclusive place for wheelchair users, something which he has already done in his local area.
He explained: "I was out and about and had a few incidents falling out of my chair and I had enough. I contacted my local MLA, Jonathan Buckley, and met up with one of his colleagues…. I took him around the roads and said that this needs to change for wheelchair users."
Kingston endeavours to be a champion for wheelchair users in other areas too, something which he has already achieved in the sporting arena!
An avid football fan, Kingston wasn't going to allow his condition to keep him away from the sport he loved.
"I've been playing wheelchair football for nine years now and at the start, I was thinking I would never be able to play for my country or play football. I said to my dad that I wanted to play football and he looked it up and found a team called Lightning Powerchair Football.
"I joined them and nine years later I am representing my country. I have three caps and three medals. Second in two of them and fourth in one of them. I also have three international goals, so I'm very proud of myself," he said.
"It's like a second family. I'll be playing the sport till I die."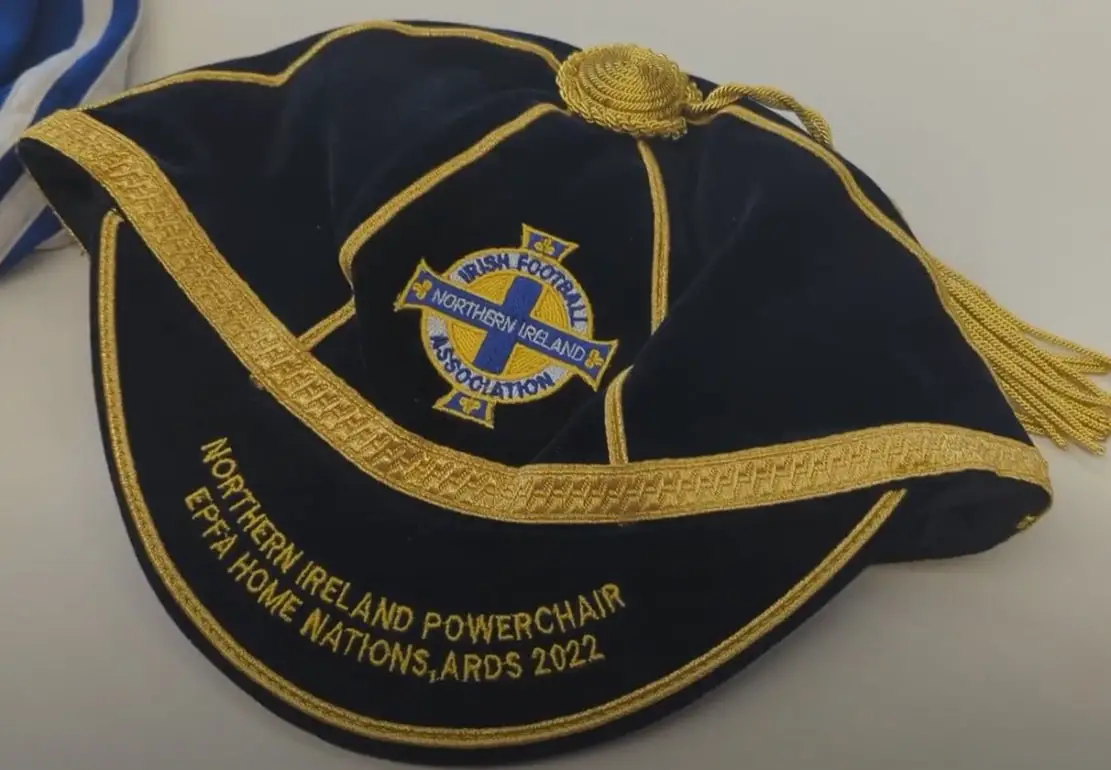 Outside his sporting life, Kingston is passionate about the Portadown YMCA and hopes to eventually become a youth worker within the organisation.
"It's improved my mental health and made me come out of my comfort zone. Before I started, I was very shy but I said to myself that I want to do more and I don't want to be a person who hides away and sits in the house.
"So I found the YMCA and came down. The first night I was a bit shy and then the second night came and I loved it. The leaders are amazing. They're so confident and they try to help if you're having a bad day."
For Kingston, the YMCA has been a real confidence-booster, even leading him to get involved in a charity stay-awake to raise funds for the group.
Said Kingston: "Me being a wheelchair user, I thought I wouldn't be able to do it and I would have to call quits and go home early. But I stayed awake and stayed in my chair and I thought to myself that it was a challenge, but I completed it."
In his bid to become a youth worker, Kingston currently volunteers at the YMCA, which he says he "absolutely loves".
"I supervise the kids and interact with them and keep them right. If they're having a bad day, I just talk to them and see how they are and try to solve the problem.
"One of my goals is to become a youth leader to help the young ones through their lives."
Kingston's chief aim in his work is to prove that just because he is a wheelchair user, it doesn't mean that he is incapable of taking on new challenges. This extends to his education, with Kingston determined to eventually sit his GCSE exams, something which the school he attends does not offer.
He said: "I don't understand why the school doesn't give the GCSEs because in my eyes, I think it doesn't matter if you have special needs or not."
For the future, Kingston wants to see more organisations offering provisions for those with special needs.
"Sports wise, I think everyone should have to option to have a go at what they want. Organisations like the IFA and the Rugby Association and others should all have a wheelchair-accessible game. If some of them don't, they should start getting their thinking caps on and put together a team.
"Everyone should be able to have a go. It doesn't matter if you have a disability or are in a wheelchair."
Sign Up To Our Newsletter