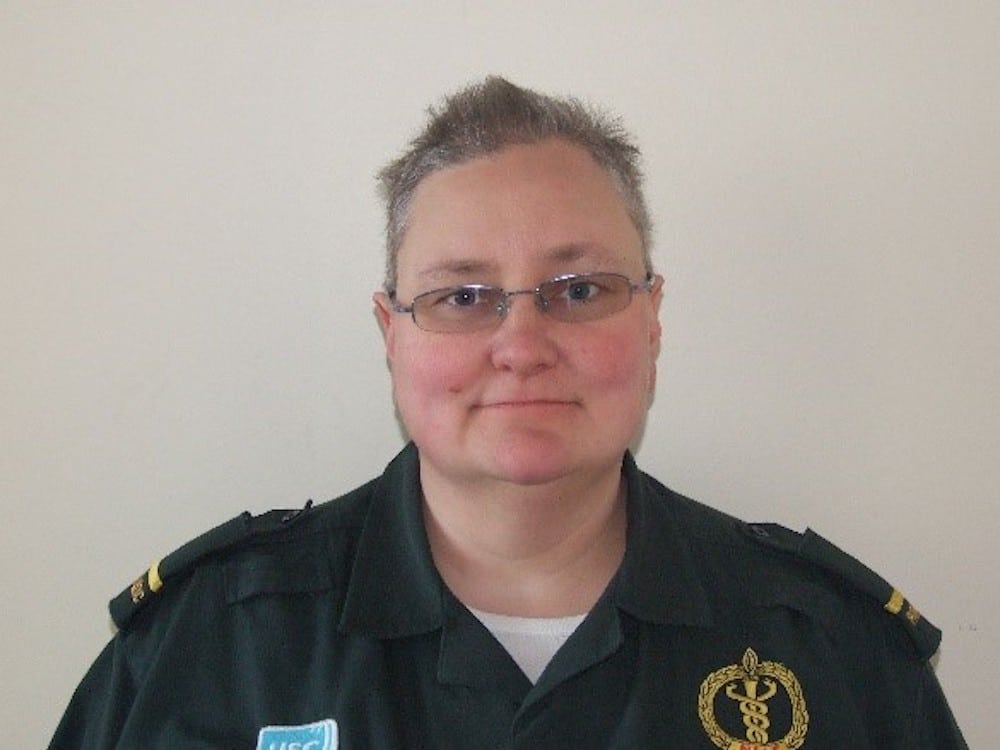 Tributes have been paid to "fun loving" paramedic who lost a brave battle with cancer on Monday.
Tanya Hazley was just 44-year-old.
The Northern Ireland Ambulance Service today paid tribute to Tanya, who joined the service in December 2008 having worked for a number of years as a Staff Nurse at Craigavon Area Hospital, as a lady who had a desire to help others.
Mark Cochrane, Southern Area NIAS Manager, was a personal friend to Tanya and he visited her on her death bed for a final farewell on Monday.
"Tanya's life was all too short," explained a heartbroken Mr Cochrane.
"Those who work in this profession will be familiar with that scenario – but it also allows us the privilege of being able to make a difference to the lives of others.
"Tanya spent her working life doing just that, whether through nursing, or in her role with the ambulance service.
"She was a strong, outspoken and kind individual who will be greatly missed, in particular by her colleagues at Dungannon Station, but also by all of us who had the privilege of being part of her journey through life."
Tanya was initially assigned to a paramedic-in-training post at Dungannon Station and, after qualifying as a paramedic in April 2010, she remained in Dungannon, but could regularly be found working in other stations across South Division and indeed, further afield.
Mr Cochrane added: "Tanya's desire to help people was also evidenced in her private life, where she was an active volunteer with St John Ambulance.
"Her hobbies were wide and varied and reflected Tanya's outgoing personality and passion for animals. Perhaps the best example of this was her involvement in the hobby of sled dog racing.
"Even during the early part of her illness, Tanya could be found participating in events across Ireland with her husky dogs which, along with her cats, were undoubtedly the love of her life.
"As her health deteriorated, her beloved dogs were rehomed, but Tanya's love for her animals was such, that she has made provision for them to be cared for as they live out their life with a local rescue centre."
Throughout her career, Tanya faced several challenges with both her physical and mental health.
Said Mr Cochrane: "She was always very open around these issues and she used her experiences to help support others facing similar challenges.
"In August last year, during her recovery from a knee operation, she embarked upon her biggest struggle to date when she received a cancer diagnosis.
"In typical style, Tanya was very open and honest about the gravity of her situation, but faced the challenge with an extremely positive attitude.
"Despite many offers to provide her with transportation to and from appointments, she always declined, choosing instead to make her own way to Belfast and have her Dad come and drive her home. Her determination to return to the career she loved was always evident, right up to the past few days when she had reluctantly accepted that there was to be no improvement.
"After a short spell in hospital, she returned home last Thursday where she was looked after by her Dad and a team of Carers. It was important to Tanya that she was at home as she came to the end of her life.
"I had visited Tanya just a few hours before she passed away. During that visit, her fun loving character was very clearly on display.
"She joked about the size of the antibiotic tablets she had been given, suggesting she wasn't quite sure in which bodily orifice they were meant to be placed.
"At one point, her dad remarked that Tanya had always had a great deal of respect for me – I looked at Tanya, we exchanged a knowing glance, and she laughed out loud!"
Tanya was beloved daughter of Sidney and the late Vronwyn.
Sign Up To Our Newsletter