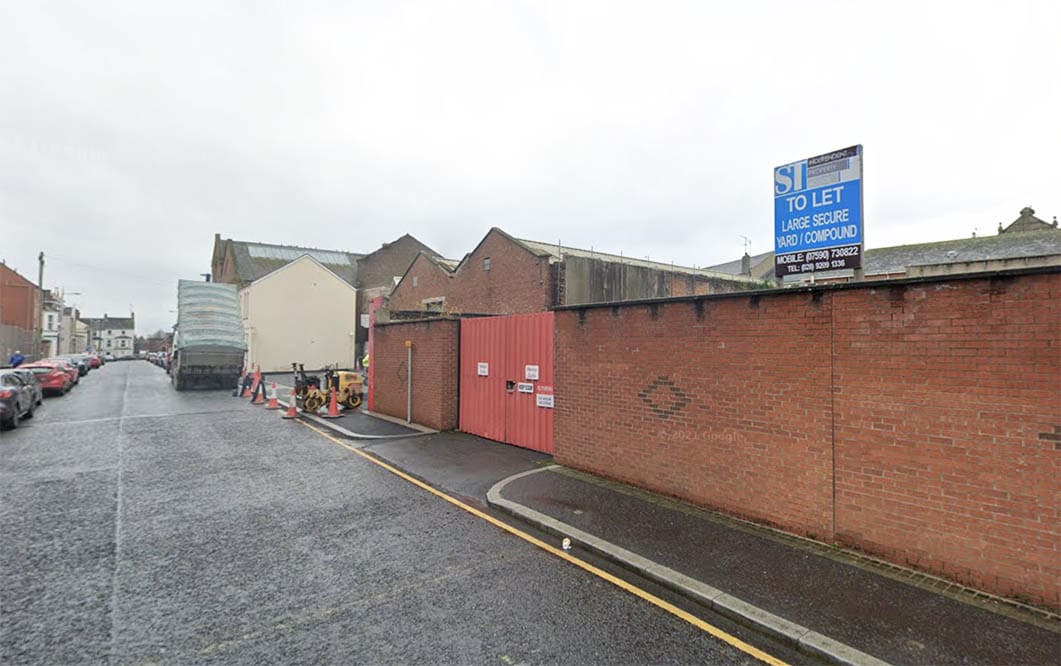 Plans to build a new four-storey apartment block in Portadown are to be recommended for approval next month.
The development would be located on one of the town's most historic streets on a site currently described as being in a "dilapidated state".
Edward Street is home to two listed buildings – the old Town Hall, which dates back to 1890, and Carnegie Library, another throw-back to Victorian times – as well as other structures of note.
This application would see the demolition of the premises at 14A Edward Street and building on what is currently described as a "brownfield site"; the site forms part of a terrace of buildings which front on to Edward Street. It borders an open yard to the rear which links on to Thomas Street.
The proposals – drawn up by SHC Property Ltd for a site directly opposite the police station – were first revealed by Armagh I in February of last year.
The original plans had been for 14 apartments to be built with new office accommodation on the ground floor level.
However, an amended scheme came forward in September which dropped the office element of the plans.
Instead, the applicant was seeking permission for a four-storey block comprised entirely of apartments. As such, the proposals were for a total of 17 units – three more than the original – and all with one-bedroom.
The development promises a communal amenity area – in the form of a landscaped courtyard – at first floor level. And there would be a small terraced area at third floor level too.
The apartments would benefit from a disabled lift access to all levels and there would be bin and bike storage area to the rear.
According to papers submitted with the proposal the development would be a major asset and boost for the area if approved.
An in-depth accompanying statement to planners says: "The current building on site is in a rather dilapidated state having been vacant for some time.
"The proposed development will replace this with a new sensitively designed building which will provide a significant improvement to the streetscape and introduce new uses which will add vibrancy and footfall to this location."
It says it will take account of "adjoining uses, design styles and materials" in the area.
The statement adds: "Glass is used extensively, particularly on the front elevation, to tie in with the existing streetscape and reduce massing.
"The northern elevation has been set back to respect the neighbouring residential property and reduce the appearance of scale and massing."
A parking survey has also been carried out and presented to planners who have been considering it as part of the determining process.
It says the site currently contains a two-and-a-half storey retail/office building which has been "unoccupied for some time".
It states: "The application site is in town centre of Portadown, with a mix of units fronting on to Edward Street Road.
"In general, parking is provided on street to serve all users. A variety of parking restrictions exist on Edward Street, permitting parking in some locations, prohibiting it by way of double yellow lines in others. Single yellow lines permit parking in evenings, overnight and on Sundays."
And the survey adds: "The proposed residential uses make better use of the on street parking. The main demand for parking in the town centre is during the day, when businesses are open.
"The existing retail/office would add to this demand if it became reoccupied. Removing this building will reduce daytime demand, and the residential use is a lower overnight demand, when there are more parking opportunities due to the availability of parking on single yellow lines."
It further states: "The development proposal will reduce demand for parking by a third, from a maximum 30 spaces for the current retail office building, to a maximum of 21 spaces for the proposed 17 apartments.
"This report has confirmed the demand for residential parking will be nowhere near this level, with over 70% of existing
apartment occupants in this location not needing access to a car."
Planners are now of a mind that the proposals should be approved.
And that is the opinion that will be given at the November planning committee meeting.
Of course, as always, it will be up to councillors to decide whether or not to endorse that recommendation to enable works to proceed.
Sign Up To Our Newsletter