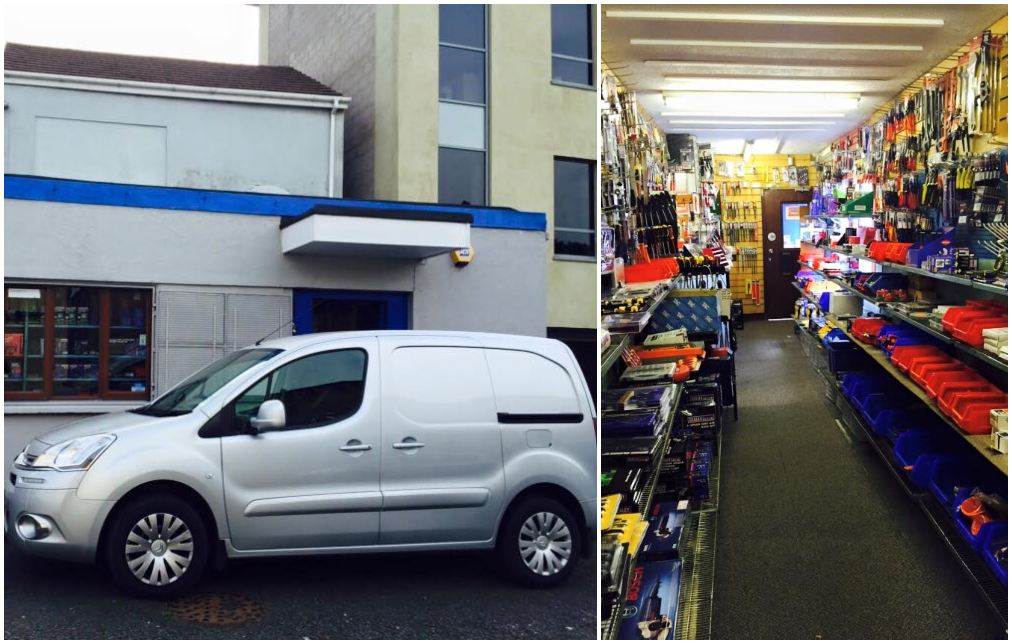 A family have been left "shaken" after a gang robbed their Portadown tool store and made off with equipment to the value of around £3,000 earlier this morning (Wednesday).
The incident occurred at ML Tools on Goban Street at around 10.45am.
The store is owned by husband and wife, Robbie and Terry Nellins, along with their sons Sam and Jordan, who were working at the time of the robbery.
Speaking to Armagh I, Sam said that from viewing the CCTV he believed that the crime was "well organised" and "clearly planned".
"It was well timed, my brother was in the office; I had gone into the office to price something and my uncle was on the shop floor but he was dealing with customers," he said.
"They knew where our blind spots were in the moment but they were not bothered by the cameras because we have full view of them."
Five men in total were involved in the robbery, three of whom were wearing face coverings and one, a white hard hat.
Sam said: "The fella with the white hard hat was the one who came in looking like a genuine typical person coming into our shop, in fact nothing was thought of him until we viewed the CCTV because he didn't take anything.
"He appeared to be a distraction but he was also the shot caller. I noticed in the footage, he was the third in and you can see him motioning out the window as if to tell the other two not to come in just yet."
From the CCTV, Sam explained that the final two could be seen walking up and down the street waiting to enter.
The whole incident lasted roughly four and a half minutes in total with the group making off with around £3,000 in tools.
Sam stated: "They went for the dear stuff, they knew what they were grabbing.They went straight to the Milwaukee stand, that is one of the premium brands, and then to the DeWalt stand, which is just as premium.
"They made away with four different drills with batteries attached, a few hand tools and also other stuff which we haven't noticed yet."
Admitting to being rattled by the incident, he said: "I calmed down when I was giving my statement, but I am a bit shaky again because now my head is thinking 'what if I confronted them'. Two of the lads were quite big.
"To my understanding we are not the only ones today. It the last thing you expect but they really were hiding in plain sight, it just didn't click but if it had of been another minute it could have been so different."
Sam said he cottoned on as the last of the group left, but was glad he did not have the opportunity to confront them not knowing if they had any weapon, or were close enough to grab one.
Terry – Sam's mother – told Armagh I: "I have always told the boys not to try and intervene, it is not worth life as I say. Robbie [husband] took the phone call from my son, all I heard was him saying 'you've been robbed' and my first instinct was are they okay."
Admitting to been affected herself by the incident, she added: "They are definitely shaken, they are only young lads in their twenties, they have never experienced anything like this.
"They have been robbed on a smaller scale but this was something different, this was a gang."
Meanwhile, talking from the scene, Robbie confirmed that there was clear footage of the culprits, that forensics were on their way and that he believed others would be targeted.
He said "It just happened to be coincidental that I had went to do a delivery at the Deluxe Group and I had just happened to mention that I had to get back to the shop because it had been robbed.
"The said they had literally chased a group out of their premises earlier that monring, one of them wearing a white workman's hat, and that is the exact same group that was in our shop."
Robbie added: "The footage is extremely clear and they are definitely not local people. They stole pretty much £3,000 worth of tools but they have dropped stuff, hence the reason for the forensics coming.
"They will definitely hit somewhere next and that white hat is certainly a giveaway, it appears to be a diversion."
Sign Up To Our Newsletter