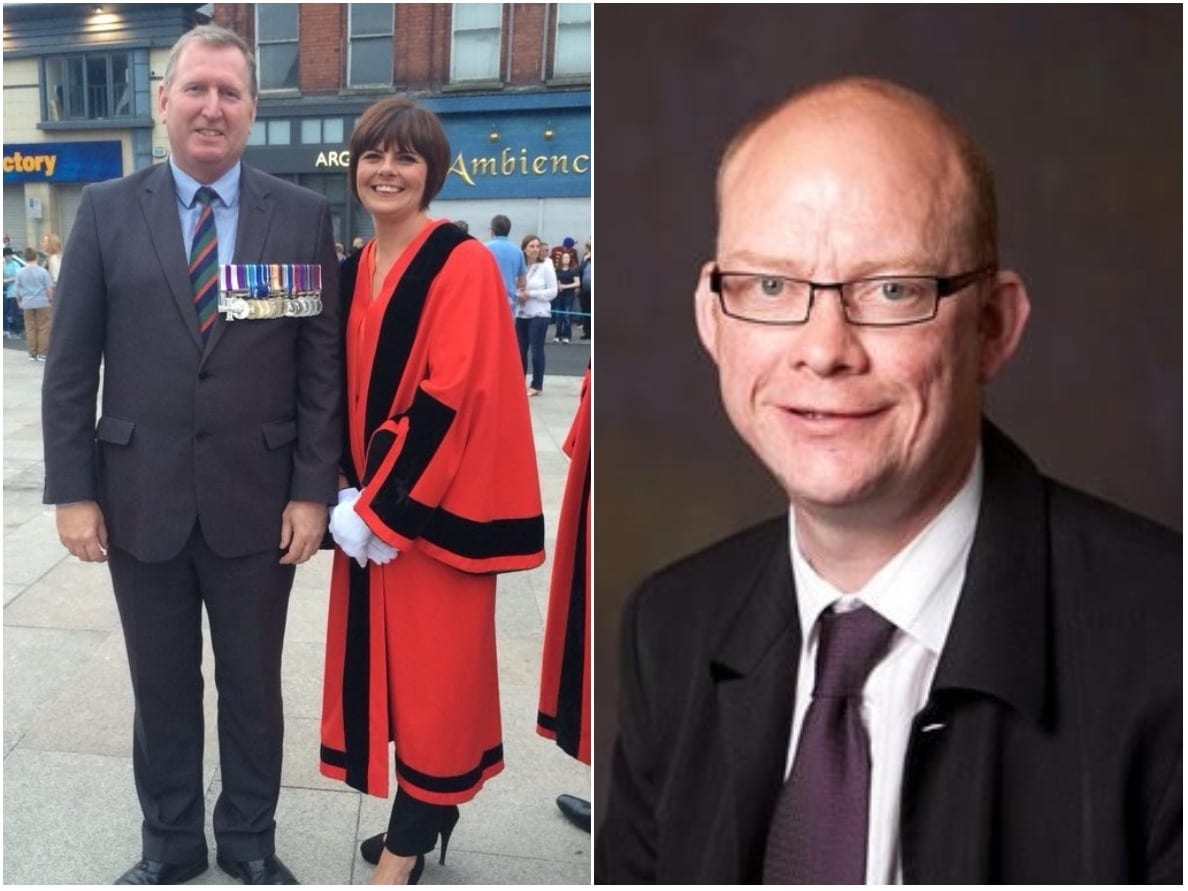 There is a new team at the top at Armagh City, Banbridge and Craigavon Borough Council.
Ulster Unionist Councillor Julie Flaherty has been elected the new Lord Mayor, replacing the DUP's Gareth Wilson.
And Sinn Fein Councillor Paul Duffy takes over in the role of Deputy Lord Mayor from outgoing Ulster Unionist Sam Nicholson.
The new appointments came during Monday night's annual general meeting of Armagh City, Banbridge and Craigavon Borough Council.
Councillor Flaherty, from Portadown, is married to Wayne and becomes the first female Lord Mayor of Armagh City, Banbridge and Craigavon Borough Council.
Having worked in a research and constituency office capacity with Upper Bann Ulster Unionist MLA Doug Beattie, she is a popular choice within her party to take over at the top.
Cllr Flaherty recently led a proposal which was unanimously passed to waive burial fees for children, a motion which was subsequently adopted and approved by other local councils who followed her example.
She did so after losing her son Jake in 2013, at just two years and two days old, and went on to establish the charity Jake's Ladybird Bags to help others in his memory.
Assemblyman Doug Beattie MC MLA was quite to congratule his colleague tonight (Monday) following her election.
"The role of Lord Mayor is an extremely important position within the Armagh City, Banbridge and Craigavon Borough Council," he said.
"Not only is the person nominated as our first citizen – an individual who promotes our borough – but they are representative of the community from which they come.
"The news that Armagh City, Banbridge and Craigavon Borough Council will have its first female Lord Mayor – in the form of Ulster Unionist Councillor Julie Flaherty – is absolutely fantastic.
"Julie Flaherty really is a representative of the borough. She lives here, has family living here, was educated here and has faced tragedy supported by friends and family here.
"Julie has invested her and her family's life in the council area and since being coopted to council she has worked tirelessly for the community.
"I am proud to call Julie a colleague and friend and I wish her all the very best for the next 12 months.
"In congratulating her on this prestigious appointment I know she will make an exceptional Lord Mayor; diligent, professional, authentic and personable in representing all citizens from the borough."
Taking over tonight as Deputy Lord Mayor is another Portadown resident, Councillor Paul Duffy.
The Sinn Fein representative said he was "delighted to fulfil this role" on behalf of his party.
He said: "I have represented Portadown for over eight years and throughout that have advocated for all.
"I am also deeply proud to be from the Garvaghy Road area, a community which was, for far too long, marginalised and which can now look forward to a better future.
"The year ahead will be full of opportunities and I hope to shine a positive light on Portadown and its many assets including our wonderful People's Park and our vibrant diverse multi cultural community.
"As Deputy Mayor I want to see council tackling social deprivation and inequalities right across the borough.
"I also want to be an advocate for rural areas which are too often left behind when it comes to investment.
"I am also aware of the countless community groups and charities that work tirelessly throughout ABC changing lives for the better daily.
"I look forward to meeting them and working with all those eager to improve the lives of those living across our borough."
Sign Up To Our Newsletter