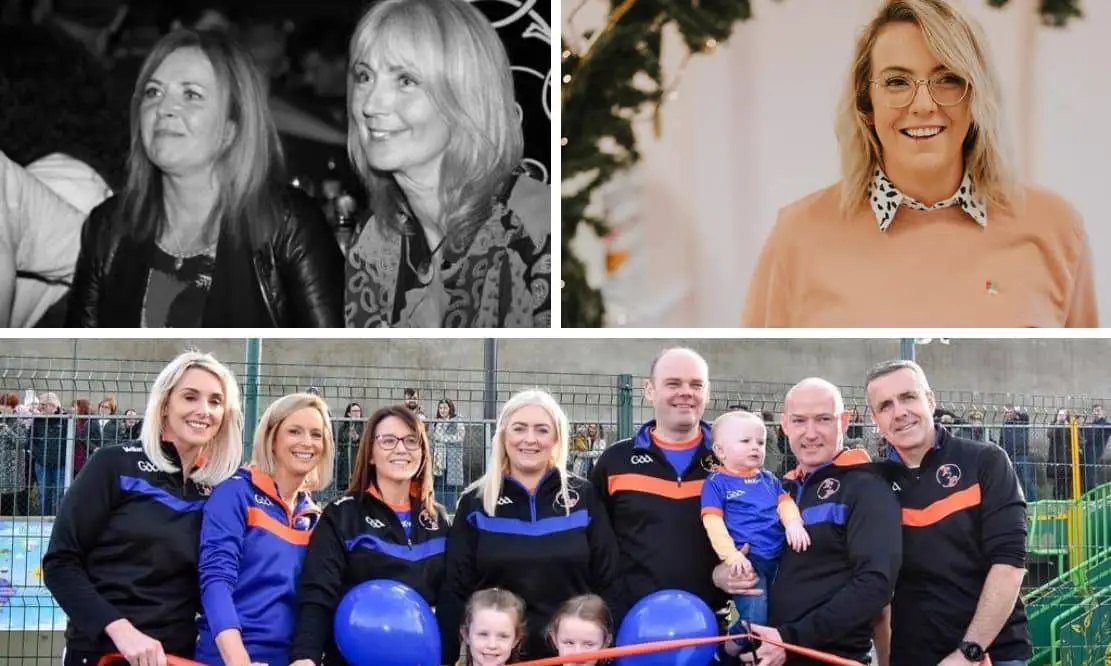 This year's community impact award sees three nominations. As a community news platform, Armagh I carries so many great stories about individuals making a difference – making an impact – in their community.
Our three finalists for the Community Impact Award (sponsored by Aonach Mhacha) have certainly done that – and more!
Spring Youth Club's Roma Carlisle & Kate Martin; Time2Play – which was born out of a family tragedy; and Louise Taylor of The Little Forget Me Nots Trust have all changed their communities for the better. Vote for your winner here.
Roma Carlisle & Kate Martin.
Roma Carlise and Kate Martin work closely together at the SPRING Youth Club in Armagh – and have done for many, many years.
They have helped countless young people over the years, providing them with a safe place to go in the evenings. They provide education that helps young people with their personal, social, emotional health and wellbeing. Their work includes formal qualifications, setting young people up for a life outside of school.
They go above and beyond each and every year, keeping the club open on minimal funding; volunteering their own time and resources, which highlights a passion and drive to help the young people in their community. And their efforts extend to those who need it; many of those young people have sought the guidance of Roma and Kate into adulthood.
In recent years they have carried out a Christmas toy appeal to to ensure every child had a toy for Christmas. Many older people fear young people in groups and there is awful stigma around it therefore every year Roma gets young people and older people to meet up in the community and work together on a project so they get to know each other and understand each other better.
Roma and Kate have been described as an "indispensable asset" in the community with a former youth stating she feels "less anxious" for the things her daughter will have to go through in her teenage years "knowing that Roma and Kate will be helping guide my daughter and friends through a delicate stage in their lives".
"I will always think of them as an inspiration to my own life." Vote for Roma and Kate here.
Louise Taylor.
The Little Forget Me Nots Trust was founded in 2020 by Louise Taylor, during a time she was struggling to find the right support after her own loss. Louise turned to alternative ways to keep her mind focused and away from the heavy thoughts that come after a child loss. She found herself talking more while she discovered new hobbies and interests.
By following these new interests she has developed a following who understand how using our hands helps our minds and hearts process grief. Louise is using this strength as the foundation for the Little Forget Me Nots Trust and is beginning to build a new path for alternative support in Northern Ireland… and beyond one day.
The Trust connects bereaved families with alternative ways that help figure out techniques to overcome obstacles whenever they feel ready to face the world again and begin to live with grief.
Louise works closely with funeral directors who are unfortunately seeing far too many pregnancy and infant losses which is making the Trust's purpose much more relevant to the community.
Through the Trust, Louise provides immediate support to families who have just lost a child, which will then turn into transitional support and then we will follow this up with different ways to remember loved ones.
Over the last two years Louise has expanded the charity to include a full time member of staff and is actively supporting the community of bereaved families across the region.
Participants report that they "don't know what [they] would have done without the charity" and a more positive outlook on their future as they love with grief. Vote for Louise here.
Time2Play
The Time2play James Reel Playpark was born out of a family tragedy with the untimely death of James Reel, a young father who was highly thought of within the community. The family decided that they wanted to continue with James's life ethos and that they needed to keep his memory alive.
The family group came together to formulate an idea for a play park located within Silverbridge GAA Grounds. This was to create a legacy and that the name James Reel will continue to be spoken throughout future generations and hopefully with an understanding of what James stood and to ensure that James left the world in a slightly more beautiful way than he found it.
The Time2play group was formed to raise funds and awareness of the James Reel Playpark in November 2021 and with no public funding available carried out a a number of high profile fundraising events to hep raise the necessary funds. Over £120,000 was raised to commence a play park build in June this year with the park completed and opened within six months of starting work and within 12 months of first announcing the intention to build.
This playpark offers a safe haven for young children to spend time playing, laughing and enjoying spending time with friends and family in a safe and secure environment. The name James Reel will live long in the memories of his own kids and the hundreds – and thousands – who will use the park in the years to come. Vote for the Time2Play team here.
Sign Up To Our Newsletter