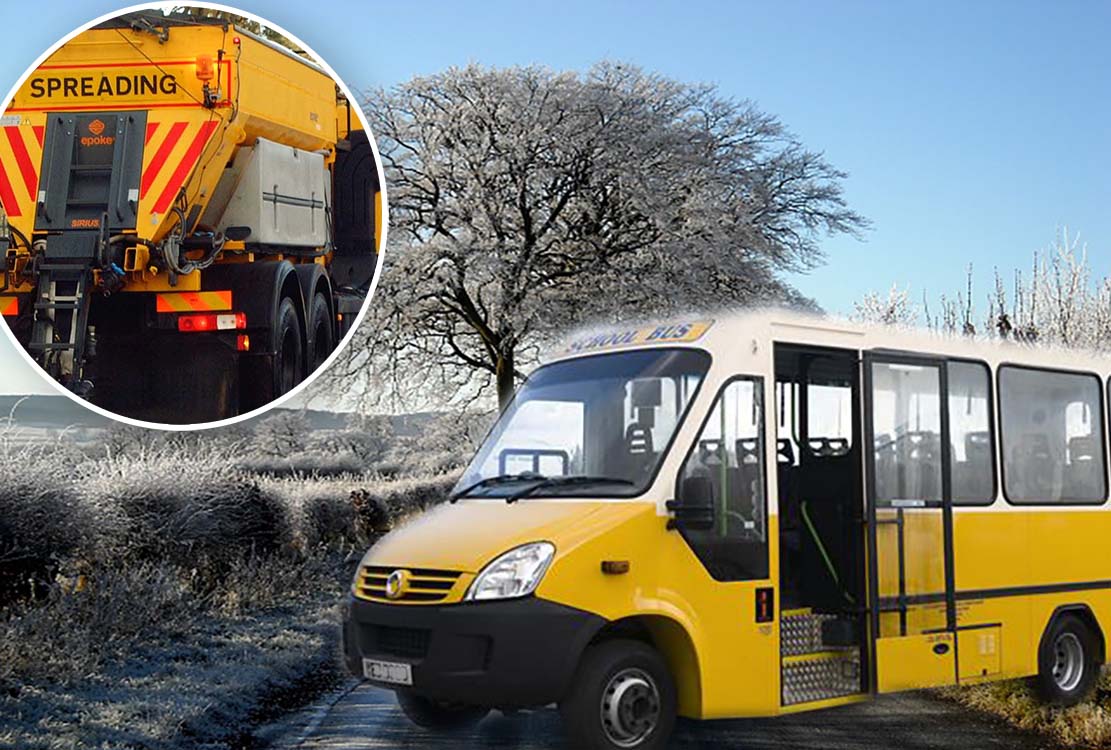 A school bus crashed into a field close to a Co Armagh primary school earlier this morning (Tuesday).
There were no children on board at the time but the female driver was treated at the scene for minor injuries.
The incident happened on the Carrickrovaddy Road near Newtownhamilton, shortly before 8am this morning.
The bus had been on its way to collect school children to bring them to St Oliver's in Carrickrovaddy.
Fortunately the bus had yet to pick up any of the children along its route when the incident happened.
The road was closed for a period this morning as emergency services cleared the scene and dealt with the injured woman.
Councillor Barra Ó Muirí said he was dismayed when he heard about the incident; and even more galling was the fact the crash came less than four days after he warned of conditions on the exact same road.
Speaking to Armagh I, Mr Ó Muirí, said: "From my point of view, we got a small warning last Friday morning when the roads were bad – there were a couple of small tips involving cars on the Carrickrovaddy.
"But every time there is a frost I have to give Transport NI a call and ask, 'please let these kids get to their school safely'.
"What has to happen. It feels like this is a second warning. This was a school bus going into a field, what is it going to take?
"The two incidents are just four days apart. I couldn't believe it when I heard about it this morning. We need someone with the authority at Transport NI to come out and look these two principals in the eye and to answer their questions."
Mr Ó Muirí says he has campaigned for the roads around St Malachy's in Ballymoyer and St Oliver's to be gritted ever since he's been a councillor.
"Not every road needs blanket covering but any road that has a school on it needs attended to," he said.
"We're putting the most vulnerable in our society at risk.
"This is an ongoing battle this past three winters, ever since I have been a councillor. I'm just heart scared any time there is a frost.
"Transport NI say they come out the night before but they don't come out the next morning and that's crucial.
"In Ballymoyer, the gritter comes from the ABC Council, from Armagh, up through Tullyherron, turns right at Whitecross and out to Ballymoyer where it does a U-turn at the school. So, those travelling from the Newtownhamilton direction are slipping and sliding all over the road. There's no sensible joint-up approach."
He added: "This is not a knee-jerk reaction to an isolated incident. Sometimes councillors can be accused of rushing to get a statement out but this is something that I have been working on for a number of years and it's sickening for me.
"I am genuinely afraid that later this winter I'll get a call to say a child has been knocked down.
"You see it all the time, people were warned and no action was taken. I am fighting hard to see some action taken. As a local councillor I am best placed to lobby for that, that's all I'm trying to do."
Mr Ó Muirí said that together with MLA Megan Fearon, they will be asking for a meeting with the departments section managers in a bid to keep all routes to school safe and to prioritise these routes as a matter of urgency.
Sign Up To Our Newsletter