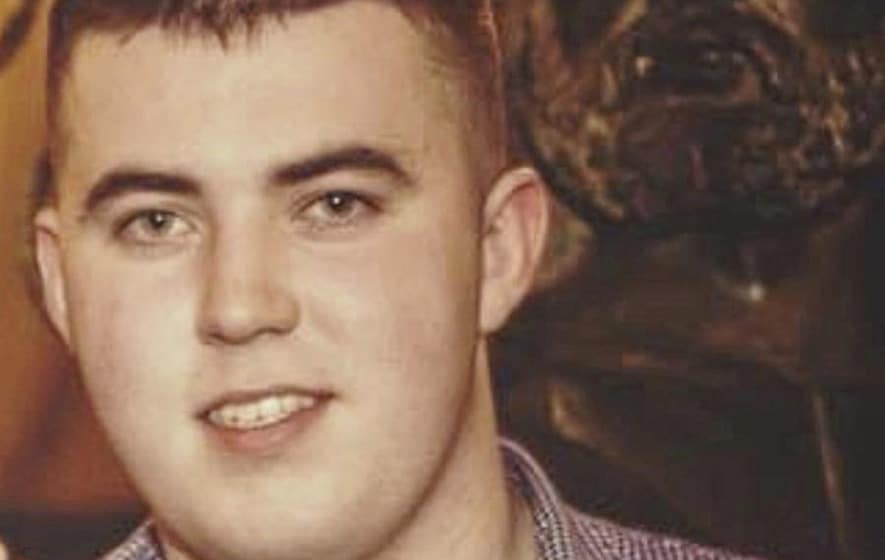 A teenager who has left the hearts of his loved ones "broken" after passing away suddenly has been remembered as a "larger than life" character.
Caolan Meegan, who was just 19, died in his sleep at his friend's farm in Carlingford last Sunday.
The teen, who had been diagnosed with epilepsy and lived in Kilcurry, outside Dundalk in Co Louth, is believed to have suffered a seizure.
Requiem Mass was celebrated at St Brigid's Church in Kilcurry on Wednesday morning before Caolan was laid to rest in St Michael's Cemetery, Newtownhamilton, where his mother Julie is from.
Describing Caolan's sad and unexpected passing, the priest said: "We have all experienced an unexpected power cut. When the lights go out. Sudden death of one we have loved is like that. One minute the sun is shining, and everyone is smiling.
"Then without the slightest warning or the chance to prepare ourselves. We are plunged into darkness. In the space of a moment, our whole lives are turned upside down.
"That's the way it was on Sunday afternoon. When I responded to a call to the McGarity home in Mucklagh, as the reality of Caolan's untimely death as the result of an epileptic seizure unfolded."
He said that the news of Caolan's death had been a "devastating shock", which had left the hearts of his mother and father, Patrick and Julie, along his brothers, Stephen and Ryan, broken.
"Our communities, including Newtownhamilton, and here in Kilcurry, have an overwhelming sense of sympathy and compassion for Caolan's family at this horrendously difficult time.
"Words are woefully inadequate to express the pain and sorrow in our hearts this morning. And the situation is made all the more difficult by restrictions caused the coronavirus situation. We all, in a sense, feel numb and wonder why this should happen. We search to make sense of at all."
Caolan was born on May 21, 2000, he attended Scoil Phadraig Naofa, in Kilcurry, and then progressed to Coláiste Rís in Dundalk.
The priest said: "Former principal Padraig Hamill speaks highly of Caolan, remembering his popularity among his peers describes him as decent honourable and recalls his sportsmanship excelling particularly as a rugby player."
Caolan, upon leaving, school began to work as an apprentice electrician with OK Electrics; he was in his final year.
The priest added: "He was looking forward to a bright future. In a trade that he had grown to love.He worked hard and those with whom he worked, speak highly of his talent in the trade and of his willingness to work as a highly motivated team player.
"The company he worked for OK Electric speak highly of Caolan. They describe him as a valuable member of our team. He was a hardworking, enthusiastic and highly motivated individual who took great pride in his work."
He commented that through listening to stories about Caolan in recent days: "There is no doubt that he was a character, happy full of life always up for a laugh and he could be mischievous on occasions."
The priest alluded to Caolan's contribution to TikTok saying this "would have guaranteed him a place on the stage".
"He was larger than life very much a people person, and many speak of his kindness and generosity. His friend Conor while tight lipped about many of their exploits together, told me that he adored his mum and dad that he always looked out for others.
"He loved his car, loved lorries, was a talented rugby player, liked his style and enjoyed travelling, a real socialiser. And I'm told that there are a collection of pint glasses to prove it.
"He was generous. He felt deeply about things and people and seemed always ready to lend a helping hand to put others first to do what he did well."
As a member of Dundalk Rugby Club, paid tribute on social media saying: "Caolan was a talented and fearless rugby player. He was an outgoing, charismatic and fun loving individual whose smile and joy for life left an indelible mark on those he met and on those who had the pride and privilege of playing alongside him on the rugby pitch.
"He was a well liked and genuine individual both on and off the field and he had established himself as an important and popular member of the Dundalk RFC Senior Squad who are devastated at this time".
Deeply regretted by his, father, mother, brothers, grandparents, aunties, uncles, cousins and entire family circle.
Sign Up To Our Newsletter