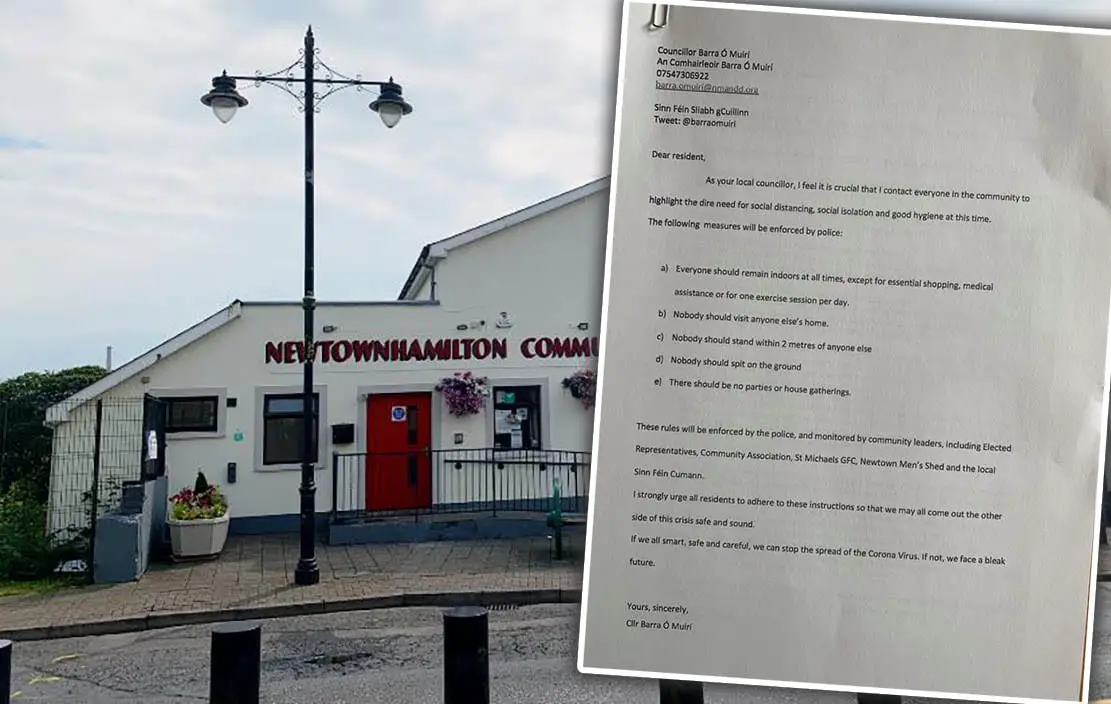 Members of a small Bulgarian community in a south Armagh town have been written to by a local councillor insisting they adhere to social distancing.
There have been reports from residents that approximately 100 Bulgarian nationals, who have settled in Newtownhamilton, have been flouting the government guidance in recent days.
This has prompted one local councillor to intervene in the hope they understand the severity of the situation at hand.
Guidance has been issued in the face of the coronavirus Covid-19 outbreak for groups to be no larger than two and avoid all non-essential travel.
There has also been the threat of fines or even prison for those who persistently ignore social distancing rules.
Speaking to Armagh I, Sinn Fein councillor Barra Ó Muirí commented: "Everybody in the last week has been socially isolating, keeping away from their neighbours, staying indoors as far as possible, not going to the shop and that.
"But you have got this, maybe, 100 or so from the Bulgarian community living in Newtown, and they don't seem to understand the social norms."
He added: "When they came here first, they didn't understand about recycling straightaway, so they maybe don't seem to understand about the social isolation and how important it is."
In order to battle this, Councillor Ó Muirí drafted up a letter outlining the measures which will be enforced by police and had it translated into Bulgarian, before distributing it around homes in Newtown.
"I spoke to somebody at each property and just told them that this is a friendly visit from your local councillor to say 'don't be spreading this disease and don't be a victim of it either'," he added.
"I am very pleased with the reaction I got, because I said to them 'look it is me this time, it will be the police the next time, you can get a fine or be imprisoned for persistent offending', so they have no excuse now."
Councillor Ó Muirí stated that on Tuesday he had received phone calls from some local residents' groups regarding members of the Bulgarian community in the local play park.
He continued: "Newry, Mourne and Down district council had closed all play parks last week but there were some people climbing over the fence to get in.
"Some of the residents' groups had contacted me, they were able to get the police out to get them shifted but they walked down the street to the Men's Shed and the police had to come out to shift them again.
"You can't play cat and mouse with this; I just wanted to get over to them the severity and the gravity of the situation."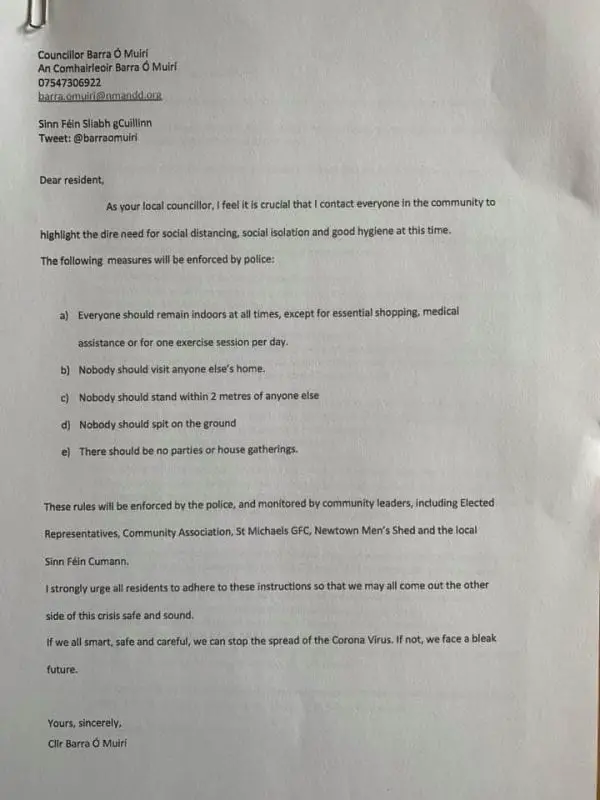 But one good thing that has come out of the this crisis is "the community cohesion that it has created" in south Armagh.
Councillor Ó Muirí said: "Here in Lower Creggan, you would see the parish priest, father Gerard Tremer, and the Church of Ireland minister very much to the fore in Cullyhanna, Newtownhamilton and Dorsey.
"The residents groups in Cullyhanna, Newtownhamilton and Dorsey, it is this idea of helping those in need so everybody has been gathering together what they can so that they can help when someone is isolated.
"It's Christian charity, it is deep down there. You might not see it 11 months of the year but I suppose everyone is feeling very vulnerable at the moment."
He added: "It has been a great leveller, it does not matter what religion you are, what your background is, this disease does not discriminate.
"At the end of the day we are all human beings, we are all citizens of the world and we all have to look after our neighbours."
Sign Up To Our Newsletter