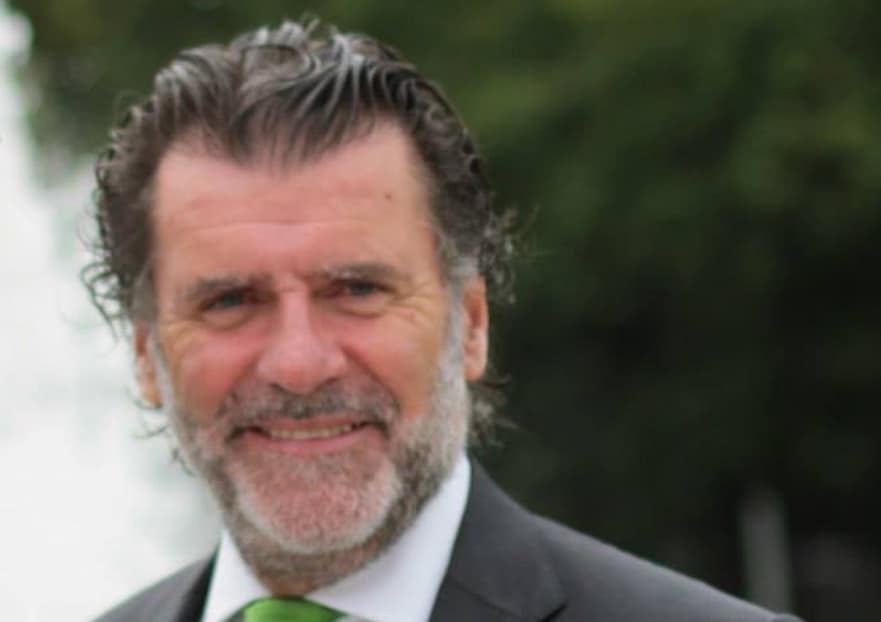 Tributes have been paid to a highly-respected former Newry business who passed away today (Friday) following a long battle with illness.
Declan McChesney, who ran Cahill Brothers Shoes on Hill Street for 47 years, was the dearly loved husband of Maryanne, and loving father of Keith, Lauren and Greg.
Paying tribute, Newry Chamber of Commerce – where Declan was previously vice president – described him as a "passionate Newry advocate".
Cahill Brothers Shoes was established by Declan's great-uncles from Castleblayney, 137 years before its closure in May 2021.
Declan was also a wholesale agent, importing some of Europe's leading high-end fashion shoe brands, travelling extensively through Italy, Spain, Portugal and Ireland as a result.
Declan also played a significant role as Chairperson of the Newry Business Christmas Charity Dinner. Since its inception 22 years ago it has raised more than £1.4m for many incredible local charities.
Julie Gibbons, President of Newry Chamber, said: "Declan was truly one of life's giants in terms of his character, style and charisma. He was a bedrock of the Newry retail community and touched many lives with his charity work for Special Olympics Ireland and the Newry Business Christmas Charity Dinner.
"He was an active campaigner for Newry business through most of his working life, never shying away from the difficult issues and he was an active and vocal Vice President of Newry Chamber for years. Declan will be sorely missed by many people and his passing is of great personal sadness to me.
"The world will be a much duller place without him. Our thoughts are with Maryanne, Keith, Greg and Lauren at this difficult time."
Friend Tom Kelly said it "was a joy to be in his company".
"I don't think I was ever without a smile after meeting him. He was gregarious, flamboyantly over the top, generous and a raconteur without parallel," he wrote.
"His stories were hilarious with a dash of irreverence and a slither of harmless bawdiness. Newry has lost one of its greatest characters and indeed ambassadors.
"He came from a distinguished family of Newry retailers. Declan was a born salesman. Ladies flocked to the shop as much for the craic as the shoes. He was the last of his line in retail and fashion. No more that wide smile, the jesting, the flirtatious remarks or that glint of boyish mischief in his eyes. Not sure if Declan believed in heaven or not but if he did there won't be any more barefooted angels at the pearly gates. Rest in peace old friend. 'Our grief will yield to peace – in time'. Condolences to his wife, sons, daughter, sisters and family circle."
Newry MLA Justin McNulty described Declan as a "colossus of the Newry high street, dapper and driven".
"Declan always carried a smile on his face and had time for a chat a chuckle with everyone. A huge character on Hill Street, he will be sadly missed."
Canal Court Hotel & Spa, also paying tribute, wrote: "John & Paddy McParland, along with the management & staff of the Canal Court Hotel & Spa are saddened to hear of the death of local businessman Declan McChesney. Declan was always so passionate about promoting local businesses and Newry as a shopping destination and will be sadly missed by many. We extend our heartfelt sympathies to his family and friends at this sad time."
Many, many hundreds of tributes have been flooding social such was the esteem Declan was held by those who knew, and knew of him.
Declan's remains will repose at McAnulty's Funeral Home on Saturday from 2pm – 4pm and 7pm – 9pm. Funeral Mass on Sunday at 1pm in St. Mary's Star of the Sea Church, Rostrevor (churchservices.tv) followed by private cremation.
Lovingly remembered by his wife, daughter, sons, daughter-in-law, granddaughter, sisters and entire family circle and friends.
Donations in lieu of flowers please to Life and Time c/o McAnulty Funeral Directors, 35, Church Street, Warrenpoint. BT34 3HN. House Strictly Private please.
Sign Up To Our Newsletter