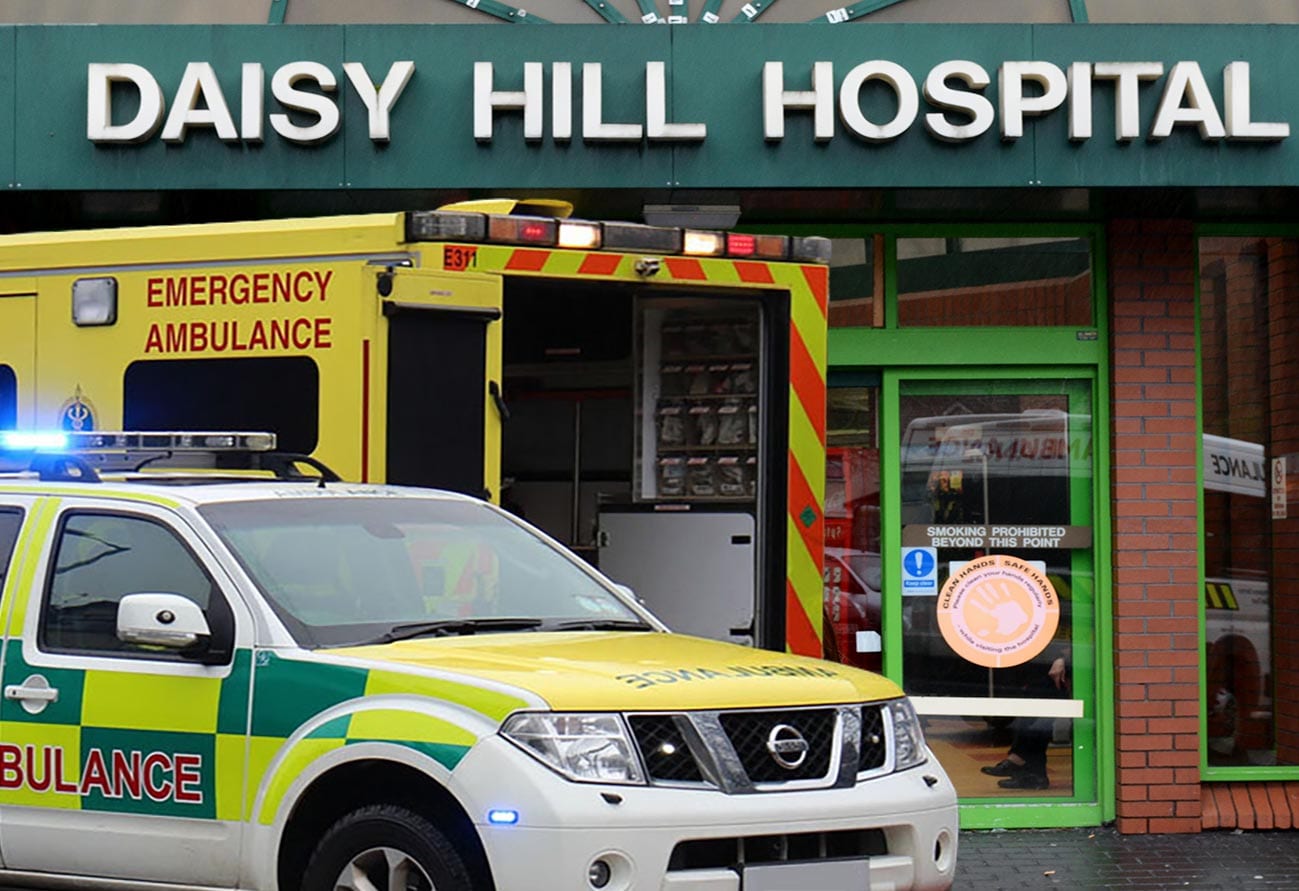 A "trained cage fighter" who assaulted eight officers in two hospitals in one day has been handed a suspended prison sentence.
The Newry man's barrister told court that the 23-year-old has put his "drug and alcohol abuse is in the past" and that he was now "totally dedicated to training".
Sheagh Dobbin, of Barcroft Park, pleaded guilty to eight counts of assault on police, four counts of criminal damage, two counts of resisting police and two counts of disorderly behaviour at the City's Magistrates' on Monday.
Prosecution outlined that on March 23, at 1.10am, police were called to the A&E department at Daisy Hill Hospital in Newry regarding a male who was acting suspiciously.
Officers arrived and spoke with staff, who identified the defendant as the male in question.
They told police that Dobbin was refusing to talk with any members of staff.
Police approached the defendant and noted that he was breathing heavily.
Dobbin informed the officers that he had taken cocaine and he was subsequently searched.
During this the defendant had refused to take his arms from his pockets.
One officer took hold of Dobbin's wrist to reassure him but he then became agitated and aggressive.
The defendant was restrained against a wall but began shouting and had to be taken to the ground before handcuffs were applied.
Whilst on the ground Dobbin kicked out narrowly missing one of the officers heads.
The defendant managed to get up and limb restraints had to be used as he attempted to kick other officers.
Dobbin was placed on a bed and taken to an isolation ward for examination after concerns for his health.
In the ward, the defendant continued to be aggressive and refused to let a nurse take a sample of his blood.
Dobbin's behaviour was described as unpredictable; he also informed officers that he was a trained cage fighter.
Prosecution stated that several officers suffered injuries with one also having a Fitbit watch scraped and another having their phone damaged.
The defendant was arrested and cautioned with no reply before being taken to Banbridge Custody Suite.
At 3pm, police decided to take Dobbin to Craigavon Area Hospital over concerns regarding his health.
Around 7.20pm, the defendant was escorted to use the toilet, his handcuffs were removed in order to facilitate this and it was explained to him that these would be reapplied.
Dobbin became violent towards two officers. He kicked one of them to the right leg before attempting to knee them in the crotch.
During this incident, the defendant collided with a privacy divider of one of the toilets and smashing it.
One of the officer's watches was also damaged in this incident.
Limb restraints had to applied to Dobbin as he was once more arrested.
Defence barrister Kevin O'Hare stated: "It is difficult to know where to begin, it is a disgraceful set of facts for the court to hear and one can only imagine the ordeal these police officers went through.
"He is a big strong man who has dedicated himself to training."
He continued: "This occurred in two different hospitals which is an aggravating feature. I have explained to Mr Dobbin that this court has a zero tolerance to incidents which occur in hospitals.
"This occurred when he was living a chaotic lifestyle, initially he did not appreciate how bad this was but he is now shocked to hear the extent of his behaviour."
Mr O'Hare said: "He has asked that I apologise to all the officers and all those who had the misfortune to encountering Mr Dobbin on the March 23.
"He instructs that this period of drug and alcohol abuse is in the past, he is now totally dedicated to training and is looking to attend training camps in Thailand."
District Judge Eamonn King stated: "You have pleaded guilty to 16 offences all of which occurred on March 23 of 2019, they did not occur in one hospital but two and the majority of the assaults were on police officers who had concerns for you health safety and well-being.
"There is no mention of the distress which you would have caused to all those awaiting treatment."
He added: "I can't for the life of me know why or how someone could work in that type of atmosphere but you are due credit as you have pleaded guilty."
Dobbin was sentenced to six months in prison suspended for three years.
In addition, a compensation order of £159.99 was made to the Southern Health and Social Care Trust for the toilet divider and £140 to the officer whose Fitbit was damaged.
Sign Up To Our Newsletter