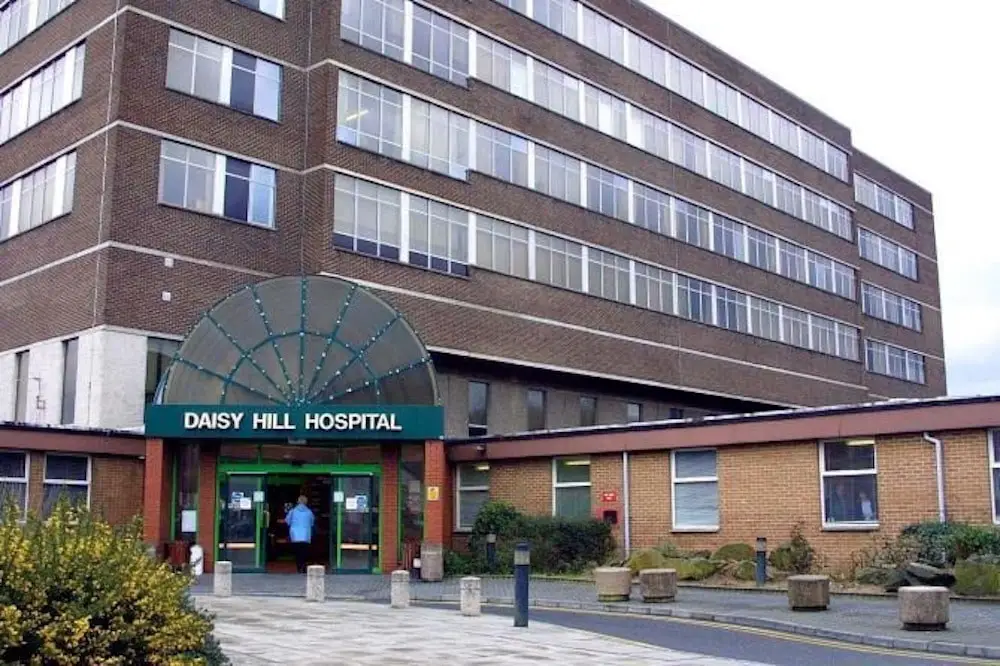 Staffing issues in the Southern Trust have caused deep public concern following ambulance delays and the temporary shut down of emergency surgery at Daisy Hill (DH) hospital in Newry.
Proposals leading to a public consultation have been targeted in order to implement a best practice model to improve emergency and elective general surgery.
Patient safety risk is central to the temporary suspension of emergency surgery at DH.
A special sitting of Newry, Mourne and Down District Council (NMDDC) was told that required inpatient theatre staffing is 121, but there are only 80 available.
Southern Trust director of acute services, Melanie Clements alluded to new data, which had showed effective management of patients by GPs leading to lower levels of emergency admission.
"We are growing and learning as we go," said Ms Clements.
"There needs to be a full public engagement plan," added the director.
DH operates as a 'Type 1′ emergency department (ED) with 4,000 patients cared for every month. There are no plans according to the trust to change the ED.
The contingency plan to suspended the surgery, was developed by the surgical team along with clinical colleagues in Craigavon Area Hospital (CAH) and DH, to address immediate significant patients' safety risk due to difficulties recruiting and retaining staff.
Financial investment differences have been seen between the two hospitals in the last number of years with the trust confirming CAH investment from 2017 to 2020 was £37m, while DH got less than half of its sister hospital at £18m during the same period.
"There are exciting things happening," Ms Clements told NMDDC. "There is new data being generated over the last number of weeks. Some data shows our care colleagues (GPs) are making contact for advice on patients without the need then to admit them to ED.
"It is new data, so we will have to see how that develops with follow up data meetings," she added.
Technical advances at DH could also see an upgrade of electric infrastructure requiring a £10m funding pot across five years as a key factor for CT and MRI scanning.
Ambulance waiting times have at times come to a crisis point with an example of an elderly woman suffering a broken hip injury unattended for nine hours, whilst category 2, heart attack and stroke calls missing critical timing slots.
The council heard from NI Ambulance Service, CEO Michael Bloomfield that his staff were being worked to over capacity with a lacking in capacity to train a larger amount of new paramedics.
"There have been 600 applicants to the University of Ulster's new paramedic course, with 50 a year being accepted, that will see the first BSc graduates in 2024 with a need for another year of training," said Dr Bloomfield.
"There are also 1k applicants for the NIAS own course for 40 places. There are currently constraints on the number of staff. There are 11 to 12 ambulances in the trust area operating at 94% capacity over seven days a week. We are heavily reliant on overtime and agency staff.
"There is a need for 320 staff required across NI. There is just nobody out there. It is not for a lack of funding. We don't have anything like the number of staff that we need.
"In terms of training new staff, we are just about covering the staff that are leaving. We have 20 to 30% of staff off sick at anyone time. There is never ever a time when an ambulance is waiting on a call. Too much time is being taken up with ambulances queuing outside EDs.
"Last month time outside EDs was 32%, which equates to 30 hours a day across NI.
"I don't speak on behalf of the Trust, but I don't have anyone talking about downgrading or closure (of DH), but it has to run most effectively.
"It's about maximising the potential of our health services," said Dr Bloomfield.
All medical chiefs told NMDDC that a public consultation was needed to provide a way forward for health services in the trust district.
A public consultation by the trust is expected to take place from June to October to deal in tandem with staffing and general emergency surgery.
Sign Up To Our Newsletter