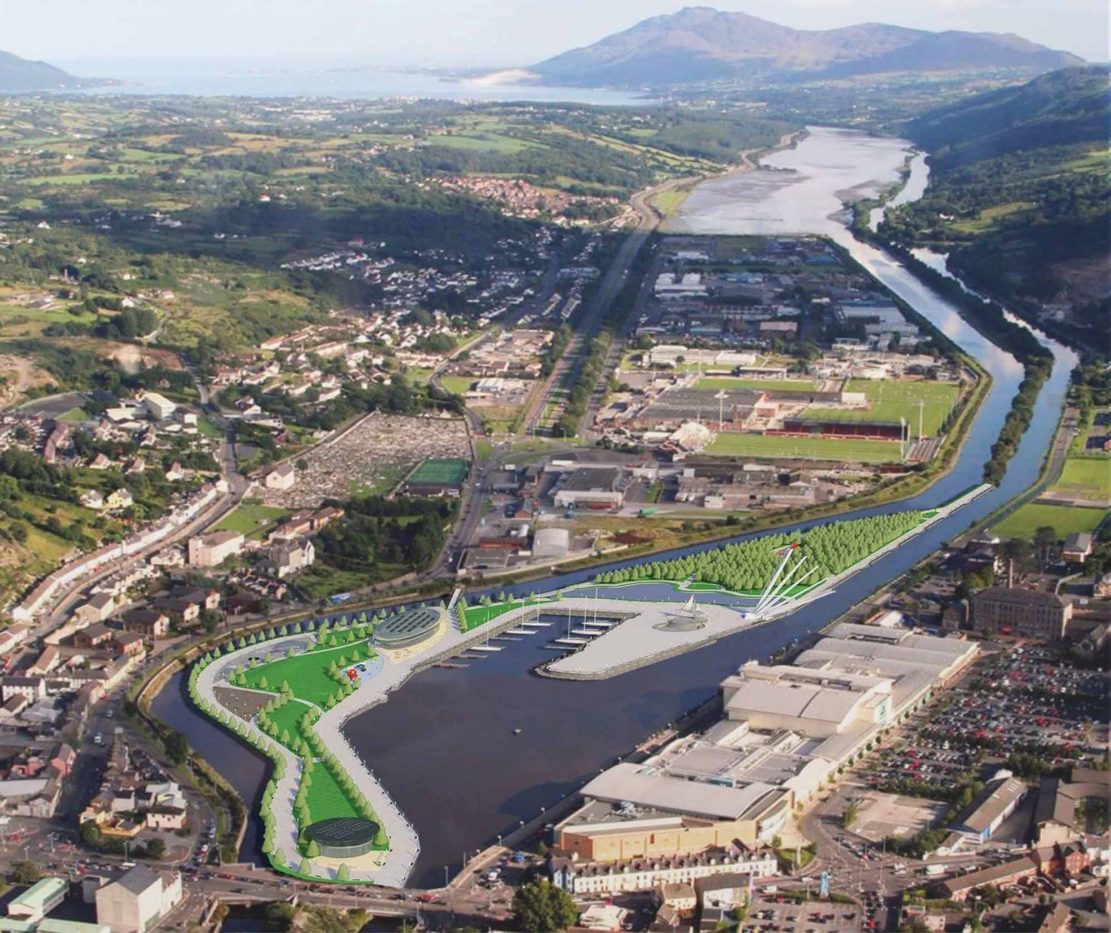 Work is still progressing behind the scenes on a major public park plan at the Albert Basin in Newry ahead of a public consultation process to gauge views on what it should include.
That was the message which Newry, Mourne and Down District Council was at pains to point out after social media claims surfaced in relation to the long-awaited development this week.
A meeting of party leaders on Newry, Mourne and Down District Council took place on Friday after the claims, which came in the wake of a meeting of the Albert Basin Park working group the day before.
It has been reported on social media that a proposal has been made to include part of the expansive site for housing.
Newry, Mourne and Down District Council has dismissed this.
In a statement after Friday's leaders meeting, a spokesperson said: "Party leaders wish to condemn the recent inaccurate social media reports naming council officials in relation to the Albert Basin Park development.
"Social media messaging suggesting that a proposal was made in relation to the park are inaccurate.
"The meeting held, and discussion which took place, was in relation to the proposed public consultation process.  The consultation content has not been finalised and will be further considered and scrutinised.
"Party leaders discussed in early March the decision from the Strategy, Policy and Resource Committee meeting of 19 December 2019 to hold a public consultation and key stakeholder engagement.
"The public consultation seeks to inform concept designs for a 15-acre park at the Albert Basin in Newry.
"Party Leaders unanimously agreed that it is important the consultation process reflects council policies and strategies and that it is completely open to all public views on what they wish to see in the park.
"It has also been agreed by the Council that the consultation will be held across the Newry, Mourne and Down area."
The spokesperson said Thursday's meeting was intended "to inform the working group that despite the current challenges of COVID-19  the council remains committed to progressing the project and that consultation would now be taking place using technology, which would be independently managed by the council's appointed consultants who were in attendance at the meeting".
The party leaders who took part were Chairperson, Cllr Charlie Casey, Cllr Patrick Brown, Cllr Pete Byrne, Cllr William Clarke, Cllr David Taylor and Cllr William Walker.
Meanwhile, the Newry and Armagh Alliance Association have expressed their support for the project.
A spokesperson for the Association stated: "We as an Association completely support the Albert Basin Park Project and its potential to open up many opportunities for tourism, culture and health and wellbeing for Newry City.
"Any attempt by Newry, Mourne and Down District Council to build social housing on this site is misguided and goes against the wishes of the people of Newry.
"Thousands of people signed a petition to build a 15 acre City Centre Park at the Albert Basin Site with no mention of social housing and we must deliver what the people want.
"Questions now must be asked of those Council's officials who have sub sequentially done a u-turn and have for some unknown reason asked for social housing and commercial units to be included in such plans. The question we now must ask is….why?"
Newsletter
Sign up for our weekly newsletter here.