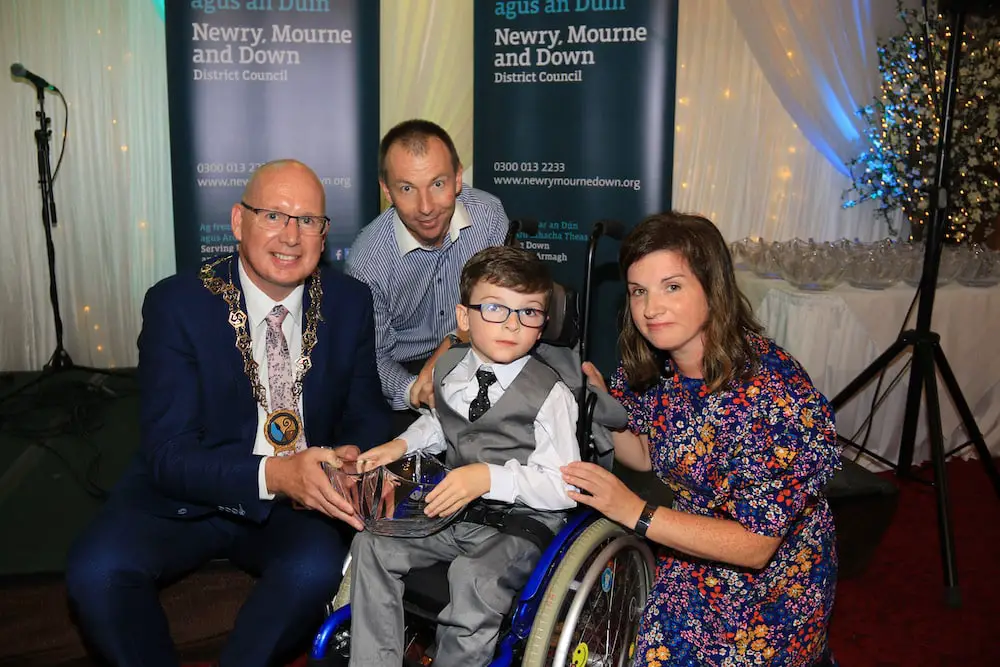 Newry, Mourne and Down District Council Chairperson, Councillor Michael Savage welcomed 46 amazing individuals and organisations to the Burrendale Hotel in Newcastle on Wednesday, September 7, for a special Civic Awards Ceremony.
Each year the Council recognises those people who have demonstrated outstanding service to the community, made a significant contribution to public life in Newry, Mourne and Down and have shown real dedication in helping local residents.
Speaking at the awards ceremony, Chairperson Councillor Michael Savage said: "These awards give us the opportunity to show our gratitude for the fantastic people in Newry, Mourne and Down who go above and beyond to improve the lives of others. We always receive lots of nominations in respect of outstanding people in our community and it is never an easy task to select who should receive a civic award."
Chairperson, Councillor Michael Savage continued: "There were so many fantastic stories received, every story was different, every volunteer so appreciated by the person that nominated them. I am delighted to be able to host this event at the Burrendale Hotel to highlight the major efforts made by individuals and groups to the betterment of the district and to say thank you for their contribution."
This year's recipients were nominated for their contribution in the following five categories: Arts and Culture, Human Endeavour, Community and Voluntary, Fundraising and Sport.
Amongst the beneficiaries was five-year-old Aaron Walsh, who was born with Cerebral Palsy and Diplegia in his limbs which caused immeasurable pain. Aaron underwent life changing surgery at St Louis Children's Hospice in Missouri which thankfully has been very successful. Aaron was presented with a Human Endeavour Civic Award for showing remarkable bravery.
Loretta Gribben and Helene Grant both won Community and Voluntary Civic Awards for their important role in setting up Community First Responders groups in their local District Electoral Areas (DEA). Both their ambition and drive to establish a trained Community Responders group in their respective areas were founded out of personal tragedies.
They have helped facilitate the provision of a defibrillator and first aid training across Slieve Croob DEA and the Mournes DEA providing vital first aid assistance if the ambulance service is experiencing delays.
Patrick Morgan has a reputation as a community man who is always there to help. He has helped numerous groups and charities over the years, raising thousands of pounds for each one. At 86 years young, Patrick was awarded with a Community and Voluntary Civic Award as a token of appreciation from the Council for being such an honourable, decent, kind and generous person and leading community spirit right across the district.
Cyril McKinney has been a magnificent fundraiser for a variety of charities. He has devoted his life to helping others, amongst them are the most vulnerable in society. Without question, Cyril goes the extra mile for his community and was a much deserved receiver of a Community and Voluntary Civic Award.
These are just some of the very special people that were acknowledged at the awards ceremony. All the recipients were recognised for doing extraordinary things that make a positive contribution in their community.
Arts and Culture
Aoibheann Morgan
Lucia Morgan
Oisin Bradley
Cathleen Garland
Terry Cowan
Human Endeavour
Aaron Walsh
Naomi Herron
Leanne Molloy
Enterprise
Sophie McKnight
Aimee McComb
Ellen Bailie
Community and Voluntary
Loretta Gribben
Helene Grant
Owen Fegan
Kate Cahill
Georgina Jennings
Karen Patterson
Patrick Morgan
Richie Shilliday
Liam O'Rourke
Rev Stephen Smyth
Barry Kinney
Esther Boyle
Cyril McKinney
Patricia Curran
Seamus Travers
Jim McDonnell
Bolster Community
Newcastle Lions Club
Downpatrick Town Committee
Killyleagh Community Association
Meadow Armagh Road Community Association
Seamus McCabe – PIPS
Amy Fegan
Fundraising
Paudy Smith
Geraldine Lowry
Sean Quinn
James McCaffrey
Sport
Paula Galbraith
Tony Patterson
Gareth Keown
Peadar O'Dornin
Ruth Carvill
Declan and Helen Carvill
Special Recognition
Collie and Eithne Bell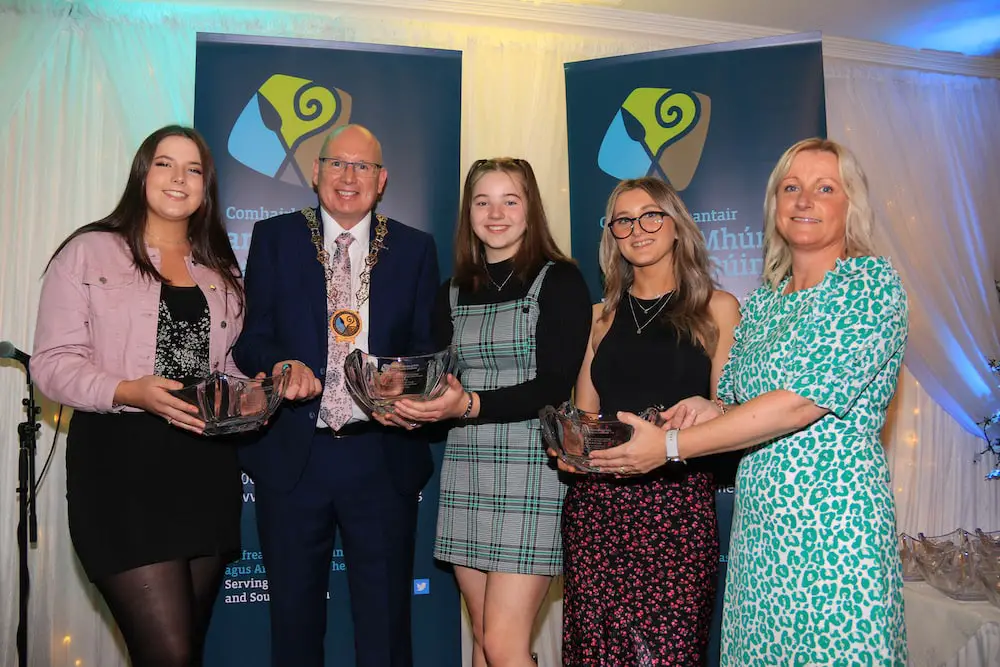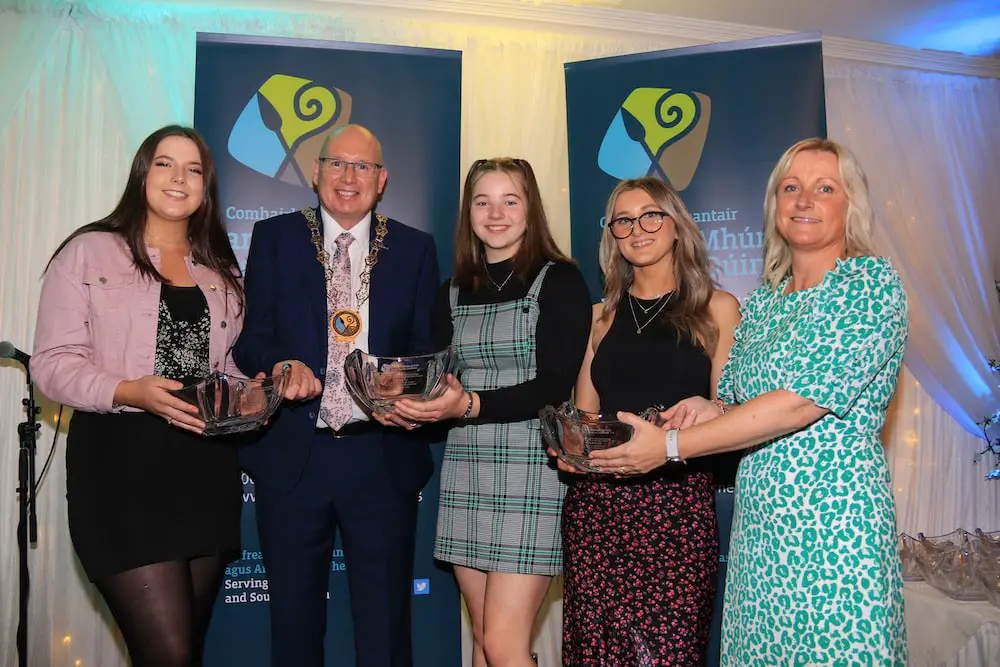 Sign Up To Our Newsletter