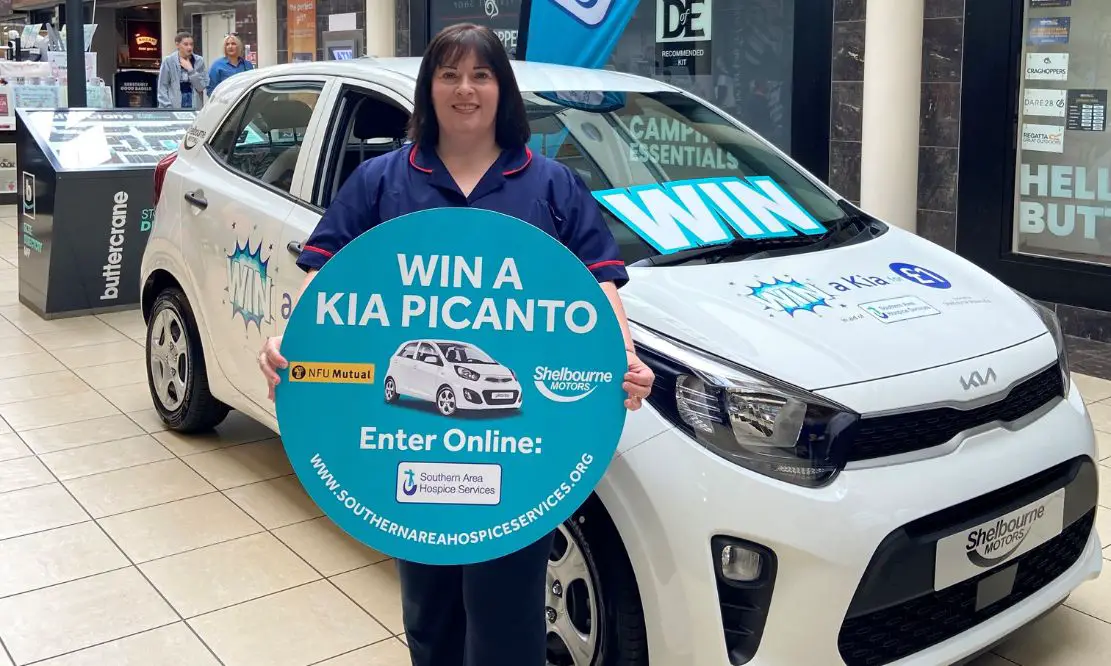 It's the final call to get your tickets to win a Kia Picanto with the Southern Area Hospice Services 2023 Annual Car Draw, kindly supported by NFU Mutual and Shelbourne Motors!
For just £1, you could be in with the chance of winning a brand-new Kia Picanto with one year's free insurance, up to the value of £500 – all whilst raising vital funds for Southern Area Hospice Services.
You'll have to get in quick though as the closing date for online entries is Wednesday, November 1 at 9pm. The draw will take place on Saturday, November 4 at 5pm in Buttercrane Shopping Centre, Newry.
Southern Area Hospice are currently selling tickets in the Buttercrane Shopping Centre and other local venues. They are hoping that the public will continue to support this campaign and get their entries in for the chance to win this beautiful car, and at the same time help support their local Hospice.
For those who received their tickets in the post from Southern Area Hospice, they encourage you to return your tickets and donation as quickly as possible so not to miss out on your chance to win a brand new car.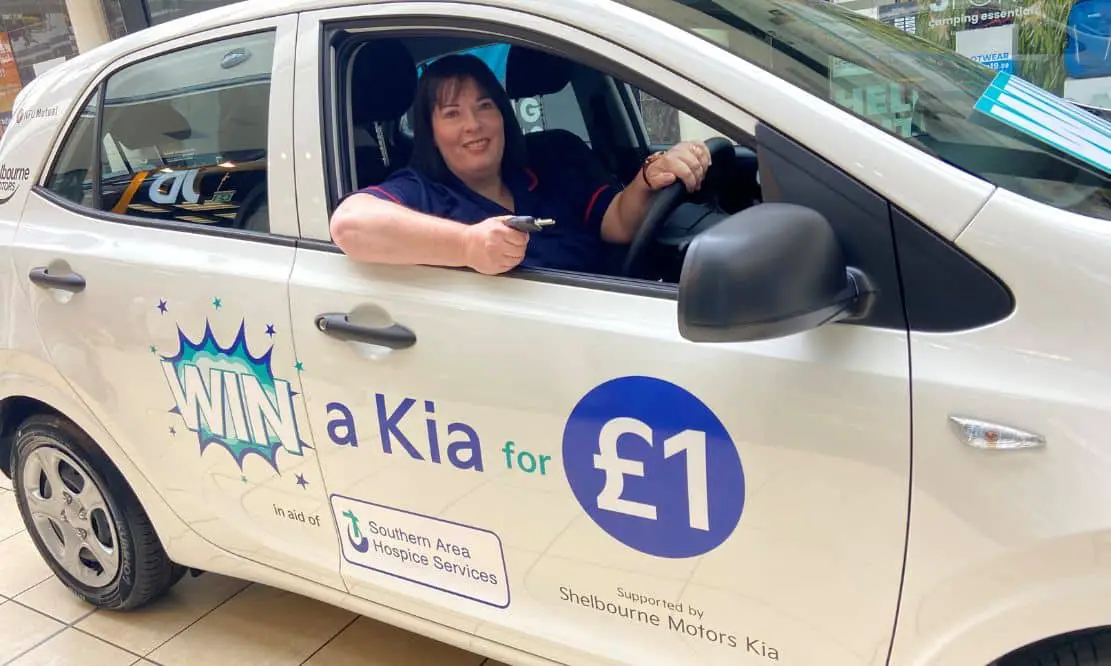 Orlagh Loftus, Clinical Sister at the Hospice, said: "By buying a £1 ticket to our Car Raffle you are helping to raise vital funds for myself and my colleagues to provide vital care for our palliative patients in our local area.
"Thank you to everyone who has already purchased a ticket and I urge anyone who has not yet done so to visit our Hospice website to enter now to be in with the chance of winning the beautiful Kia Picanto!"
Every ticket you purchase helps the Hospice provide specialist care to those living with a palliative illness and support their families, just like the Garvey family who have shared their story.
"As a family we didn't know how much the Hospice did until we needed their help. In May of 2022 our lives were turned upside down when my wonderful best friend and mum, Cara Garvey, was given a very short life expectancy with an aggressive form of cancer. Mum was too ill to be cared for at home and heartbreakingly moved into the Hospice Inpatient Unit in Newry.
"I cannot express in strong enough words what the doctors, nurses and care staff did for us over the next few weeks. We had fun and music, laughter and tears. Our family got to say goodbye and we got to stay with the Queen of our Hearts until the last second.
"The grief you experience after you lose a loved one is unimaginable, but the Hospice offer so much help to families afterward, bereavement walks, family movie nights, counselling, art therapy etc.
"These services are free of charge and have really helped our family, especially my dad who has lost his life partner, and so now we will do what we can to raise money so that others may benefit as we did."
You can get your raffle tickets from the Southern Area Hospice here. Alternatively, call the Hospice on 028 302 67711 (Monday – Sunday 9am – 8pm) to enter the raffle over the phone.
Sign Up To Our Newsletter