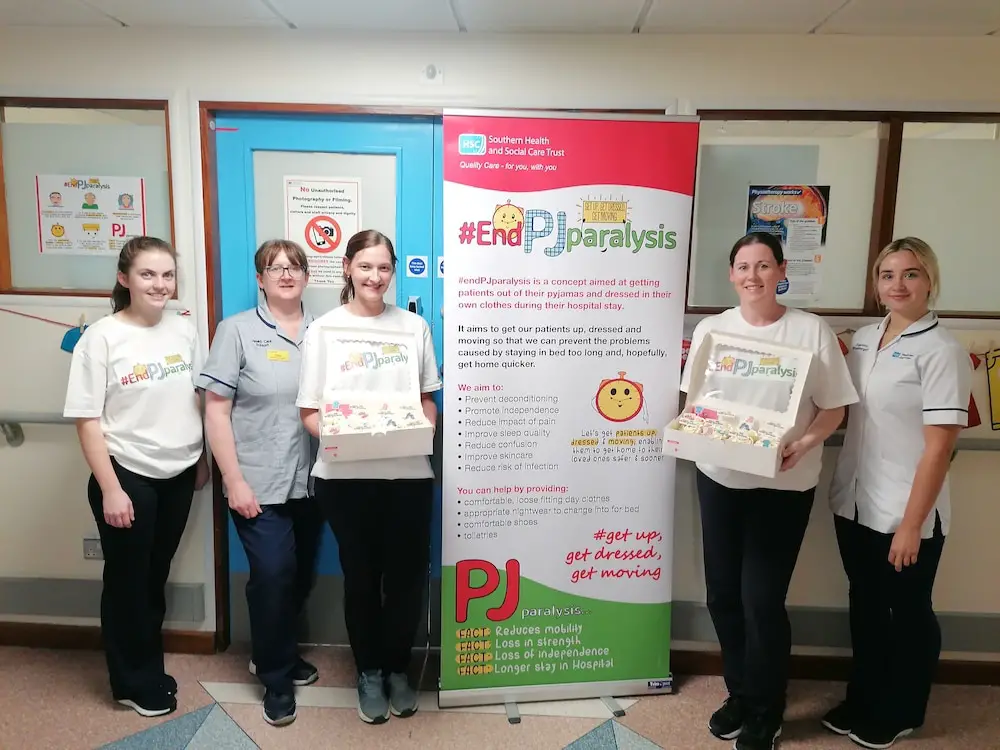 To mark world stroke day on Sunday, October 29, Daisy Hill Hospital's stroke and rehabilitation team has launched a campaign to encourage patients to get up, get dressed and keep moving.
The team have joined the global movement to 'end PJ paralysis,' which aims to help patients maintain their independence and improve their health and wellbeing outcomes following a hospital admission.
Based on level four of the hospital, the team of allied health professionals, nursing and medical staff, support inpatients following acute stroke as well as older patients recovering from illness or injury.
Deirdre McArdle, Physiotherapist who is leading the project said: "There are misconceptions that patients should stay in bed because they will get better with rest and that it is not safe for patients to get out of bed incase they fall.
"When actually, research shows that too much bed rest can actually cause de-conditioning, reduce independence and prolong a hospital stay. An extended hospital admission can also increase the risk of confusion, falls, infection, incontinence, constipation and decrease mobility, appetite and cause swallowing problems.
"Our stroke and rehabilitation physiotherapists, occupational therapists, speech and language therapists and nurses work with each patient at their own pace and ability, aiming to prevent de-conditioning and promoting their independence.
"We ask patients and carers to work with us by bringing loose fitting day clothes, comfortable shoes, toiletries and appropriate nightwear for bedtime. The team encourage patients, as much as possible, to keep to a normal routine of managing their own personal care, getting dressed, sitting out at mealtimes and staying mobile.
"It is our aim to help patients to safely regain their mobility and strength, so that they can hopefully return home quickly as soon as medically fit and get the most out of life."
Sign Up To Our Newsletter