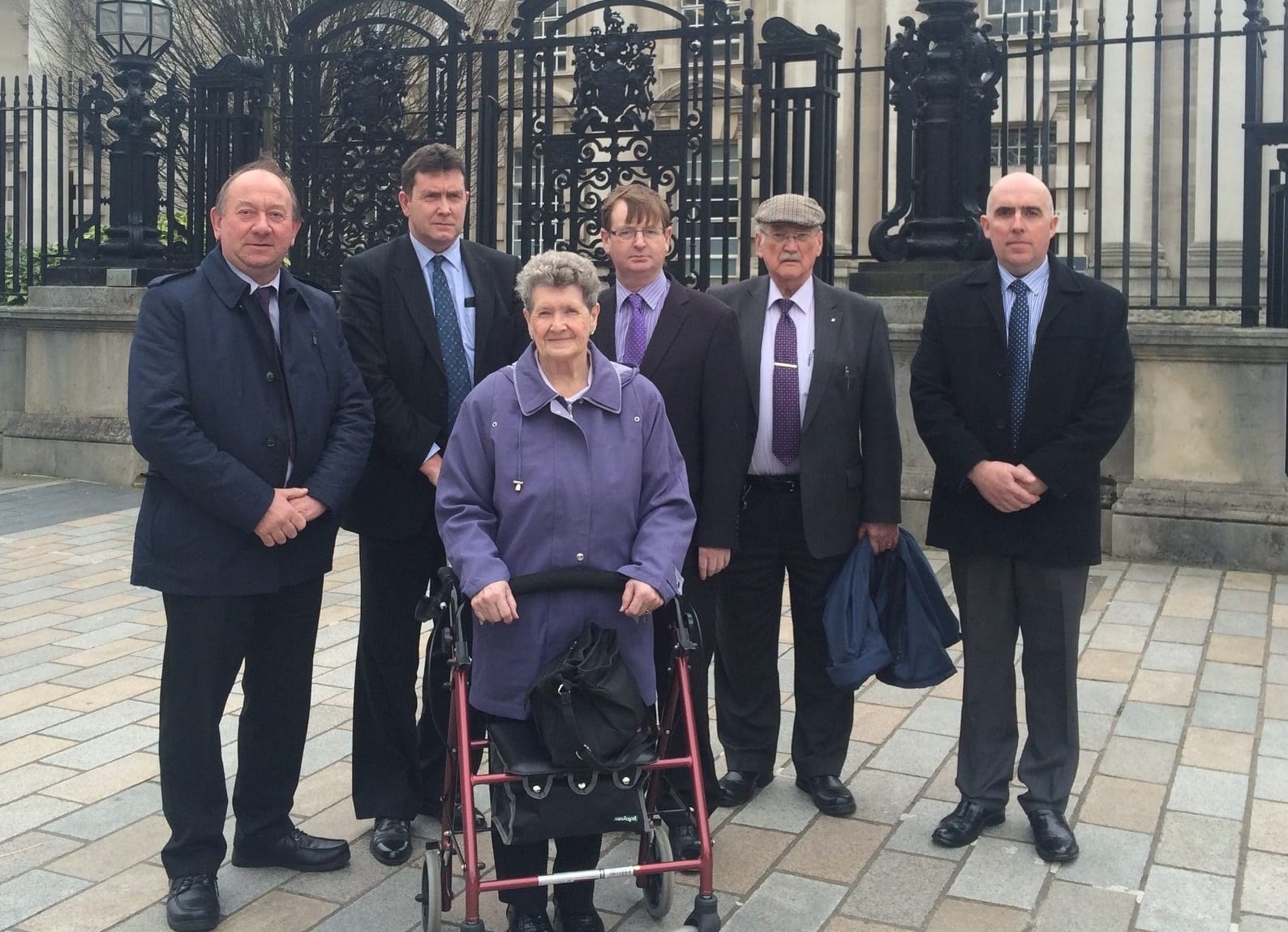 An 88-year-old woman has been granted permission from the High Court to challenge the naming of a playpark named after a man linked to her son's murder.
Her son Kenneth was one of 10 people massacred by the IRA at Kingsmills, south Armagh in 1976.
In court today her barrister set out how IRA hunger striker Raymond McCreesh was reportedly in possession of a rifle used in the killings when he was captured later that year.
The Patrick Street playground in Newry was named after McCreesh, a decision finalised by Newry and Mourne District Council [now Newry Mourne Down Council] in 2012 and affirmed by the Equality Commission last year.
Newry & Armagh DUP Assembly election candidate William Irwin has welcomed a decision of the High Court today.
Mr Irwin attended Belfast High Court today along with Beatrice Worton and members of innocent victims group FAIR to support Mrs Worton's challenge.
Mr Irwin said Beatrice had shown tremendous courage and strength in challenging the decision.
"I want to give great credit to Mrs Worton today as she is a very strong and courageous woman who has shown such determination on this matter," he said.
"I welcome the fact today leave has been granted to further pursue the horrendous decision by a local Council to name a children's play park after a dead IRA terrorist."
He added: "Mrs Worton, who herself has suffered greatly at the hands of the IRA, deserves the greatest respect for taking forward this action and that is why I felt it was vital that I stood with her today at the High Court.
"It remains an important case and one which I will be continuing to take a keen interest following my own meetings with the Equality Commission on the matter. I remain concerned, along with the majority of people, by this debacle and the logical and responsible outcome must be the reversal of this naming process and the legal pursuit of those who played a part in this outrageous naming decision."
Ulster Unionists Danny Kennedy said: "I commend the actions of Mrs Worton, members of FAIR and their legal advisors in bringing this case of blatant discrimination against the Council. However, it is a very poor reflection of the political and sectarian attitudes of Nationalist and Republican local representatives on Newry, Mourne & Down District Council which forces an elderly widow and mother of an innocent victim to bring legal action to try and ensure that a children's playpark is not named after a dedicated terrorist."
Cllr Sam Nicholson added: ""I welcome this decision by the High Court which is the right decision and hopefully this will give the innocent victims and their relatives some confidence in the judicial system. I am delighted for Mrs Bea Worton who is a truly courageous woman who has suffered directly at the hands of IRA terrorists.
"She deserves all our respect for mounting such a case and I hope and pray that the judicial system will reverse what is a grossly offensive and insensitive decision to name a children`s playpark after a known IRA terrorist. This practice of glorifying terrorism should no longer be tolerated in our society."
Read more news:
Lorry crash causing major disruption on M1 outside Moira
Your roads are 'deplorable' but we won't be fixing them 'any time soon'
Tayto to mark sixtieth anniversary with loss of 80 jobs, trade union claims
Missing county Armagh pair spotted at Dublin airport
Detectives investigating possible link in spate of arson attacks across Borough
Ambitious plans drawn up for future of county Armagh village
Plans lodged for major social housing development in Armagh city
Elderly couple and son lucky to escape with their lives following arson attack
Sign Up To Our Newsletter