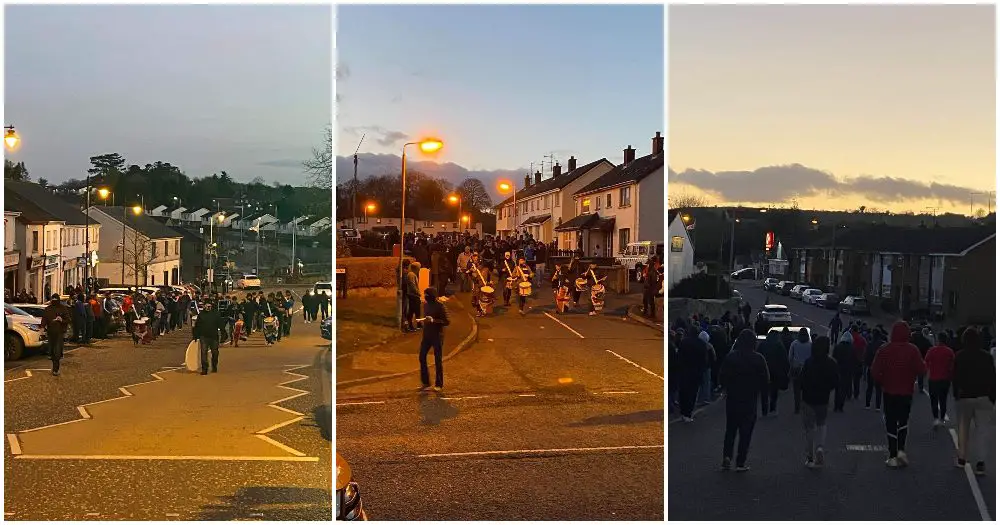 Organisers of a loyalist protest in Markethill on Monday night have defended their "peaceful" challenge to what they described as "the two tier policing system" in Northern Ireland.
One source told Armagh I the protest was about "sending a clear message that the violence-rewarding Protocol must go".
It was one of several demonstrations across Northern Ireland in recent days, with a similar protest held in Portadown earlier in the afternoon.
Upper Bann MP Carla Lockhart said the protests were a result of "Sinn Fein's arrogant disregard for the Covid regulations" and that "they are to blame for this political crisis".
She added: "The Chief Constable must take responsibility for Sinn Fein receiving special treatment from the police whilst ordinary people were prosecuted.
"Law and order is the cornerstone of a civilised society. When there is a double standard by the police, then that damages respect for the law.
"Sinn Fein and the Chief Constable both must take their share of responsibility.
"For my part, I will oppose law breaking in all forms. All lawbreaking is wrong. I urge those loyalists, frustrated by the actions of Sinn Fein, to step back. Remain peaceful and stay of the streets. We don't want young lives criminalised. Two wrongs don't make a right.
"As the Party Leader has said, those Sinn Fein lawmakers who broke the law should resign instead of arrogantly thumbing their nose at everyone else. Sinn Fein must be held accountable for their actions and the senior command police officers who facilitated law breaking should also resign."
DUP Assemblyman William Irwin MLA said that the fall out over the Bobby Storey funeral was "very clearly" still being manifested out in the wider loyalist community.
He stated: "This is very clearly the outworkings of deeply held frustration in the loyalist community and this flows from the very different treatment of Republicans by the Police and the PPS, compared with for instance, a family traveling a distance for a stroll on the beach and in so doing receiving a fine.
"This differential and indeed what may believe to be preferential treatment is very obviously the basis for these protest style parades. On a wider theme it is a concern that respect for rule of law has been so severely damaged by the double standards of the Police in the facilitation of a massive funeral for an IRA terrorist.
"I am a law abiding citizen and I encourage people to vent their frustrations peacefully and through the democratic processes available. It is clear that those senior Sinn Fein members involved in the Bobby Storey funeral should be considering their positions as indeed should senior PSNI figures who also facilitated this huge funeral event."
Meanwhile, Sinn Féin councillor for Markethill, says Monday night's protest was "consistent with several other displays of intimidation across the North".
The Cusher councillor said images and video footage of masked loyalists parading through the streets in the town echoes "shows of strength" in other places across the North and appears to be a deliberate attempt to stir tension rather than a band parade.
Councillor Haughey said: "Irresponsible and reckless rhetoric from Unionist politicians has seen tensions rise right across the Protestant, Unionist, Loyalist community.
"I would appeal for calm and I call on those in positions of influence in political unionism both locally and across the North to demonstrate more measured and responsible leadership before tensions boil over and become out of control."
Sign Up To Our Newsletter