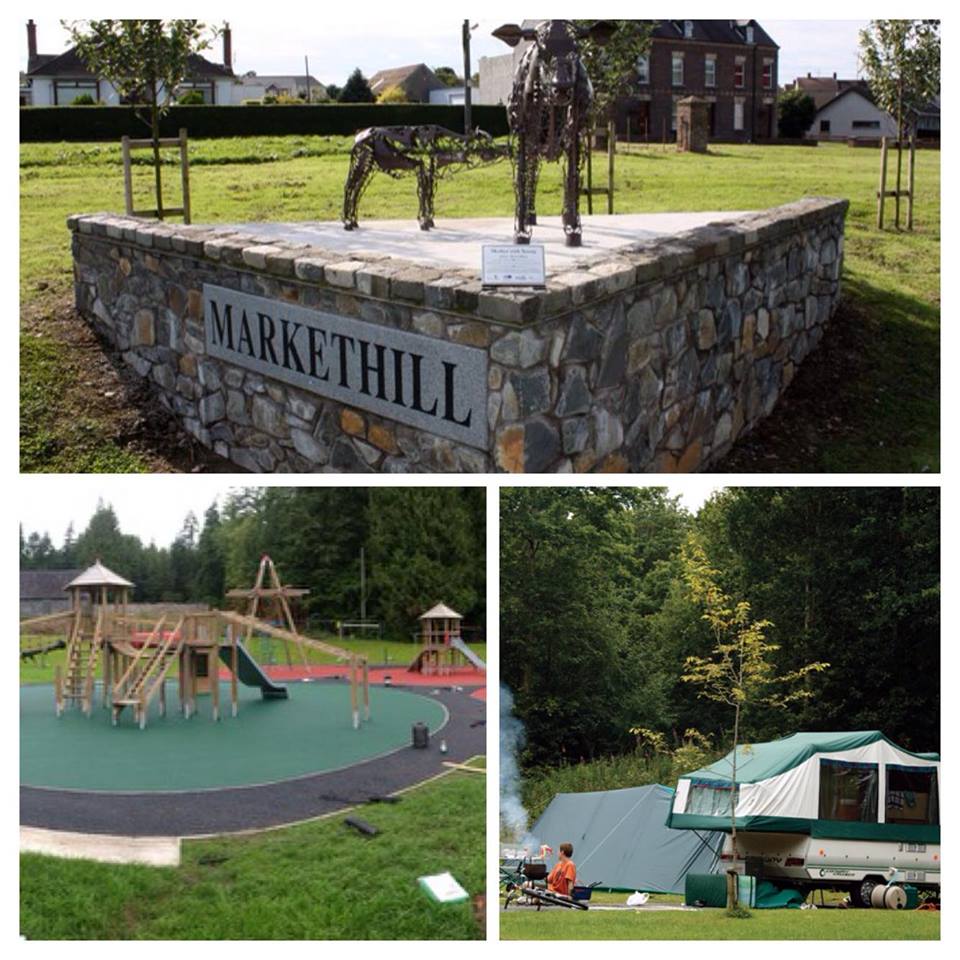 The former farmers mart and police station in Markethill are expected to be converted into new enterprise facilities.
And the town's vacated bank and a large site to the rear of the property could be developed for retail use.
The proposals are both long-term visions as part of a process aimed at ensuring a prosperous future for the area.
Invest NI and private funding would have to be explored and their change of use is not expected to take place until after 2021.
But they form an integral part of the new Markethill Development Plan and will be key to its success.
The document was unveiled and launched during a packed public meeting at the town's Old Markethill Courthouse.
The substantial plan – compiled by Deloitte on behalf of Armagh City, Banbridge and Craigavon Borough Council – is a major blueprint for the future of Markethill and its proposals are wide-ranging.
Armagh I has been studying the document which envisages a 'drop in' youth centre-type development providing safe, off-street accommodation for young peoplem most likely within the old Courthouse.
Also advocated is a visitors centre – through partnership with local heritage organisations – and a victims' 'hub' at the now vacant Bingham House.
In terms of retail, the formation of a traders' association is also seen as essential going forward.
So too will be changes to traffic management within the town centre. There will be a need for additonal off-street parking, as well as disabled provision.
Tourism potential built around Gosford Forest Park will also be looked at, as will identifying accommodation needs. Heritage and history trails telling the 'Markethill story' could feature.
And investigation into leisure provision as part of local sports development – which would be a partnership approach – will be undertaken.
In line with any future new build development at Markethill High School, consideration – the plan states – should be given to the development of state-of-the-art sports facilities, including a 3G pitch and indoor gym and sports hall which would be offered on a dual use basis, similar to the successful facility at St Patrick's High School in Keady.
A new play park development is also proposed.
And then there is the Orange Order plan for the Kilcluney community 'hub' which is already underway, supported by local and central government. The hope would be to extend paving and lighting to service this development, as well as resurfacing of pavements along the Fairgreen Road.
The development speaks of the need to "secure the financial and operational sustainability" of the Old Courthouse accommodation in the town, a central and well-used local facility.
There is also a vision for the provision of 'fold-type' housing in the town, sustainable local public transport, and IT facilities for adult education within the Courthouse.
These are just some of the proposals which are contained in the development plan.
All but four elements of the plan fall into categories classified as short-term – between now and 2018 – and medium term, to be completed before 2021.
Those longer term elements are the bank, mart and police station proposals – for which private developers have already indicated consideration for mixed economic and residential development – as well as the sports provision, and fold housing.
The proposals, the plan says, have been determined based on an extensive programme of "community consultation and engagement".
It adds: "The proposals reflect needs at this time and, together with the plans which remain undelivered from the previous development, provide the basis for development in Markethill for the future."
The community will be able to have its say through various exercises and means, including that held this week in Markethill.
One of those who has been instrumental in helping to deliver this important document through her work on council is the SDLP Councillor Sharon Haughey-Grimley.
She is urging local people to engage in the Markethill development plan process, and in particular has "encouraged the nationalist community to get involved".
Councillor Haughey-Grimley attended the launch in Markethill this week.
And, speaking afterwards, she told Armagh I : "It's taken quite a lot of work and time to get the Markethill Development Plan to this stage.
"Following extensive consultation we are now in a position to launch a strong plan for the development of Markethill, a rural town.
"It's great that so many people have engaged thus far, and the high turnout at the launch is promising. This plan is about promoting and developing Markethill in the future for all who live, work, trade and do custom in the town.
"That includes a minority nationalist community and I urge people from this section of the community to participate in the working group so that we can deliver the very best for the whole community.
"The extensive plan includes ambitious targets in terms of sport and leisure, community facilities, housing, economic development and tourism.
"The plan aims to deliver for all the people of Markethill over the coming years and we hope will help secure external funding to meet these targets.
"I urge anyone interested in getting involved in the working group to get in touch."
Cllr Haughey-Grimley added: " One of the first projects to be delivered within this plan will be a play park for all the children of Markethill and wider area.
"This will be a free and accessible play park built close to Markethill Primary School and will compliment the facilities already available at Gosford.
"I have been a strong advocate for the delivery of this play park, especially after the limited play facilities on Newry Street were taken away.
"I have also ensured that the new play park will have access from Bunker Hill which is vital in ensuring good and safe access for the children of that area."
Sign Up To Our Newsletter