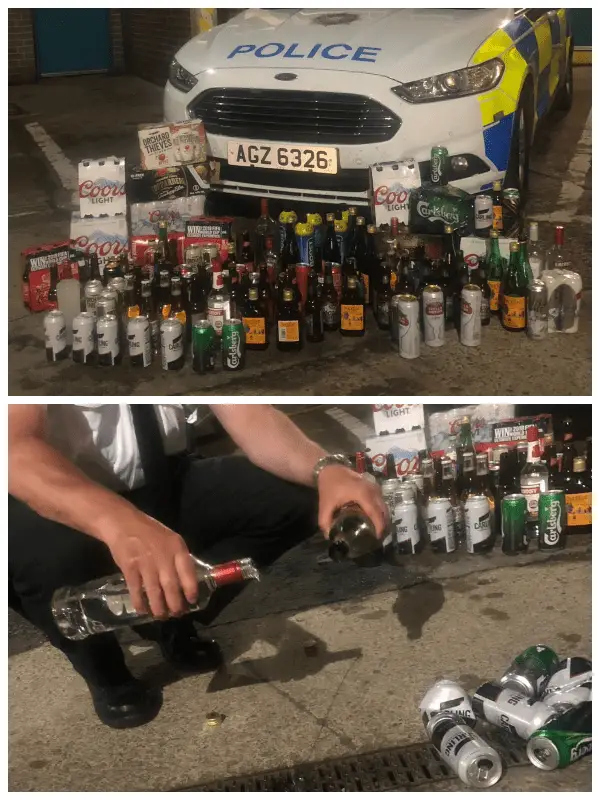 Police have hit back at claims they were heavy-handed in removing alcohol from people at a band parade in Markethill on Friday night.
Local resident and victims' group campaigner Willie Frazer had accused the police of taking a "heavy handed ninja approach" to policing the issuing of alcohol at the annual Kilcluney Volunteers Flute Band parade.
Thousands attended the parade in the Co Armagh town on Friday evening and police have commended the organisers.
On Saturday, they shared on social media a photograph of alcohol which had been seized and detailed the approach which they had taken in relation to drinking in public places byelaws.
The band itself, prior to the event, had asked people to abide by the byelaws.
But as with every event, police said there were instances where people did flout the laws and they had alcohol taken from them.
Mr Frazer was among those who had criticised police action in the town.
He shared a video on Facebook on Friday evening and hit out at the policing operation.
Mr Frazer posted the following alongside the clip: "We are disgusted with the police's behaviour during the parade in markethill tonight. The heavy handed ninja approach taken by them and in some cases searching bags & sniffing lemonade bottles was totally uncalled for & unacceptable.
"I doubt they would behave in the same manner in crossmeglen. I don't blame the individual officers it's their superiors."
The police have hit back at criticisms levelled at them, also using social media platforms by way of response.
Firstly they welcomed the support and backing of the band.
There was high praise for Kilcluney Volunteers Flute Band, as police said: "The communication and links with the organisers were second to none, and they ran a tight ship in terms of minimum disruption to the town and a family event. They openly discouraged any behaviour, including of course drinking, along the parade route, and indeed commented favourably on our action in making sure their efforts were upheld. A commendable job by them."
But officers dismissed claims their actions were not measures or appropriate to the circumstances and again outlined the law in relation to public drinking.
Commenting on Facebook, they wrote: "A few individuals have chosen to capitalise on their own lack of knowledge of the law to paint us as, in some mysterious way, 'heavy handed'. Quite possibly for a point scoring exercise, but certainly out of step with the organisers and those truly associated with the event.
"Here's some commonly misunderstood bits of legislation: You cannot have ANY alcohol on a parade route, opened or unopened. You can't bring a pint out of a pub! You can't drink in the street.
"Last night, people COULD have been fined or reported to the council for many such offences, but a more sensible approach was taken. People were told to take their pints back inside licensed premises. People with unopened bottles on the parade route were told to go and put it in the boot of their car.
"Those who were openly drinking in the street though, or who tried telling us we couldn't, did have it taken from them.
"It must be said that the vast majority of those who were spoken to and had drink taken from them weren't even from our district. When you're on our patch, you play by the local organisers' rules and, as some learnt last night, telling us we can't take your drink won't win the argument, nor will it keep you your drink!
"The photo here is just some of what was seized last night, so for the irresponsible who would claim that this didn't happen, stop trying to point score. To also assert that officers are from a certain background simply from looking at them is disgusting in the extreme, a pitiful example to set to youngsters, and carelessly irresponsible.
"In the last month in this district, extremes on both sides of the good old "themuns" debate have accused us of being one sided and heavy handed. Both cannot be right. It won't surprise most to know that both are wrong.
"Perhaps the truth is somewhere in the realms of common sense – that we will deal firmly but fairly with anyone breaking the law regardless of who you are, where you are, or what you profess to be.
Sign Up To Our Newsletter