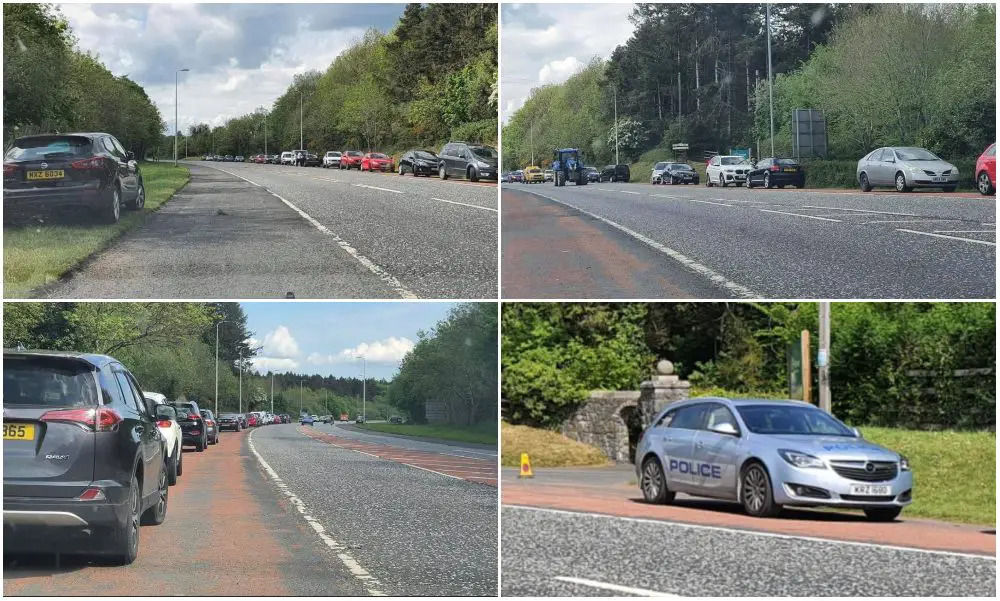 While Armagh has fun in the sun Gosford's not going to be outdone!
Dozens of cars again line the hard shoulder for as far as half a mile away to the entrance.
Photographs sent to Armagh I show once again that, despite repeated calls, people are deliberately ignoring the rules.
Parks within the Armagh City, Banbridge and Craigavon borough were reopened recently to allow people to take exercise.
But they are intended for use by those within walking distance.
The PSNI has repeatedly said that people should not drive to parks to exercise.
And it is a sentiment which has been echoed by ABC Council, which is responsible for the park.
It has said the parks are for pedestrian use only – the play park at Gosford is not open to the public, nor the car park within Gosford as people having to drive there are being asked to stay away.
One Markethill man said the police had been parked at the entrance this afternoon at one stage and were on foot patrol through the town itself.
But it did not deter the constant string of cars lined along the hard shoulder for most of the day.
He told Armagh I: "It appears that lockdown is over at Gosford!"
Another local who had walked across for exercise – as the council has encouraged – said he was disgusted that there did not appear to be much by the way of social distancing going on.
He said: "I saw several cars arrive at the same time and all getting out and walking in in a group. They can't all have been living in the same house but were going to Gosford to meet up for a catch-up clearly.
"I even saw one group carrying in a picnic basket. There was even a minibus full of children.
"When people cannot stick to the rules they are going to spoil it for all of us and the parks will be closed again. People need to just wise up and listen."
Sign Up To Our Newsletter