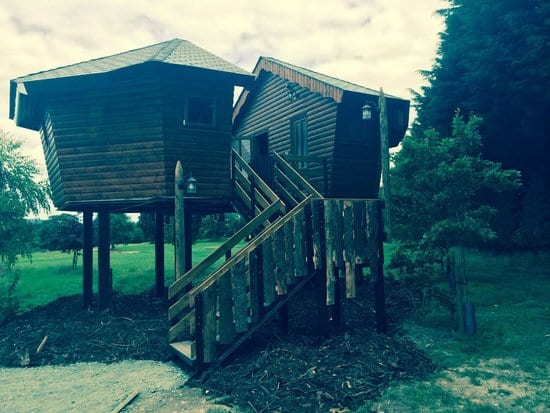 Authentic log cabins or tree-house accommodation could be looked at as part of the future development for Gosford Forest Park, Armagh I can reveal.
The idea had been suggested during an economic appraisal carried out in relation to the park, as it is hoped to make it one of Northern Ireland's top five forest parks and a five-star visitor attraction.
While the unique accommodation had been investigated, it is not being proceeded with at this time.
But it has been recommended that it could go ahead in the "medium term" as part of future plans.
Armagh City, Banbridge and Craigavon Borough Council is tonight (Monday) expected to approve a recommendation for the future redevelopment of the Forest Park, which was exclusively revealed by Armagh I.
Of all of the options drawn up, the most ambitious is expected to be given the go-ahead, which will then only require formal ratification before a full council sitting later this month.
The total cost comes in close to £1,570,000.
That option – which will go to tonight's meeting of the leisure and services committee – has the additional inclusion of an iconic interactive themed play trail, which alone would cost £400,000.
This would be expected to be based around 'Gulliver's World', reflecting the historic links of Dean Jonathan Swift, author of Gulliver's Travels, with Gosford.
The other key elements include a visitors centre and cafe, enhanced carvan park with toilets, youth campsite, walking trails, cycling trail and new branded signage.
It is also hoped to have the walled garden open to the public.
Two council officers visited Alice Holt Forest and Moors Country Park to look at ideas on Friday past.
They will be attending tonight's committee meeting to give a verbal update on their findings.
Outdoor Recreation NI had carried out a scoping study in relation to Gosford and had included the idea of an iconic themed attraction.
Two were included as "worthy of consideration", these being a themed play trail and tree-houses and 'glamping'.
It has been recommended to proceed with the play trail.
Two potentially relevant examples in the UK were listed – one being 'The Big Deer' play structure trail at Tollymore Forest, the other the 'Grandfather Oak' adventure playground at Dalbyy Forest Park, in the North Moors National Park in North Yorkshire.
Consultation with Outdoor Recreation NI indicates the minimum scale for a themed play trail would include five sculpture pieces, and it is likely that an international tender exercise will be required to ensure the appropriate standard and quality would be achieved.
A presentation given by PKF-FPM Consultancy concluded that an "iconic themed play trail attraction offered a greater range of tangible benefits".
Funding applications will go out and, when everything is up and ready to go, it would be expected to take between six months and a year for the redevelopment at Gosford.
Carvanning and camping are included in the plans for the forest park.
The unique aspect and something different may come later.
Consultants have examined a number of tree-house providers in Ireland and used River Valley Holiday Park, in County Wicklow, (pictured) as a working example.
The consultants reported that, compared to the other caravan and camping sites in the council area, Gosford Forest Park can "offer something new and unique".
They say Gosford is the prime location for developing an iconic themed play trail attraction or "providing in the future other iconic type authentic forest holiday experiences".
These include log cabins, 'glamping' pods and an aires de services site – designed for motorhomes, and a type of facility already identified in the Armagh Destination Plan.
Consultants reports that this type of experience would "most likely be developed at Gosford Forest Park in the medium term and after the costed options were implemented".
<a href="https://www.tripadvisor.ie/LocationPhotoDirectLink-g1777208-d1774473-i103952041-River_Valley_Holiday_Park-Redcross_Village_County_Wicklow.html#103952041″><img alt="" src="https://media-cdn.tripadvisor.com/media/photo-s/06/32/2e/a9/the-tree-house.jpg"/></a><br/>This photo of River Valley Holiday Park is courtesy of TripAdvisor
Read more news:
Armagh woman talks about her struggle with cancer and it's 'real shock to the system'
SDLP's Kelly loses Upper Bann seat as SF Education Minister passes transfer test
This is how the internet is reacting to the Upper Bann election result wait
Child's Minnie Mouse points to family's lucky escape in reckless arson attack
McNulty scores for SDLP but Newry & Armagh political landscape remains unchanged
Assembly candidate's tribute after death of 'beautiful' baby grandson Cameron
Get set for a weekend of tractors, trucks and fun for two very worthy causes
Tasty idea?: Vacant Xtra-Vision store to be redeveloped just months after closure
Sign Up To Our Newsletter