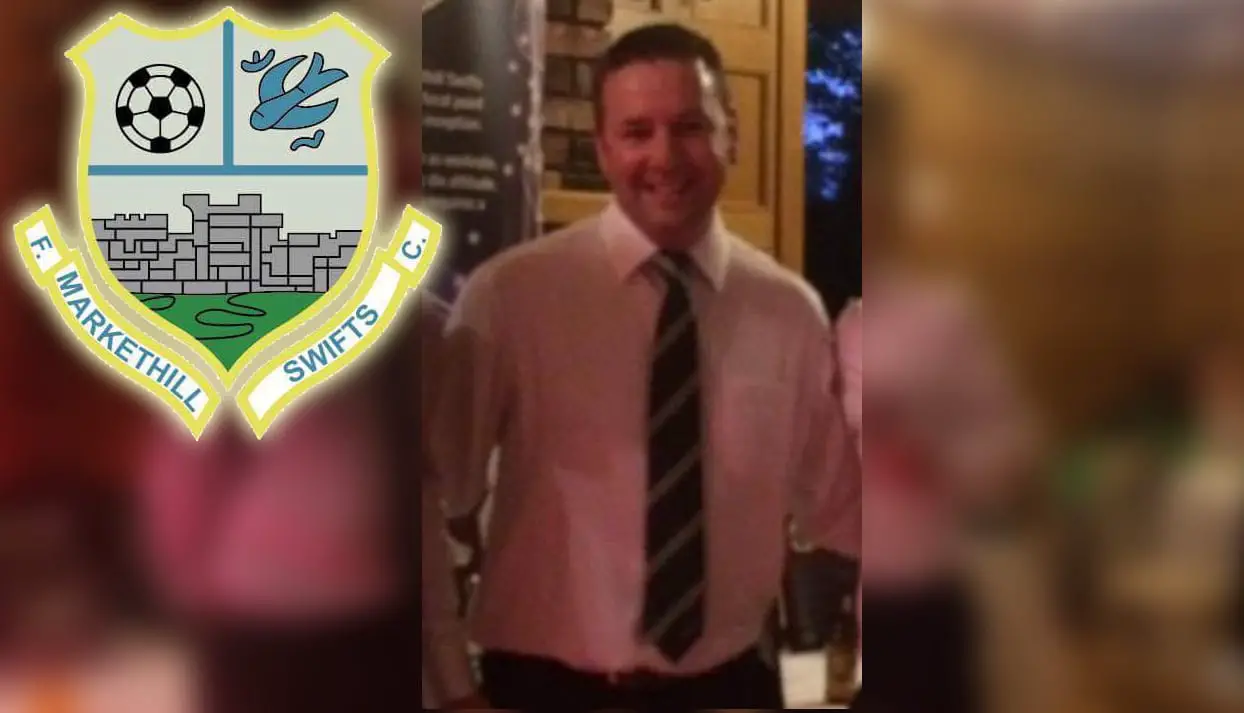 It's the end of an era for Markethill Swifts FC who will bid farewell to their Reserve Team manager after 20 years at the helm.
Donald Whiteside, who has been involved with the club for more than a quarter of a century, will step down at the end of the season.
Donald has worked under several first team managers and has been a constant fixture in the make-up of this great local club.
Club Chairman Ray McCall described him as "one of the good guys".
Speaking to Armagh I, Ray said: "Donald's biggest asset was always the fact that lads wanted to play for him; he was just one of those good guys.
"Every game he would have had sweets for us at half-time, then it was Jaffa Cakes for a while. If he asked you to play for him you didn't want to let him down and never could we not field a team under him."
Donald's selfless contribution to the club can be summed up and illustrated by several compassionate acts in recent years.
"He works so hard for the club – on and off the pitch," Ray explained. "He was John McNally's brother-in-law and the first time he was unavailable to manage was whenever he took a month off to help with John before he sadly passed away. That's the first time in 20 years he hasn't been about really."
Again, a few years back, for his 50th birthday, Donald asked for donations towards a defibrillator for the club rather than presents.
He may be taking a break from management duties but Donald won't be removing himself from the club anytime soon.
"He'll be involved with the club and will stay on as Assistant Manager to help Phillip McComb bed in next season," said Ray.
"It's been 20 years and it has taken over his life. His only son is around 20 too and he's been away every Saturday. It's been a big part of his life and it's just that he wants a little break. He wants to give other boys a chance really."
He added: "Donald has been threatening to do this for the past five or six years and we've always talked him out of it. He told me at the beginning of the season that he thought this was it for him.
"He got promotion to Reserve Division One a couple of seasons ago and last season he didn't want to quit because he wanted to consolidate the club in that division. This year, unfortunately it hasn't gone according to plan but I don't think that had anything to do with, he had his mind made up.
"I played for him for 18 years as a second team player and realistically, if he wasn't manager there's a very good chance I wouldn't have played as long as I did; he prolonged my career. I'm now 41 and was playing until I was 38 for the seconds.
"The club would like to thank him for his long service and without him the club would not be where it is today."
A club statement, published on their Facebook page, read: "Things just won't be the same without him around (officially) anymore but we are sure that he won't be a stranger and hope that he will continue with his involvement at the club in some form, even just as a supporter. It just won't be the same without him.
"We are sure that many of you will be as sad to see him go as we are, if you see him around town today pass on your best wishes to him.
"We are all very proud of Donald's achievements at the club and although we are sorry to see him go we all agree that nobody deserves a happy retirement from football more than the man who epitomises what this club is all about, the manager, the gentleman and the mate."
Sign Up To Our Newsletter