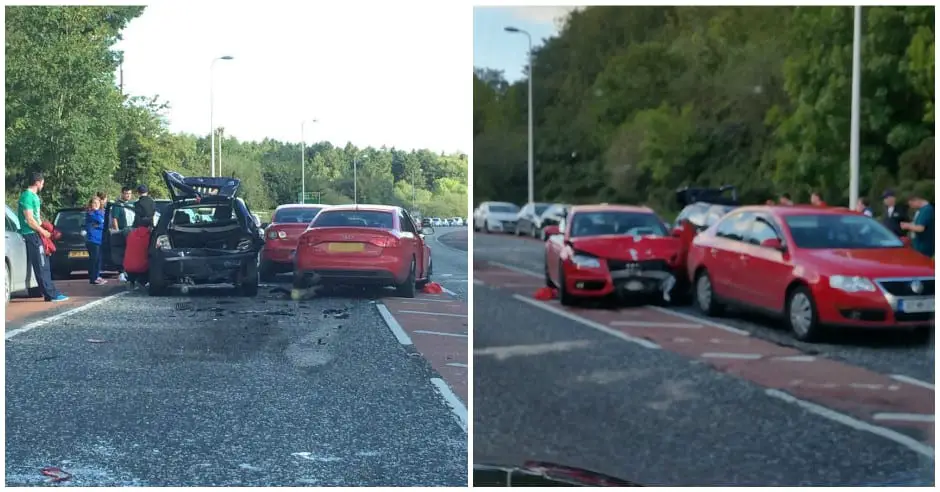 There have been calls for the hard shoulder at the entrance to Gosford Forest Park to be 'blocked off' by police.
It is one of a number of suggestions which have been put forward to improve road safety at the local attraction.
And it was made ahead of a meeting – to be led by Armagh City, Banbridge and Craigavon Borough Council – to tackle the problem once and for all.
Calls for a multi-agency meeting to address the issues following an accident at the start of the month close to the entrance to Gosford.
Three cars were involved in the collision.
It prompted fresh calls for action to deter motorists from parking along the hard shoulder in a bid to avoid the £5 entrance charge into the forest park.
Tomorrow night (Monday), Armagh, Banbridge and Craigavon Borough Council will be expected to ratify the recommendation of an earlier committee which advocated a meeting, bringing together all those with an interest in the issue around the one table to find a solution.
It was Ulster Unionist Alderman Jim Speers who raised the issue and commented: "It is only a matter of time before a life is lost."
He said the meeting should include PSNI, Transport NI, NI Forest Service and the Department of Agriculture, Environment and Rural Affairs – as well as Cusher councillors.
Alderman Speers said at peak times there were children running across the main road and he was concerned that, as time went on, the issue was becoming more serious. He explained many were unwilling to pay the admittance fee of £5 per vehicle which was why the hard shoulder was used for parking.
He added that the gate was not always manned so the fee was not always payable.
The Ulster Unionist representative voiced his feeling that the PSNI had a responsibility and "should block the hard shoulder to prohibit parking".
He said parking on the hard shoulder was allowed if a vehicle was not causing an obstruction.
But he added: "If 50 cars are parked on the hard shoulder, individually they do not cause an obstruction but collectively they d0."
Alderman Speers said police had advised that they could not prosecute as the vehicles did not cause an obstruction.
SDLP Councillor Sharon Haughey-Grimley suggested a reduced fee or pedestrian fee, while Sinn Fein's Darren McNally wanted to see Forest Service and the Department of Agriculture, Environment and Rural Affairs "step up to the mark".
DUP Alderman Gareth Wilson has also contacted the Department of Infrastructure on the issue and he too is supporting calls for a multi-agency meeting.
Alderman Jim Speers, meanwhile, said something needed to be sorted out as the area is "becoming a death trap".
Sign Up To Our Newsletter