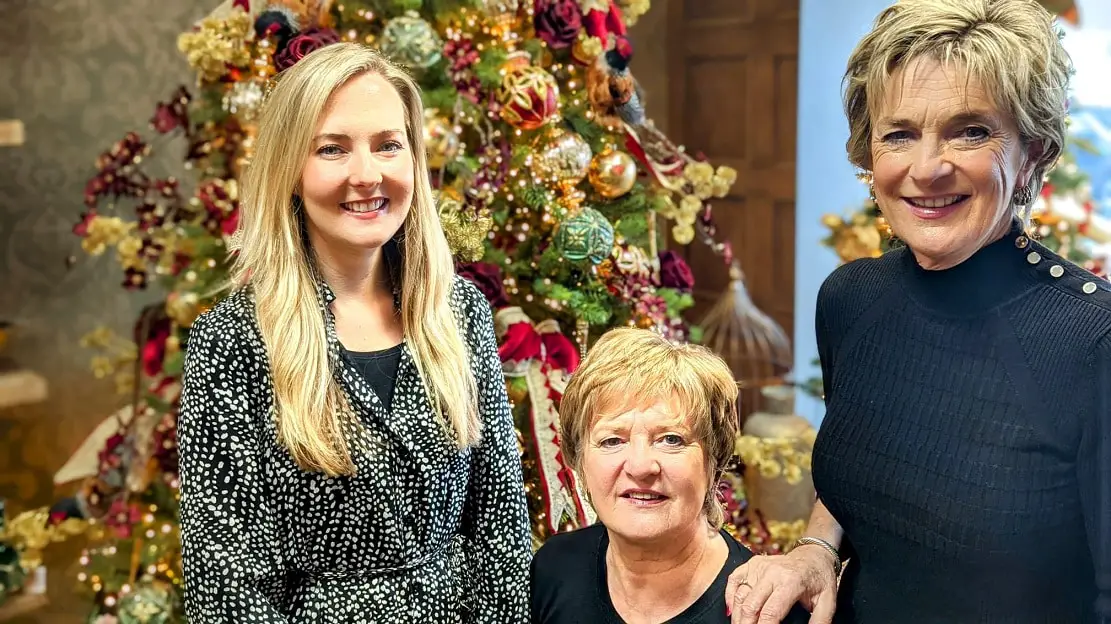 Following in the footsteps of their parents who started it all, Norman and Iris Alexander's daughters, and now grand-daughter, hope to make the family name proud as the Alexanders of Markethill Christmas displays continue to get bigger and better.
Suzanne Laverty, her sister Johanne Maxwell, and now Suzanne's daughter Katie Rush are striving to make their late mum and dad, Iris and Norman Alexander, proud as they hold the fort at Alexanders of Markethill, a business which has been in the family for 68 years.
Suzanne and Johanne have been running a business that seeks not only to live up to the huge legacy left by Norman and Iris, but to be willing to take risks and adapt in a changing world – and this strategy seems to be paying off.
The family behind Alexanders, and the Market House premises itself, are steeped in tradition. The building was built in 1835 by the first Earl of Gosford and has hosted all sorts of businesses over the years, including even a dance hall.
Norman and Iris Alexander bought the Market House in 1954, and the Alexander family lived on the upper level of the shop for years. Back then Alexanders sold everything from furniture, carpets and beds, to fridges, TVs and water pumps, with the very first item Norman sold being a bicycle bell. 
It comes as no surprise that from no age, Suzanne and Johanne were working on the shop floor, where they were responsible for the toy section at Christmas time. They have been equal partners in the business for over 25 years, with Suzanne's daughter Katie coming on board as Marketing & Operations Manager in July 2020.
Norman passed away in September 2020, followed by Iris 19 months later in April 2022. Since then, the girls have made it their mission to do the couple that started it all proud.
Armagh I spoke to Suzanne and Katie about the business, and how the ladies have created a Christmas tradition that sees visitors from near and far come to admire their extravagant festive-themed displays.
Suzanne says that Christmas at Alexanders has come from humble beginnings, with it all starting out many years ago in a small corner of the shop.
"Since I was a child, I have always loved Christmas, so when I came into the business my sister and I decided that we would expand it gradually", Suzanne explained.
"It was my sister Johanne who came up with the very first theme in 2008 and that was 'Christmas Around the World', where we designed each one of the rooms with a different country in mind, such as France, Scotland, and USA etc."
Suzanne says that choosing a theme every year is challenging, with planning beginning in December, followed by buying season in January and February, where they visit places such as Holland, to buy new Christmas decorations and products.
"There is a lot of planning that goes into it, but it has been a great success and we've built it up through the years. People do love trying to guess what the theme is every year but it is always top secret until we have our launch event in the middle of October."
"This year, the theme is "A Hollywood Christmas". We have had a great reaction to it so far and a lot of customers are saying that this has been one of our best themes ever", Suzanne says. "We pay great attention to detail in our Christmas shop, it's not just a wave of a wand and it really takes a lot of time, but I think our customers really appreciate that and they always seem to enjoy all of the little details that go into our displays."
Katie adds: "A lot of people say visiting Alexanders at Christmas is a tradition. They came with their parents and now they're coming with their own kids. It's lovely to be part of those family traditions."
Over its 15 years of history, the themed displays at Alexanders have been wide ranging from 'Christmas at the Grand Hotel' to 'Making Christmas Memories' and 'Christmas Books & Fairy tales'.
"One year there was a big life size Grinch that had been made by our amazing in-house team", Katie laughed. "Some kids still come in and ask where it is because they remember it so well. It's just a lot of fun and you get to be very creative."
Suzanne says that through the years, Christmas has been an important tradition in Alexanders, and that Norman and Iris always loved the Christmas shop, "They would come to our Christmas evenings every year, even after they had retired, and they would enjoy looking at all of the displays, talking to customers and sharing stories about the history of the shop. My Mum in particular loved talking to customers and they really got to know her."
Suzanne explains that change has been a huge part of how Alexanders has developed, and this is something the family have been able to adapt to since day one.
"The whole shop has changed many times since Johanne and I started", said Suzanne. "Gradually through the years we've had to change with our customer's changing tastes. We have friendly and helpful customer service and really listen to customer's feedback and ideas. I suppose that's why this family business has now survived into the third generation."
"We've had to learn an awful lot as we go, but we are immensely proud of how the business has grown and developed. It's been established for 68 years now, and I suppose we always need to remind ourselves that businesses must evolve. It has changed so much since Mum and Dad actually started it", she adds.
Despite the need for business to adapt and change, for Suzanne, one constant that has remained since Norman and Iris started the business all those years ago is the Alexanders work ethic, a trait which was first instilled in Suzanne and Johanne by their parents, and then onto Katie as she moved into the business.
"Mum and Dad really taught us so much about business", Suzanne said. "When they first started, it was a really big challenge. They had to take risks and work very hard."
"We are very much a hands-on business. There's just no task that we won't do ourselves. Before you arrived, I had an apron on and I was in the kitchen washing the dishes. We don't ask any member of staff to do something that we wouldn't do ourselves, and our parents had the same approach. We learnt it all from them."
Suzanne attributes the survival and success of Alexanders, not just to the ingrained family work ethic and their willingness to change with the times, but also to the amazing staff team, some of whom have worked in the business for over 25 years.
"We have an incredibly supportive, loyal, and hard-working team here in Alexanders across all our departments. We just could not do what we do without them, and we are so grateful for all their dedication."
Alexanders showstopping "Hollywood Christmas" shop is not to be missed this year. Make sure to visit this family business and enjoy the festive atmosphere in the run up to Christmas. 
Alexanders of Markethill will be open until 8.30pm on Thursday November 17 and Thursday November 24  as they countdown to Christmas with special promotions from 5:30pm – 8:30pm. The coffee house will also be open for festive treats available and a free Christmas mug worth £5.99 when you spend £30 on food gifts. Food sampling throughout both evenings and complimentary gift wrapping is also available.
Sign Up To Our Newsletter