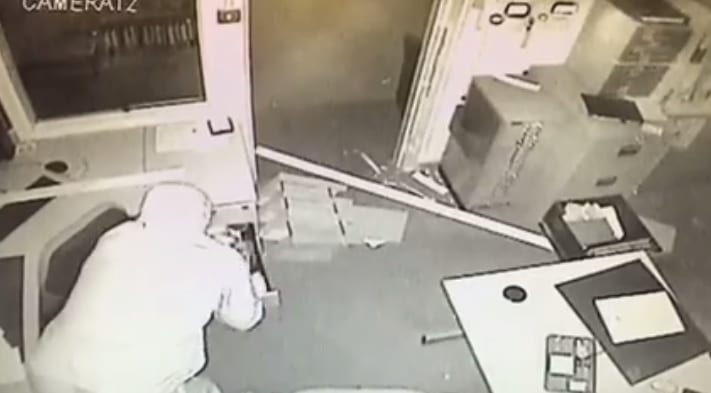 A burglar has been caught on camera as he ransacked offices at a County Armagh primary school overnight.
And the school has taken to Facebook to share the footage in the hope of catching the person who left a trail of destruction in their wake.
The portion of video shows the burglar running up the main driveway of Carrick Primary School, having previously tried to gain entry via the nursery department and Primary 1 gate.
He smashes a window and breaks into the closest classroom – P3K – before making his way directly to the office.
When there, the thug hauls himself at the door and actually takes it from its hinges before throwing it to one side.
He can then be seen rifling through drawers before fleeing the office and dashing up the steps to make good his escape.
Because it was dark, the video – of which a two-and-a-half minute extract has been posted – records as a negative image.
But the school is still hopeful someone will recognise the intruder and come forward.
Posting via Facebook, Carrick Primary reveals that forensics have been able to identify that the person involved was wearing Nike footwear.
But the wearing of gloves meant no fingerprints were left behind.
The school reports: "After leaving the office he is believed to have gone upstairs to the top corridor and down the far stairs where he left via the back door."
It appeals directly for public help, posting: "Please look at the footage carefully and share it. If you recognise the individual do not hesitate to contact Lurgan Police station.
"Unfortunately the ease of movement with which this individual negotiates the school would suggest that they are familiar with it.
Sign Up To Our Newsletter