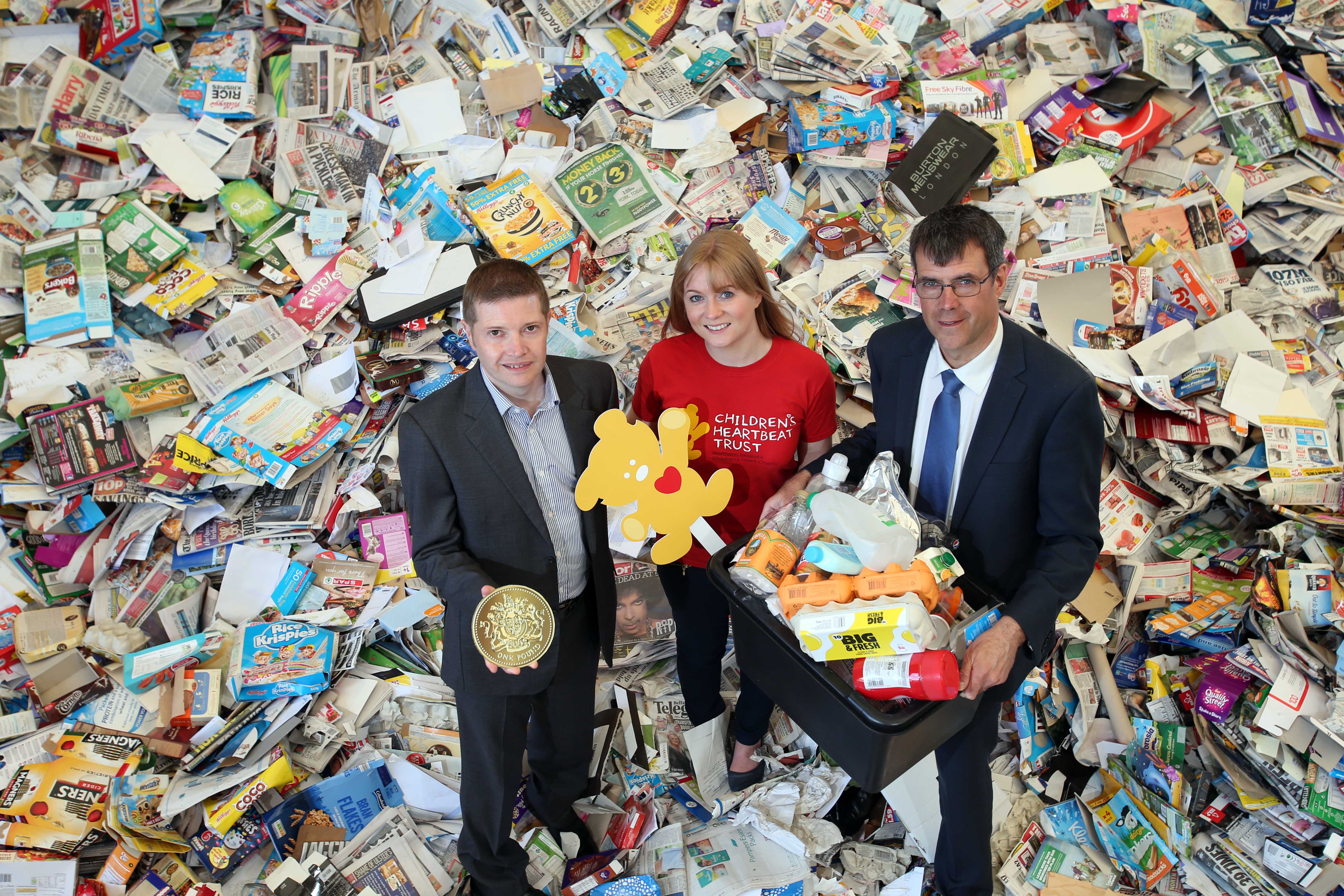 Financial help has been provided to more than 20 families with children undergoing heart surgery.
And it's all thanks to a unique recycling initiative – which was launched a year ago – with three business partners, including Lurgan-based global packaging firm Huhtamaki.
It has had a big impact on local charity the Children's Heartbeat Trust.
The year-long  'Recycling Rewards' campaign was developed by Bryson Recycling in a bid to  boost recycling levels and add value to the local economy – and all in aid of a good cause.
For every tonne of materials collected through Bryson's weekly kerbside box service, three local businesses – Encirc, Huhtamaki and Cherry Plastics – donated £1 to the charity.
Thanks to an impressive 12,000 tonnes of materials collected across Northern Ireland, the charity has given financial support to over 20 families undergoing heart surgery and related treatments.
They've also bought 13 Coaguchek machines, allowing children to monitor their own heart condition effectively at home, purchased a defibrillator and also provided 35 counselling sessions for parents upon their child's diagnosis.
Commenting on the success of the campaign, Eric Randall, Director at Bryson Recycling, said: "This campaign has exceeded all expectations and we are donating a total of £12, 360 to Children's Heartbeat Trust.
"More than 170,000 households across the province have helped families and children diagnosed with congenital heart disease just by simply recycling more.
"Every household can do it – this campaign is a testament to that. The recycling of quality materials, which are then processed by our three partners,  supports the local economy and sustains employment levels too."
Huhtamaki employs 226 staff locally and is a world leader in environmentally friendly moulded fibre packaging, using 100% recycled raw materials. Collected paper is reprocessed into high quality egg packaging and cup carriers and is supplied to McDonalds and all the main retailers in the UK and Ireland.
Jeff Kearon, Logistics Manager at Huhtamaki, said; "We are really encouraged to see first hand the difference that local households have made to children's lives throughout the campaign and Huhtamaki has donated just over £6,000.
"This charity provides a real lifeline and support and we are delighted to have played a role alongside Bryson in their weekly kerbside box service."
Lynn Cowan, from Children's Heartbeat Trust, added; "This campaign has allowed us to receive vital support for children that are often diagnosed with life changing conditions.
"With this money we can offer support, raise awareness and support research into heart disease as well as enable families to lead normal lives. It's amazing that recycling, which is so simple, can have such a lasting and beneficial impact on others."
Encirc, Cherry Pipes and Huhtamaki all reprocess materials collected from Bryson Recycling on a weekly basis and work with household brands, such as Bushmills and Baileys, to provide quality products worldwide, including pipes, glass bottles and egg packaging.
Weekly household collections are carried out across five council areas; Antrim & Newtownabbey, Armagh, Banbridge & Craigavon, Belfast, Lisburn and Castlereagh and Mid & East Antrim.
For more information on Bryson Recycling and collections visit www.brysonrecycling.org.
Picture: Jeff Kearon, of Huhtamaki, Lynn Cowan, from Children's Heartbeat Trust and Eric Randall, Director at Bryson Recycling, mark the success of the Recycling Rewards, which has raised over £12,000 to provide practical and emotional support to families, children and young people affected by heart disease.
Read more news:
Taoiseach confirms Pope visit to Ireland with Armagh heavily-tipped to be on agenda
Investigation launched after Co Armagh man found dead at house
Investigation launched into man's death after van enters Newry canal
Markethill's Christmas sale and auction raises incredible £32,000 for Air Ambulance NI
Keady named runner-up at prestigious Pride of Place national awards gala event
Staff in shocking ordeal as knifeman demands till contents at rural cricket club
Family of pet dog 'bludgeoned to death' in child's bed devastated by unimaginable horror
Sign Up To Our Newsletter