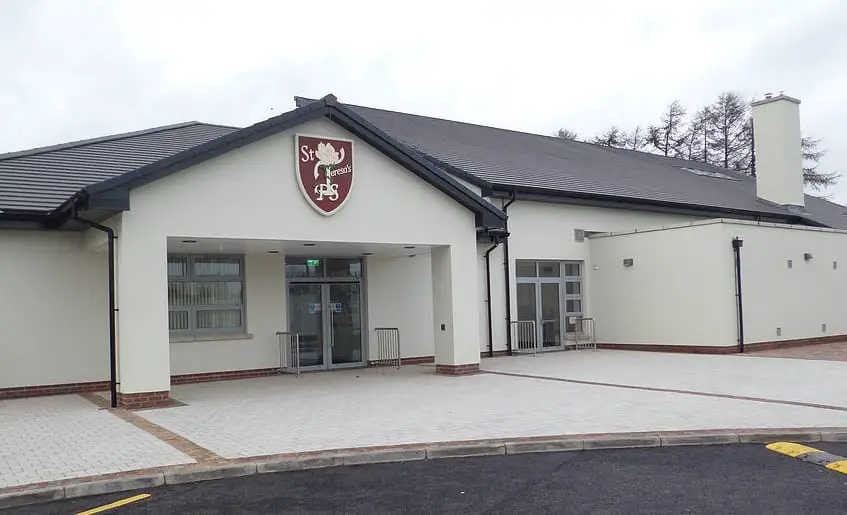 A new £4m primary school in county Armagh has been officially opened today.
Education Minister John O'Dowd was on hand to officially unveil the new build seven class St Teresa's Primary School in Lurgan.
Speaking at the official opening ceremony which followed a celebration Mass, the Minister said: "It is a pleasure to return to St Teresa's today to join in the celebrations of your new school.
"A school has been a part of this area of Lurgan since 1960 and I am pleased that school life will continue here well into the future.
"A new school brings tangible change to the daily life of pupils, teachers and the wider community. Here at St Teresa's a new chapter begins with your brand new state of the art school which will enhance the learning for this generation and future generations.
"Many people have contributed to get us to this point today and I want to pay tribute to you all. From planning, through to design and construction and finally today, the official opening, a lot of patience and forbearance was needed. Today represents a successful conclusion and a fitting celebration for all the hard work over the years. I wish you all well for your future learning."
Mrs Anne Doran Principal of St Teresa's said: "This is a wonderful day for the children, staff, parents, and entire school community in St Teresa's as we see our dream of a new school become a reality. We are delighted to have a spacious, airy, bright, state of the art school building on Tarry Lane worthy of the school's fundamental goal to help each child grow and reach his/her full potential.
"While our school and its staff have always striven to provide the highest educational standards and a solid foundation for all children in our care, we now have a building worthy of this task. It has taken over twenty years, but when you walk around all the classrooms along a single corridor and talk to children using the latest clever touch educational technology, I can wholeheartedly say it has been worth it!
"On behalf of the pupils, staff, governors and the entire St Teresa's community I thank the planning and design teams, the architect, the project manager, the contractor and in particular, the Minister of Education, Mr John O'Dowd, the Department of Education and CCMS for their work and support in building our new school."
Read more news:
Man in critical condition with multiple stab wounds; 26-year-old arrested
Terminal cancer patient Willie weds soul-mate Lyndsey thanks to public generosity
Two men charged after arson attack on boxing club
First Minister told nothing short of new build and sixth form will do for Markethill High
Digger stolen and driven three fields before loaded onto lorry
Armagh company prosecuted after worker falls from height and breaks nine ribs
Vandals damage four vehicles as car dealership is targeted over the weekend
South Armagh primary school gets £1.5m funding boost
Picture shows man caught trying to force open window of Co Armagh home
Sign Up To Our Newsletter