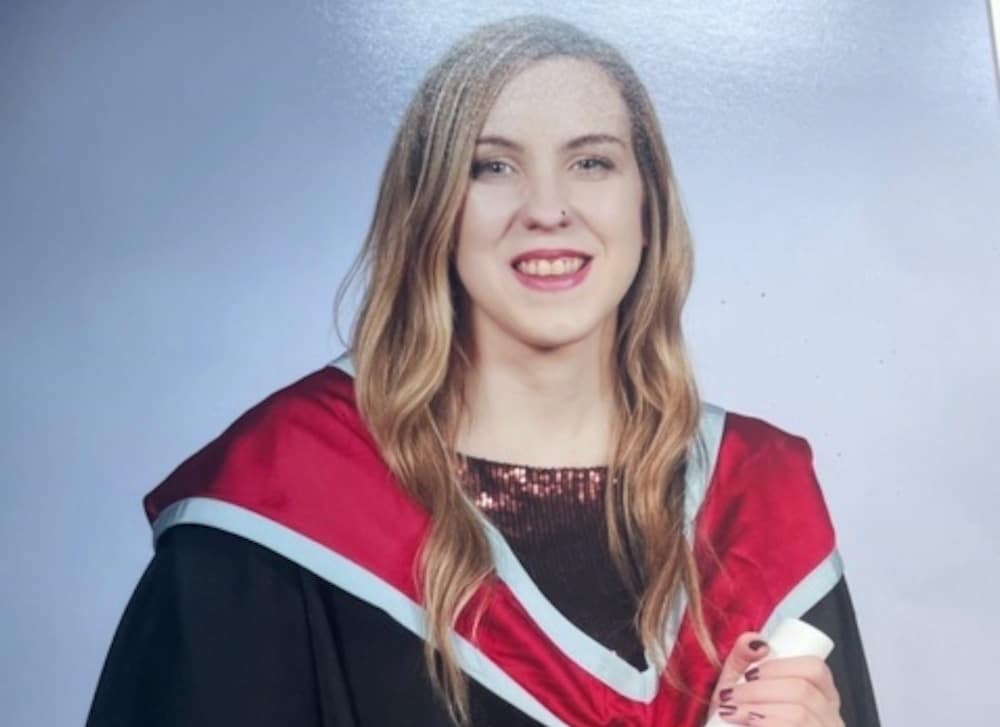 Natalie McNally was murdered by someone known to her, and someone she was comfortable allowing into her home, detectives investigating the murder have announced.
Police also said that they believe that the murder weapon has been found.
The update was given by Detective Chief Inspector Neil McGuinness, from the PSNI's Major Investigation Team, during a media briefing held this afternoon at Seapark Police Building outside Carrickfergus.
Natalie McNally, (32), was 15 weeks pregnant when she was stabbed to death in her home in the Silverwood Green area of Lurgan on December 18. 
The Detective Chief Inspector said: "Our investigation into Natalie's horrific murder is continuing, and I have several appeals to make today.
"I am still keeping an open mind, but my main line of enquiry is that this murder was committed by someone Natalie knew and was indeed comfortable allowing into her home."
DCI McGuinness directed the public to the CCTV footage previously released, which is believed to show Natalie's killer on his way to and from her home. He is carrying a rucksack and appears to be wearing trainers with light-coloured soles.
"Our efforts to identify the man captured in this footage remain ongoing, and I would appeal to anyone who believes they recognise this person, to get in touch. Someone must know who he is and I would appeal to you to do the decent thing and get in touch."
He added: "Do you really want to protect a man who can kill a woman and her unborn baby?
"I believe Natalie knew her killer, and police have no information to suggest a risk to other women.
"I am keen to build up a picture of Natalie's friendship groups and her life, so I would like to hear from any friends or acquaintances who visited Natalie in her home.
"I would also appeal to anyone who knows Natalie, or has interacted with her, in and outside of the social media space, to get in touch. Information you have may be crucial to my investigation.
"Since Natalie's murder, detectives in my team have conducted 200 house-to-house enquiries and seized over 3,000 hours of CCTV footage which we are examining. We have also submitted over 50 items for forensic examination.
"I would like to thank members of the public for their help so far, and again highlight a reward of up to £20,000 from Crimestoppers, who are a charity and are independent of the police.
"The reward is being offered for information given directly to Crimestoppers on 0800 555 111 that leads to the arrest and conviction of those responsible for Natalie's murder. Crimestoppers take information completely anonymously, meaning they will never ask for or store any of your personal details.
"Police patrols continue to have an increased focus on the Lurgan and Craigavon areas, around Silverwood and other locations.
"The deaths of Natalie and her unborn baby have left unimaginable pain and heartache to a loving and devoted family, whose hearts are simply broken.
"We remain determined to bring the killer to justice, and I am asking anyone with information to do the right thing and speak up."
A vigil to remember Natalie and all victims of gender-based violence will be held this afternoon by MLAs at Stormont.
In response, Women's Aid NI have said: "Northern Ireland must acknowledge that we have a massive issue of violence against women and girls in our society."
Statement: Stormont vigil in memory of Natalie McNally & all victims of gender- based violence

For more information on accessing support services please visit: https://t.co/jJHBHUZhlW#EndVAWG pic.twitter.com/k8IpQ0UJDI

— Women's Aid NI (@WomensAidNI) January 5, 2023
A 32-year-old man arrested on Monday, December 19 was released the next day and is no longer a suspect. Another 32-year-old man, arrested on December 21, has been released on police bail while inquiries continue.
An online portal has recently been set up to allow members of the public to upload information which may be of assistance to the detectives investigating the murder.
Members of the public can access the portal anonymously here: https://mipp.police.uk/operation/PSNI22R31-PO1.
Crimestoppers, a charity that is independent of the police, is offering a reward of up to £20,000 for information that leads to the arrest and conviction of those responsible for Natalie's murder.
Contact Crimestoppers on freephone 0800 555 111 or online at www.crimestoppers-uk.org.
Police can be contacted directly by calling 101 and quoting reference number 2127 of 19/12/22.
---
Read more: Childhood friend pens open letter to killer of Natalie McNally
Natalie McNally's brother in renewed appeal to catch her killer
Police issue update on two men arrested over Lurgan killing
Efforts to identify suspect in CCTV footage 'remains ongoing'
Sign Up To Our Newsletter