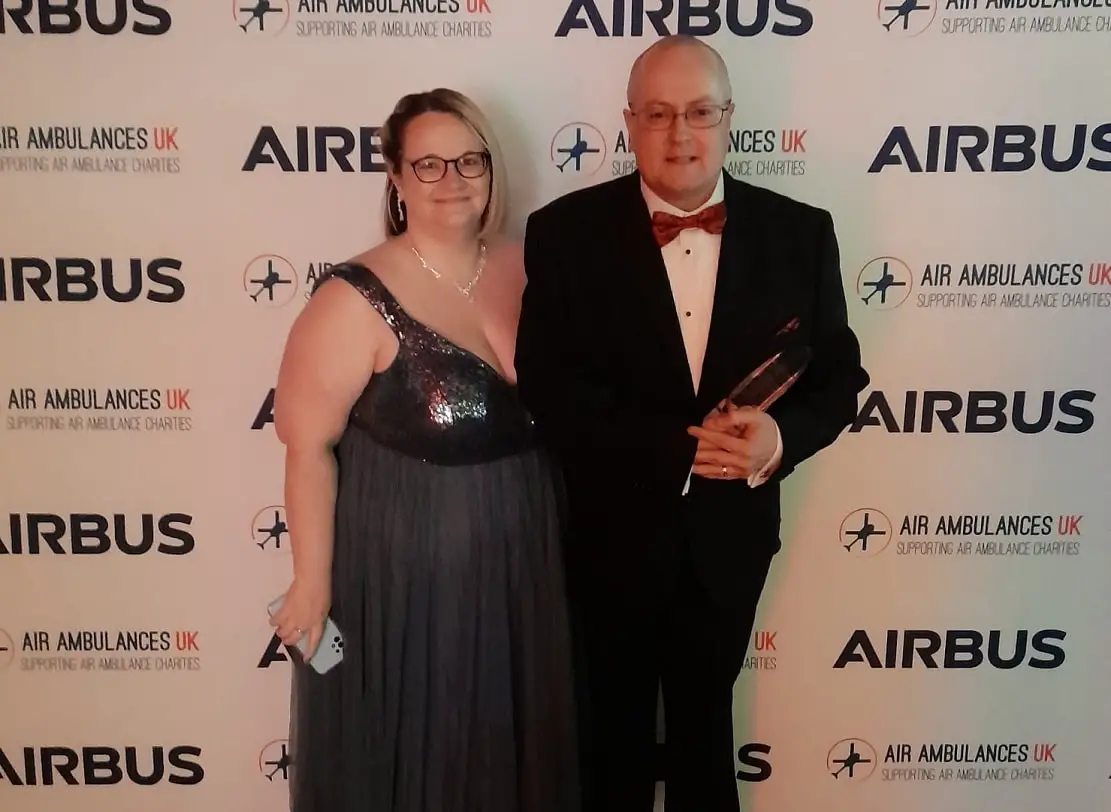 A Moira man is one of two Northern Ireland winners recognised at national Air Ambulances Excellence Awards held in Birmingham.
Air Ambulance NI (AANI) is celebrating success at the recent Air Ambulance UK Awards of Excellence for 2022, with two supporters from the province being recognised for their fundraising and volunteer work.
At the awards ceremony in Birmingham, they came out on top of competition from across the UK in two award categories – 'Young Person of the Year' and 'Volunteer of the Year'.
One of the two big Northern Ireland winners is Moira man Colin King, who won the 'Volunteer of the Year' award.
Colin's interest in the Air Ambulance service and charity started five years ago when the service launched in Northern Ireland. He became a Club AANI member, giving a monthly direct debit to the service as soon as the scheme opened and in 2020 expressed an interest in volunteering.
Since then, the relationship and his support have literally taken off!
Colin supports the charity in a number of ways including being the event photographer, designated mascot volunteer 'Helimed Ted' and assisting at many AANI fundraising events, playing a crucial role in helping the charity secure a three-year partnership with Translink.
Speaking after the awards, Colin said: "I'm absolutely delighted to have been chosen as 'Volunteer of the Year' and to be able to bring this great recognition to Air Ambulance NI.
"It's such a worthy charity and close to my heart.  I look forward to continuing to support the team in whatever way I can."
Northern Ireland's other winner, 11-year-old Ellie Smyth, was named as 'Young Person of the Year'.
Ellie from Garvagh, lost her father in a road traffic collision when she was just eight.
The Air Ambulance Northern Ireland team were tasked to Ellie's daddy, but sadly, he could not be saved.
Since then, Ellie, her older brother, Harry, and their mum, Caroline, have become passionate supporters of Air Ambulance NI, supporting fundraising events, volunteering and organising their own fundraisers.
AANI's Head of Fundraising, Kerry Anderson, commented: "Everyone at AANI is so proud of Ellie and Colin's achievements. As a team we rely on the support of our community volunteers and fundraisers in delivering our events throughout the year.
"The commitment and dedication Ellie and Colin show is repeated across our entire team of volunteers and we simply could not fly without them!"
Air Ambulance NI requires volunteers right across Northern Ireland.  If you are interested in becoming a volunteer please visit www.airambulanceni.org or call the charity on 028 9262 2677.
Sign Up To Our Newsletter