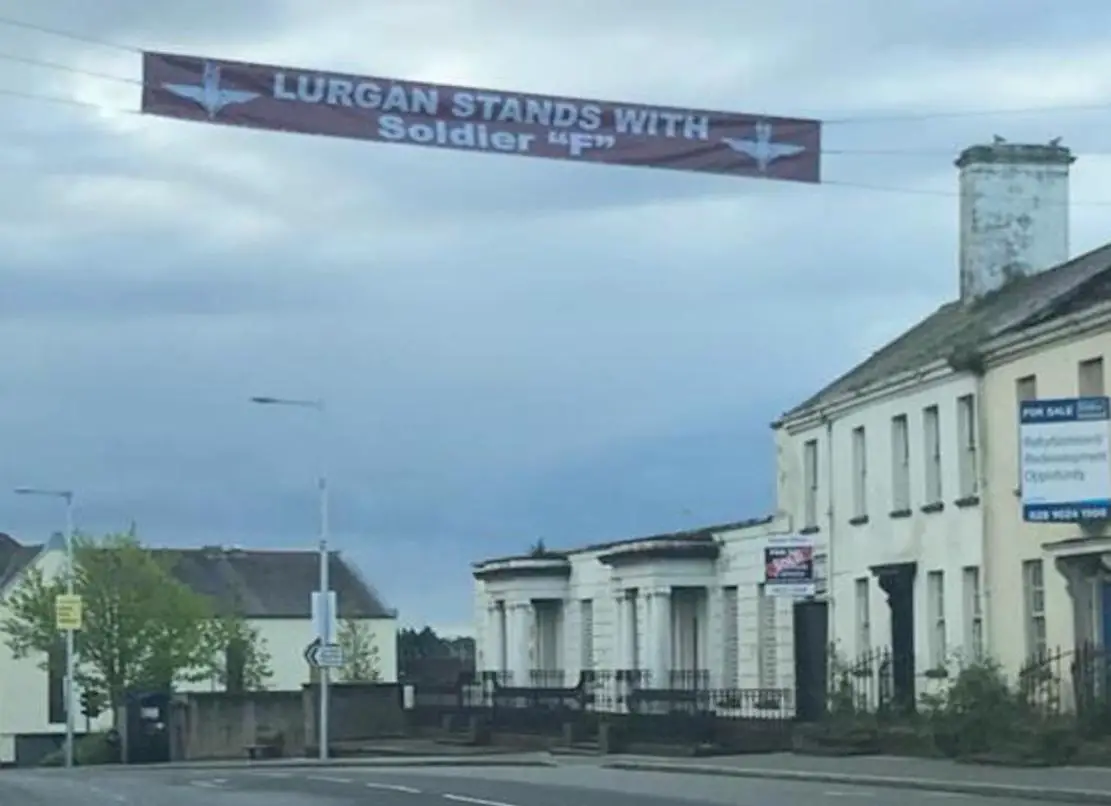 A man has been arrested after a banner proclaiming support for 'Soldier F' was set alight in Lurgan over the bank holiday weekend.
Photographs of a number of masked men around the burning banner appeared on social media, in an incident police are describing as a sectarian hate crime.
DUP MLA Carla Lockhart reported the photographs – one of which show youths posing in front of an image of a republican gunman – to police on Monday.
A 23-year-old man has been arrested on suspicion of a number of offences following the incident in the High Street area of the town, a PSNI spokesperson confirmed.
The suspect – who was arrested on suspicion of doing a provocative act, improper use of a public electronic communications network, possession of a class B controlled drug and possession of a class B controlled drug with intent to supply – has been released on bail pending further enquiries.
"It's believed this occurred sometime overnight [on Sunday]," Chief Inspector Barney O'Connor said.
"This is being treated as a sectarian hate incident at this time."
Ms Lockhart said she is "disgusted" by the act.
"It was brought to my attention this morning [Monday] and I immediately spoke with the PSNI who have acted quickly and efficiently with an arrest having been made," the Upper Bann representative said.
"The British Army served with distinction in Northern Ireland.
"Removing this banner is a hate crime and I am pleased that the PSNI are treating it with the seriousness it deserves."
Soldier F is accused of murdering William McKinney and James Wray and the attempted murder of four other civil rights protesters on the same day.
The former paratrooper was granted anonymity along with other military witnesses by the Saville Inquiry into the killings.
Ms Lockhart has appealed for calm as she asked local residents to give police space to carry out their investigation.
Sign Up To Our Newsletter