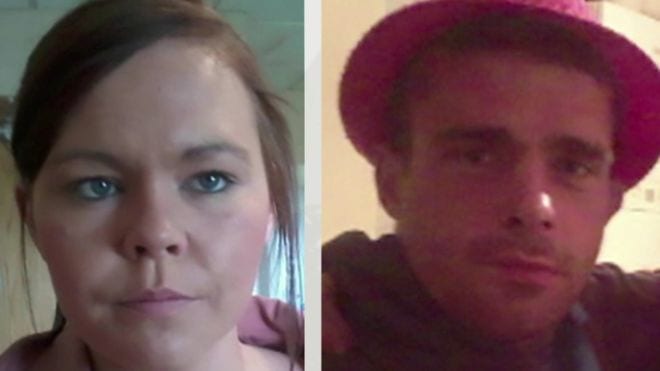 Two people have been sentenced to life in prison for the brutal murder of a county Armagh man in July 2014.
Owen Creaney, 40, was found dead at a house in Moyraverty Court in Craigavon. He was dumped in a recycling bin.
Stephen Hughes, previously of Moyraverty Court, Craigavon, was given a life sentence with a minimum period of 15 years.
Shauneen Boyle, previously of Edenderry Park, Banbridge, was given a life sentence with a minimum of 14 years.
In a statement issued on their behalf by police, Jim and Teresa Creaney, Owen's parents, said the death of a "wonderful son has left us heartbroken".
"He was a kind soul and didn't deserve what happened to him. Owen would have helped anyone. He thought he was with his friends but these people turned out to be his killers.
"Owen will be sorely missed by his immediate family, the wider family circle and his friends. He is in our thoughts every day. We miss him very much.
"We would like to thank the police, the Public Prosecution Service and everyone involved in this case for all their help.
"We would also like to thank our friends and relations for all their kind words and prayers. They are very much appreciated."
Detective Chief Inspector Lee McNevison said: "We hope that the sentences will, in some small way, provide comfort and a degree of closure for the Creaney family.
"They have conducted themselves with great dignity over the past two and a half years since Owen's murder and more recently as they listened to the often difficult evidence at the trial.
"Our thoughts today are with them and with Owen.
"In closing, I would like to thank the community in Moyraverty and in Lurgan for their co-operation and assistance in this investigation. They provided information, made statements and gave evidence. All of this support was crucial to securing convictions."
Read more news:
Three men charged with arson attack in Tandragee on Wednesday night
Wonderful improvisation at Newry Market with 'white-knuckle' lawnmower ride
Co Armagh man arrested after Border Force seize drugs from Portugal
Armagh set for brand new police station on Gough Barracks site
Three men arrested after petrol bomb attack on Tandragee home
Misery for Armagh businesses as phone line damage wreaks havoc
Tributes paid to former Ulster GAA secretary Danny Murphy
Phone lines down across Armagh following late night fire in city
Con artists bid to lure bank details from online Christmas shoppers
Sign Up To Our Newsletter