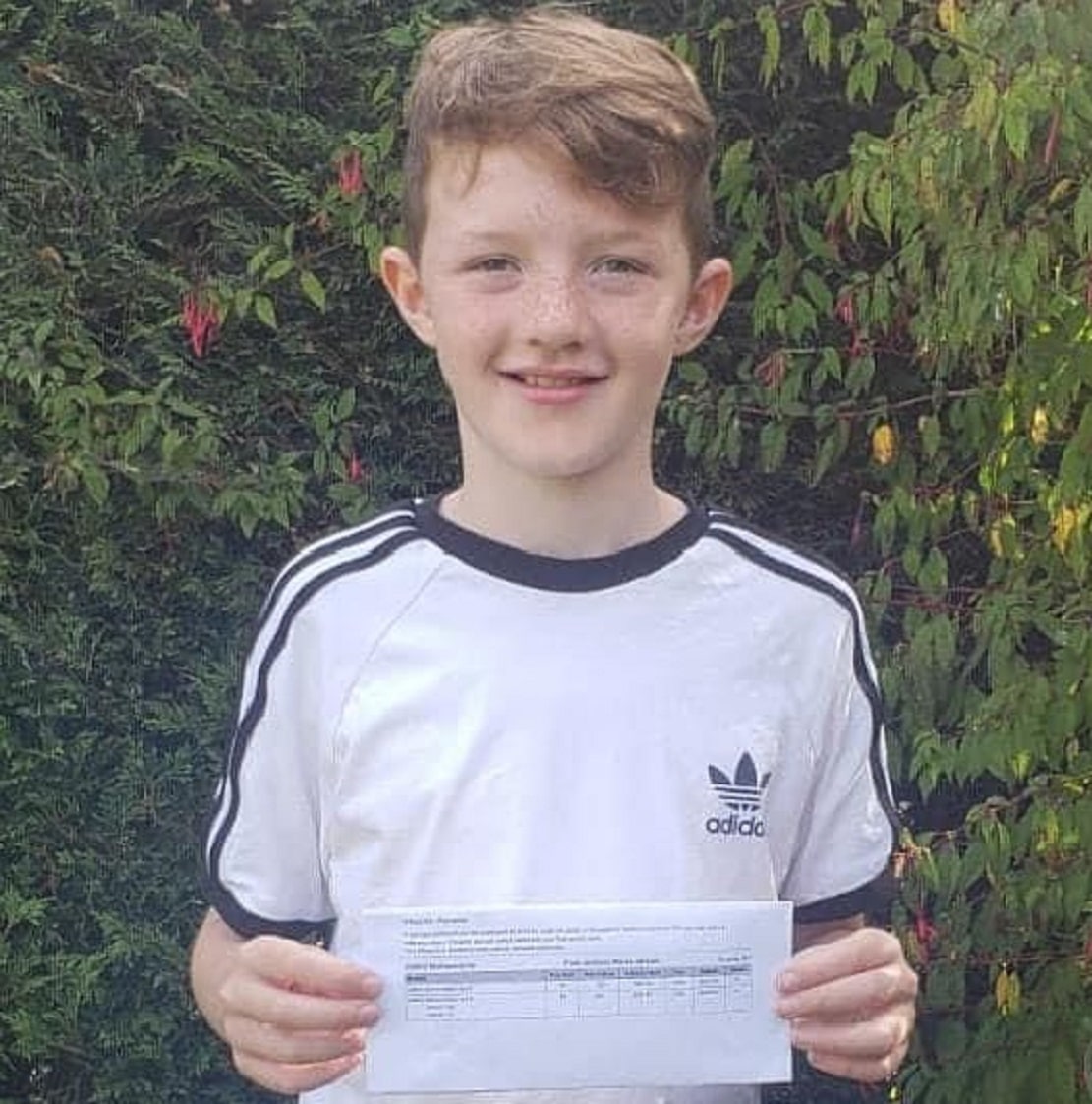 An 11-year-old boy has pulled off an incredible feat by sitting his GCSE maths five years early – and scoring an A*.
Jack Maher, who lives in Aghagallon, just outside Lurgan, received his result yesterday (Thursday) alongside dozens of teenagers.
Jack, who attended St Mary's Primary School in Derrymore and will start St Ronan's College in September, began studying for the exam at the start of his P7 year.
His mum Ciara said Jack, the youngest of three boys, has always had an aptitude for maths.
"When he was two he was playing bingo with us and when he was three he could have bought and sold you at Monopoly," she said.
"My sister was bringing him to nursery one day when he was about two-and-a-half and he was counting up to 100 and then doing it in twos and fives.
"When he went to primary school, he was always working ahead of the class, but we just thought it would level out once he got older."
In fact, the family didn't realise their son's potential until lockdown when his brother Caolan was studying for his maths GCSE and Jack was listening to the online classes and trying out some of the work.
When his P6 teacher mentioned jokingly that he could sit his GCSE, it planted the seed.
After discussions between the primary school and St Ronan's it was agreed that Jack would sit the exam, with his mum teaching him from home.
"He was like a sponge," she said. "As soon as you showed him something you didn't have to do reams of examples.
"Anything I couldn't remember we just searched for it on YouTube. But he didn't need too much coaching."
Ciara describes her son as "just a normal boy" who happens to have a gift for maths.
"He plays football and hurling, he plays a couple of instruments, he's in the swimming club. He loves to go out with his friends riding his bike and bouncing on the trampoline," she said.
"We had told him from the outset he could pull out of the exam at any time but he just took it all in his stride. Even sitting in the exam hall with 300-odd teenagers didn't worry him.
"He enjoys it and likes the challenge. He seems to have a natural curiosity for it."
Ciara said Jack was "absolutely ecstatic" when he got his result, adding, "We were just so proud of him".
Ciara and husband Declan were initially unsure which would be the best secondary school for their son, and had spoken to some grammar schools, but eventually opted for their closest post-primary, the all-ability St Ronan's College in Lurgan which his brothers Caolan (16) and Oisin (14) attend.
"We wanted to send him somewhere he will be able to progress at his own pace. We have never pushed him but we still want him to be challenged," she said.
"St Ronan's have been fantastic. They didn't have to take him on as an external student and the maths teachers there, Mrs Moore and Miss Carroll, were great.
"Out of all the schools we looked at for him, they were the ones who seemed to be prepared to work at his pace and were very open to doing different things with him.
"And I really want to thank all the teachers in the primary school and his principal Mrs Atarsney as well. They were always so supportive."
Being good with figures seems to run in the family. On the same day Jack collected his envelope, brother Caolan (16) picked up his GCSE results, six A*s, three As and one B, with one of his A* grades in further maths, while Oisin is also top of his year in the subject.
Sign Up To Our Newsletter