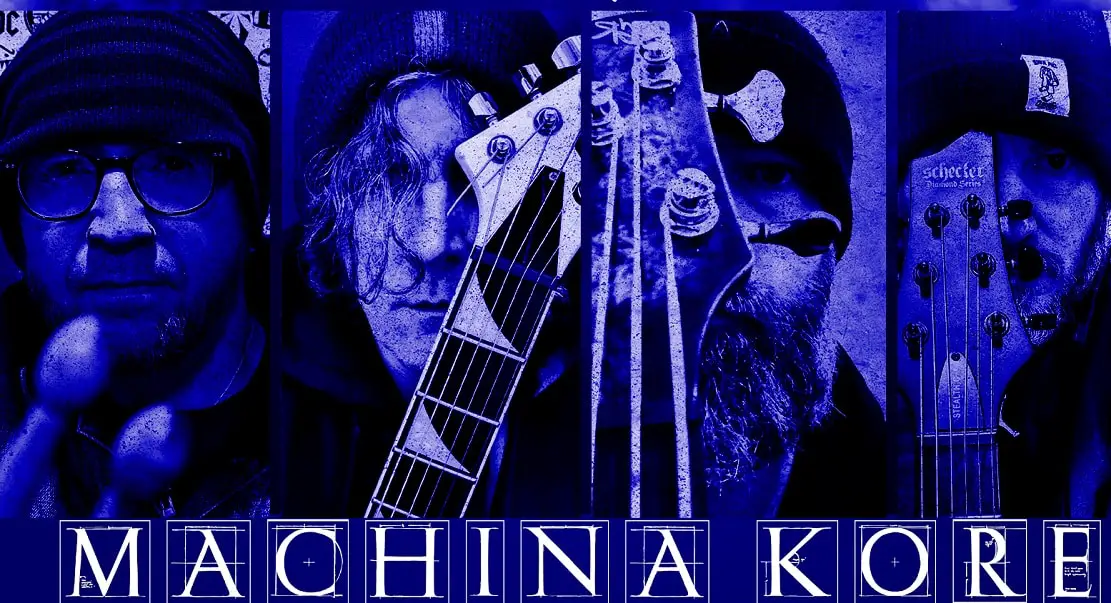 While the rest of the community and music industry took a breather this January following the festive season, 2023 was off to a powerful start for Lurgan/Portadown band Machina Kore, writes Sarah Nutall.
The band has not only released a trailer for their new single and video 'Those Among Us' but has appointed Lurgan guitarist and fourth member Gary 'Jacko' Jackson, and launched the aforementioned 'Those Among Us', with two further singles and a debut album planned for release later this year.
Following Machina Kore's pandemic-induced formation in February 2021 and the birth of their lockdown debut EP 'Blood In Code' that May, a teething period saw Machina Kore's line- up evolve into their current three-piece, comprising original Lurgan frontman, vocalist, songwriter and guitarist Gareth 'Moro' Morrow (Sinocence founder and writer); original bass player, Sean 'Seany' Haughian (Kelwan); and Portadown drummer and previous co- musician with Morrow, Davy 'Cassa' Cassidy (Sinocence, Million Dollar Reload).
Having previously reviewed 'Blood In Code' and been blown away by the epic progressiveness and metallic but melodic majesty of 'Wither', 'Exile', 'Footprint on a Death Mask' and 'God From Machine', I, among other fans, have eagerly anticipated this new Machina Kore output.
After 15 months of Morrow and Haughian perfecting their inherent and immediate chemistry with Cassidy, the silence has finally broken with 'Those Among Us', now streaming on all major online platforms.
It is by no means anti-climactic as Los Angeles fellow fan and rock music expert Craig Clewlett attests on YouTube, "Been waiting for this one and the boys didn't disappoint".
As the world has progressed through pandemic and post-pandemic restrictions, Machina Kore have progressed from a primarily electronic and distance-based collaboration process to a return to old school studio jamming, rehearsal and recording; including a move from their previous, solid but somewhat formulaic metal percussion style; to that of Cassidy's classic, yet uniquely passion-fuelled hard rock and funk-infused drumming, influenced by Led Zeppelin, Aerosmith and The Red Hot Chilli Peppers, to name a few of the artists he literally wears on his sleeves.
All this complementing Morrow's impassioned yet indignant Dave Mustaine-meets-Maynard James Keenan- esque vocals, crescendo-building vocal lines and relentlessly furious riffs; as well as Haughian honing his, ever so heavy, bass with equal magnitude to the rest of the ensemble, and a zeal unequalled, compared to the mediocre bass background and accompaniment found all too often in the world of rock; the result is five minutes and 54 seconds of hard-hitting, heavy but haunting, musical comeback with conviction. 'Those Among Us' is Machina Kore in surround sound.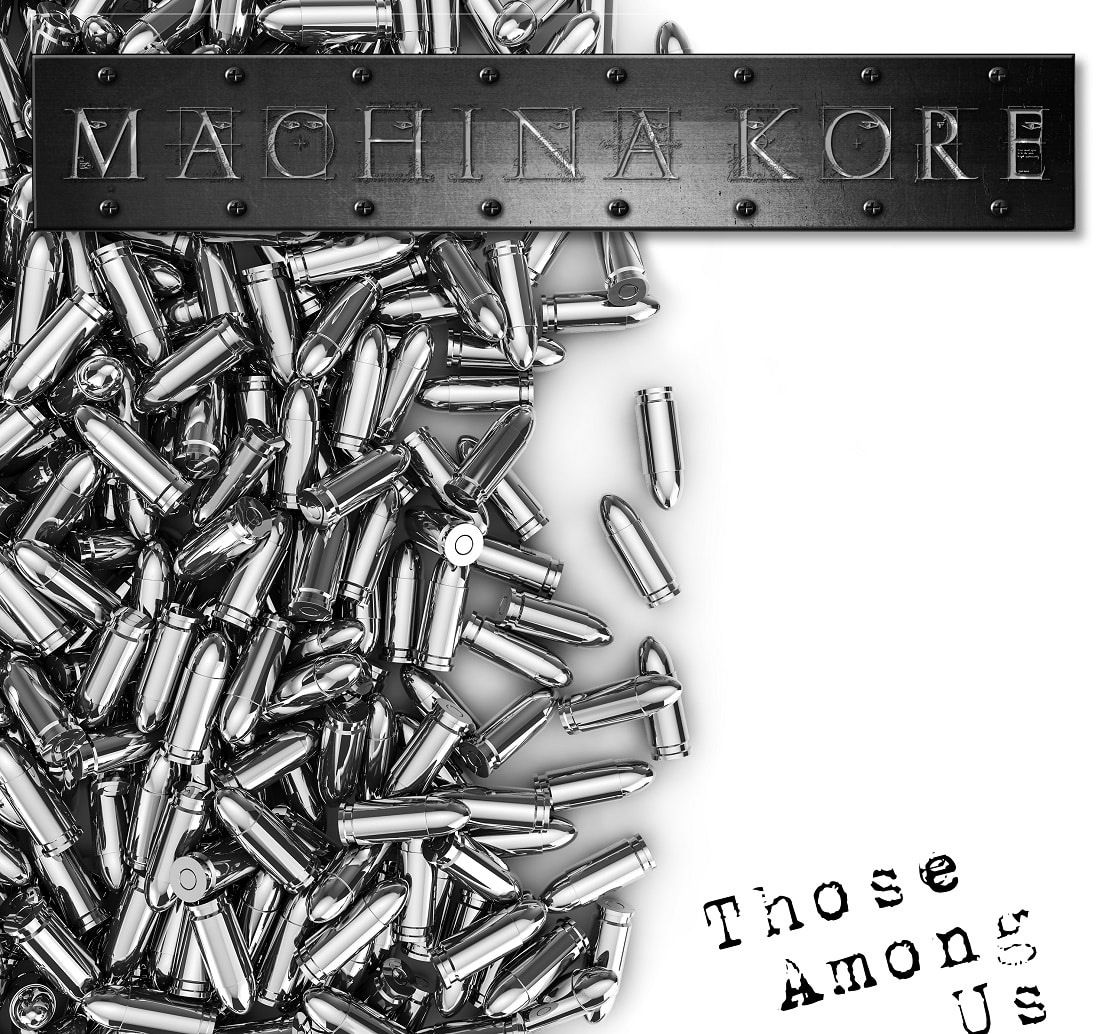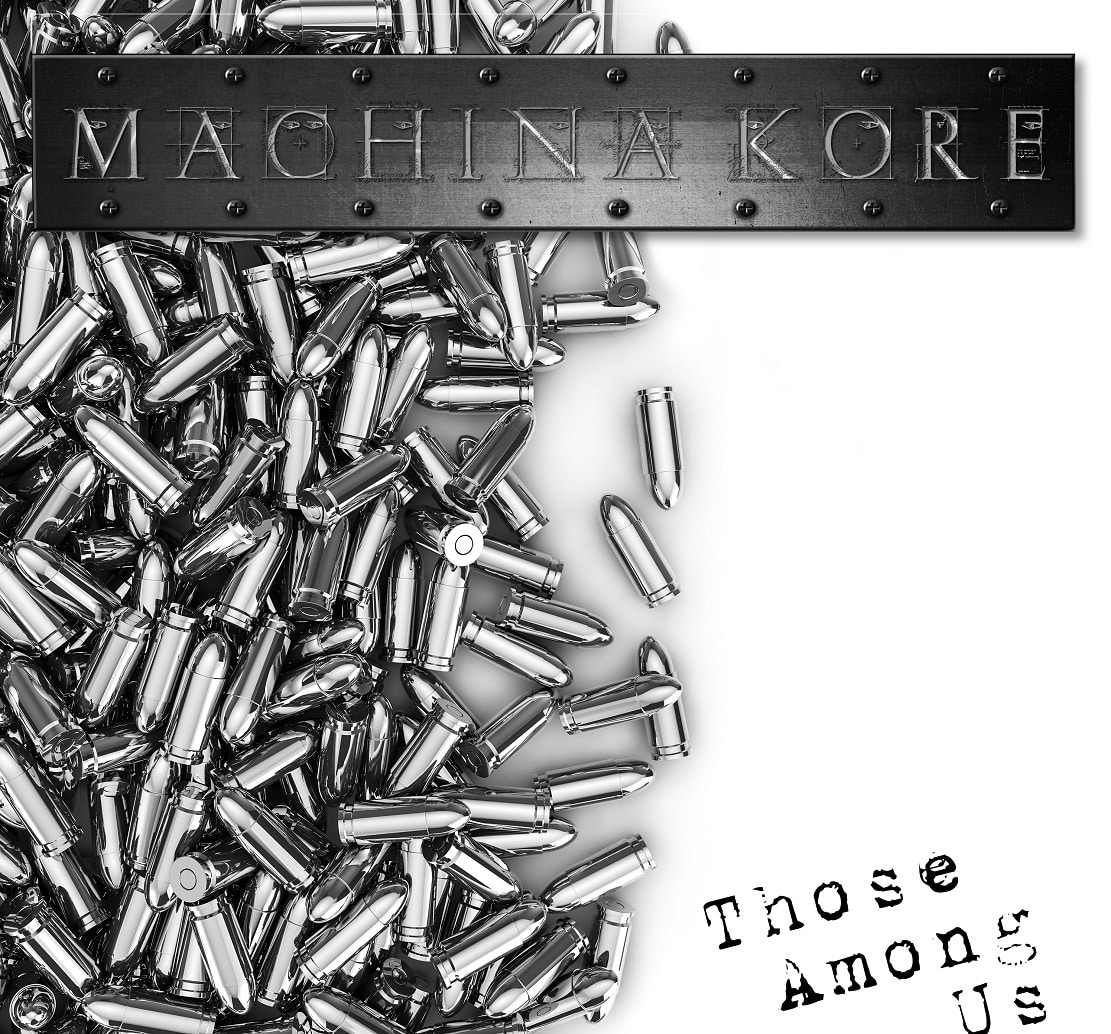 Envisioned and created by Morrow and self-produced by the three band members, with a helping hand from long-time friend Paul 'Tonto' Thompson, the six-minute 13-second promo splices live studio footage with war imagery in an MTV Headbanger's Ball-era fashion with a modernised edge, to convey the song's message and its continued relevance today.
Lyricist Morrow states that the song, 'explores the path from action to consequence', and how 'widespread it's effects can be felt'.
Editing was carried out by Morrow himself with Haughian and Cassidy consulting. Rehearsal shots from a wide range of angles, with a uniquely unpretentious prominence on the instruments being played, are edited against stock war themes to carry a message applicable to considerable other scenarios.
As well as these classic early metal conventions, minus any limelight-thirsty focus on individual band members, a contemporary layer is added to the hue of the picture in the use of a (Netflix Original's) 'Stranger Things', inspired blue colour grading, often seen in the show's 'Upside Down' realm. Like the show itself, this serves to revive the nostalgia of 80s culture with today's technological advances.
While Morrow and Cassidy have previously enjoyed success as founding members of signed acts, including that of Classic Rock's own record label; embarked on European and American tours; played major festivals, including Download and Bloodstock; and supported several big names including Alice Cooper and their own Californian heavy metal heroes, Machine Head; Machina Kore's primary objective is not fame, but musical authenticity and integrity, as they aim to make the music they believe in, at all costs.
The addition of Gary 'Jacko' Jackson pre-empted the new release, as organically as the Christmas card/ New Year text message exchange between himself and old band-mate Cassidy that brought it about.
Born in Craigavon like his newfound counterparts, and brought up in Lurgan, Jackson's love for music was, aside from some old rock n' roll records of his mum's and some punk tunes emanating from his older cousins' bedrooms, self-discovered.
Having first formed an appreciation for heavy metal through AC/DC, Anthrax and Black Sabbath among others, he was inspired to play guitar at age 13 after watching a Jimi Hendrix documentary which prompted him to acquire his first guitar and amp. After a short stint alongside Cassidy in 'Whomanwhat', Jackson quickly got bored playing covers. The two then released a few original demos together in punk/ funk/ alternative metal band Bob, alongside Lurgan co-founder, bassist and vocalist Paul King.
After a period of quitting guitar to focus on his own alternative clothing line, Jackson's passion for what he loved most was, like that of so many artists, re-kindled during the pandemic.
Jackson believes this is 'the perfect time to join the band as the lads are writing new music so I will get a chance to put my own stamp on some new tunes". He also adds that he is "looking forward to playing music with a great bunch of lads".
Post-pandemic, decent metal has been hard to come by. So when four, small-town, working class guys with full-time jobs, family commitments and the same financial restrictions as the next man in the current economic crisis, are producing music that rivals the best signed acts of its genre and exceeds the quality of that by the very artists that inspired them, we are evidently living in a musical 'upside down'.
That being the case, with the professionalism and production quality of Machina Kore's new single as perfectly polished as the silver bullets of its artwork; a video as lit as Joyce Byers' house, and the ultimate line-up nailed in tight for all future releases; humility aside, 'Those Among Us' is, without doubt, the beginning of Machina Kore's new history, and hopefully a relevant chapter in that of metal and music at large. After all, stranger things have happened.
To find out more about Machina Kore, visit the website or follow them on Facebook, Instagram or Twitter.
Sign Up To Our Newsletter