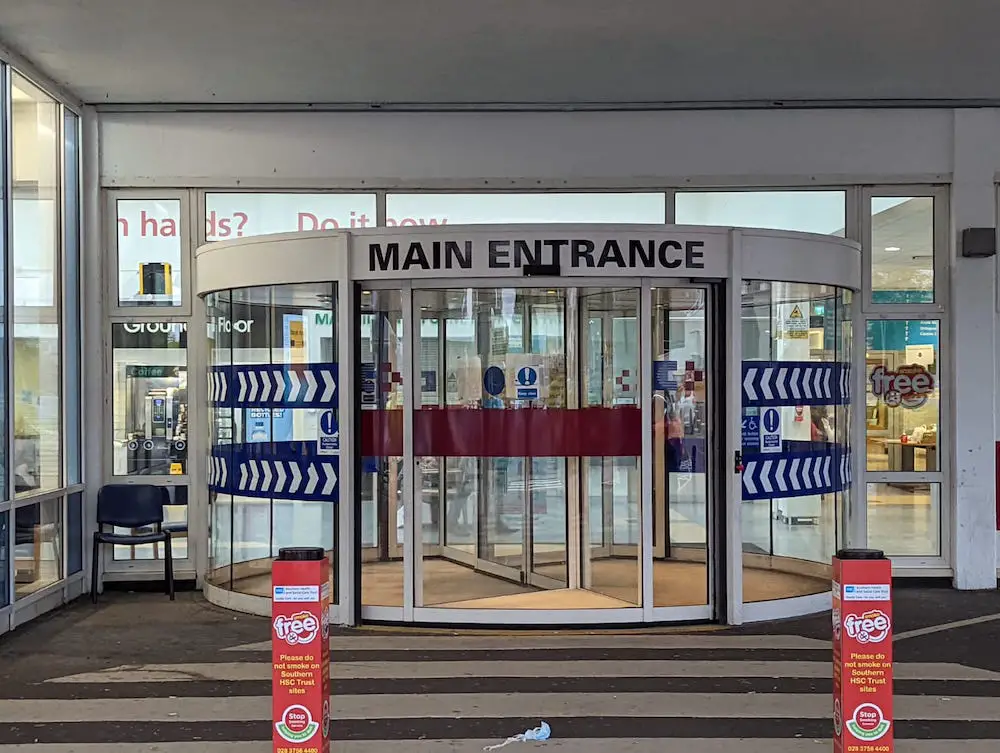 A Lurgan man who shouted and swore in a hospital with elderly patients nearby has been sentenced to eight months in prison.
Jordan Hamilton Connor, of no-fixed-abode, appeared before Craigavon Magistrates' Court, via videolink, from Maghaberry.
The 24-year-old was charged with possession of Class A controlled drugs, criminal damage and two counts of disorderly behaviour.
At the outset of the hearing, the defendant's defence solicitor told the court that a guilty plea was to be entered in respect of all charges before the court.
Prosecution outlined that on May 27 this year, police came upon the defendant in Craigavon as he was engaged in a verbal dispute with his partner. It was noted that he had a facial injury and was unsteady on his feet. The defendant was then searched and found to be in possession of a small bag of white powder.
He was taken to the rear of the police vehicle where he began to shout abuse and expletives at his partner. He was given warnings, as the incident occurred in a public place, but continued.
Due to the injury he was conveyed to Craigavon Area Hospital, where he was brought to the resuscitation area, having collapsed in the car park.
He was eventually given a bed in a ward, where two elderly patients were sleeping and where a young child had been admitted.
In that area he shouted and swore, asking frequently for a smoke and to use the bathroom.
Due to him being unsteady on his feet, a nurse brought him a urine bottle and he responded by saying "I'm not f***ing using that", throwing the bottle across the ward in the general direction of the elderly patients.
Whilst he was receiving medical treatment, he bit through the wire of a heart monitor and was arrested for criminal damage as a result.
Jim Hillis, defending, said that Connor had been attacked after a group attended at his partner's address.
He added that his client "regrets the abusive language" that he used and "fully accepts" responsibility for his actions on the day.
In mitigation, he explained that there had been a "domino effect" in the defendant's personal life, following family difficulties.
Deputy District Judge Holmes commented: "Acts of violence and disorderly behaviour, either to or around, paramedics, hospital workers, emergency workers, generally, will not be tolerated."
On sentencing, the judge imposed eight months in custody for the criminal damage, three months for the disorderly behaviour at the property and four months for the disorderly behaviour in the hospital.
For the possession of Class A drugs he imposed a fine of £200 and gave the defendant 14 days to pay.
The prison sentences were ordered to run concurrently, leaving a total sentence of eight months in prison.
Deputy District Judge Holmes added: "Take that time and remember when you enter the doors of a hospital or the doors of an ambulance, you're in a no-go zone for any form of misbehaviour."
---
Follow all the latest court news here.
Sign Up To Our Newsletter