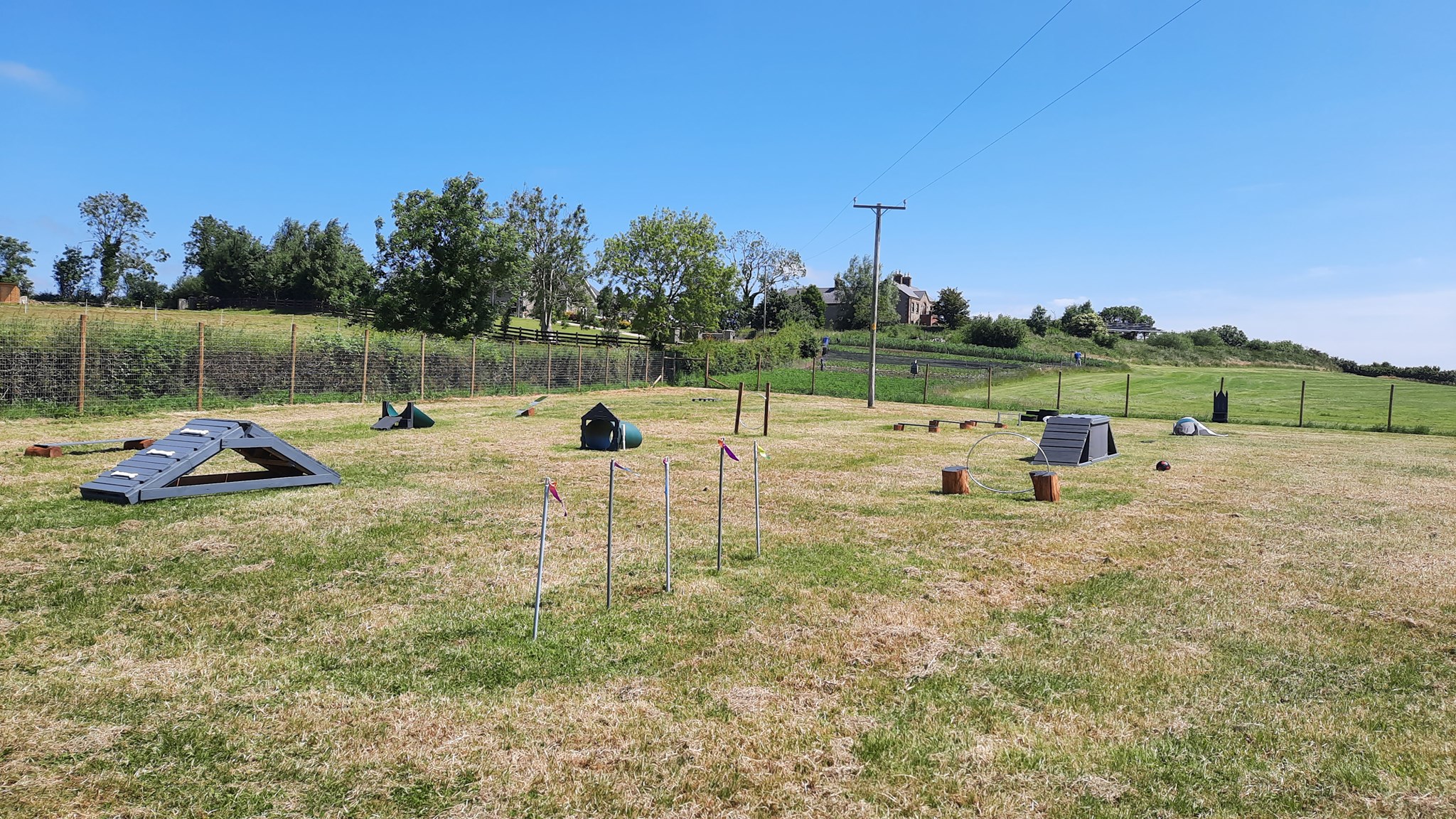 A small family business outside Lurgan, set up during the pandemic, is at risk of being closed down over what the owner claims is "unfair" and contradictory treatment by ABC Council planners.
Eileen Taylor set up Unleashed Dog Park, a small secure play park for dogs and their owners to enjoy, based on Bridge Road in 2021.
The one and a half acre area is set up in a field adjacent to their home, which the family bought three years ago.
The pandemic hit and Eileen thought it was the perfect opportunity to give the business a go.
"We opened just over two years ago, during Covid, and we did it for a couple of reasons. One was we had a dog who had very poor recall. We thought, 'well, if we have that issue, loads of people have'.
"There was a field adjacent so we took the opportunity to try this out and see if it would be a runner. We spoke to neighbours who were happy so we got it set up and it was great."
However, Eileen's blissful life as a business owner was short-lived when one neighbour complained to Council planners.
"The planners came out and they weren't sure if there was an issue with it but they had to go and check it out. They came back and said it would need to be a change of use from agricultural land, which we duly did."
However, what seemed like a straightforward application was refused – much to Eileen's surprise. Two neighbours had lodged objections, some of which included "derogatory and offensive" remarks.
The decision notice said there "are no overriding reasons why this development is essential in this rural location and could not be located within a settlement".
However, it also states, as a reason for refusal, that "it has not been demonstrated that the proposal will not have an unacceptable adverse impact on residential amenity by reason of noise and general nuisance", and that "it has failed to demonstrate it would not harm the amenities of nearby residents by reason of noise or general disturbance".
Said Eileen: "How many private areas of one and a half acres can you find in a settlement? And surely if noise is an issue, as they say, then it's going to be more of an issue in a settlement where there are more people. The nearest house to ours is 70 metres away."
She added: "Now we have to go through a planning appeals process and have to employ a planning consultant which, to a small business, is a lot of money.
"It's a ridiculous situation that a small, low key, low intensity business has been treated in this way.
"We limit the dog numbers, we limit the times. We basically limit everything. We could make it a big commercial enterprise but we haven't out of respect for the neighbours and character of the area.
"You pay nearly £1,000 and they use the wrong way to assess your application in terms of policy, and then they're very biased in the way that they've addressed the objectors' comments, but haven't really addressed ours."
The Dog Park only permits a maximum of six dogs at any one time, and Eileen says even that is rare with most 50-minute sessions catering for one or two dogs. She makes sure there is no overlap of customers either.
"If we had six dogs ourselves and we were using that ground on a regular basis we would actually produce more noise than the visitors are," said Eileen.
"We would have a woman who comes here and she says 'this is my safe space'. She and her wee dog walk around, and it's in silence. She says, 'I love the peace and quiet'.
"We have a widower who comes and he has lost his wife recently and he says he just feels really settled here and just loves sitting on the bench out in the country with nobody else near him. You can't even go to a public park and have peace.
"And the dogs, they're happy because the owner stays with them. There's equipment, there's water, a wee paddling pool, the dog is happy which means the dog doesn't bark. They may bark for a short period, some of them when they arrive with excitement because they know they're coming here. The only issue we have sometimes is the dog doesn't want to go home. Some of them had to be carried into the boot!"
Eileen says the issue doesn't keep her up at night but that she is a person who will not allow an unjust situation lie.
"I am very determined and one of the things that I value – one of my core values – is fairness. We just haven't been treated fairly and that will annoy me more than anything else."
Eileen has begun a Change.org petition in a bid to raise awareness of the situation. So far it has garnered more th 1,500 signatures of support. You can keep the momentum going by signing the petition here.
"We are determined to continue to provide safe fun and freedom that all our dogs deserve," she added.
A spokesperson for Armagh City, Banbridge and Craigavon Borough Council said: "The Council's decision to refuse planning permission for the proposed development is the subject of an appeal which is currently being considered by the Planning Appeals Commission.
"It would not be appropriate for the Council to comment on the matters raised while that appeal remains live."
Sign Up To Our Newsletter