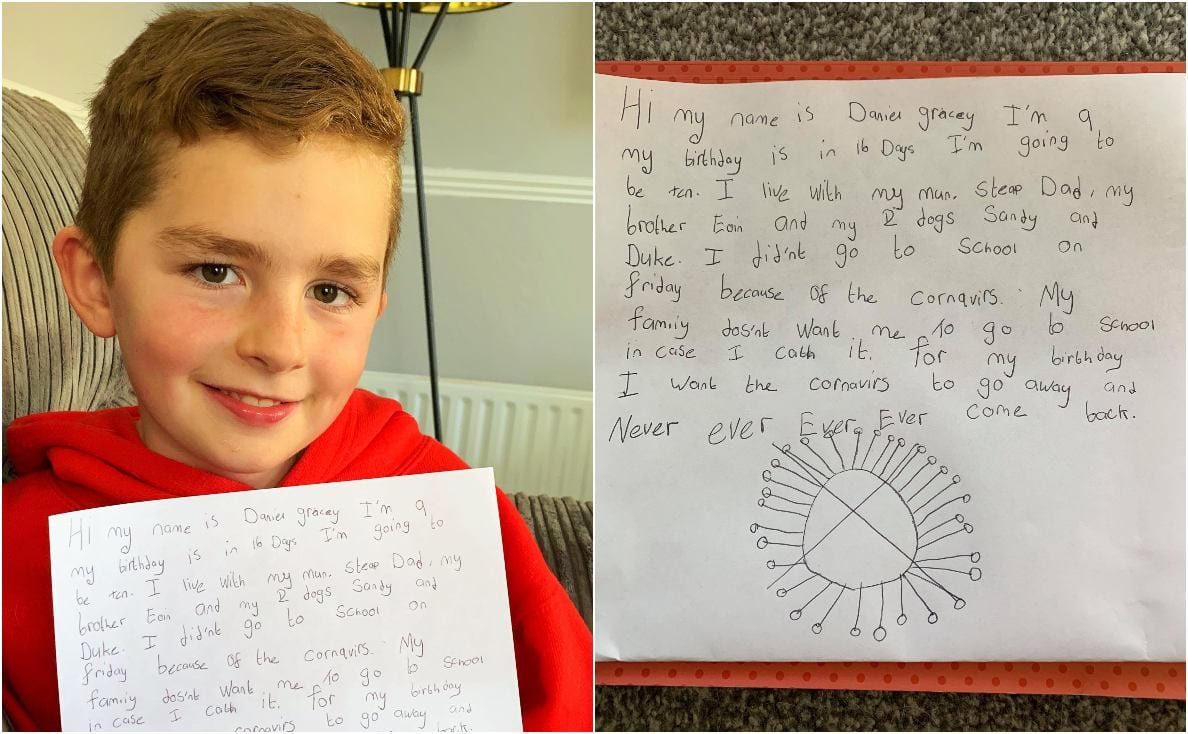 This is what you get when you ask the children for their take on the current situation…
Nine-year-old schoolboy Daniel Gracey has made his views clear.
Mum Laura decided on Sunday to have a device-free day – no technology at all – and asked her son to engage in something educational.
No prompting needed, this was the result – a heartfelt letter from Daniel.
The little boy – a pupil at St Patrick's Primary School in Magheralin – is looking forward to his birthday at the start of next month and has just one wish.
But it's easier for us to let Daniel explain.
Here's his letter: "Hi my name is Daniel Gracey. I'm 9, My birthday is in 16 days I'm going to be ten. I live with my mum, stepdad, my brother Eoin and my two dogs Sandy and Duke.
"I didn't go to school on Friday because of the coronavirus. My family doesn't want me to go to school in case I catch it. For my birthday I want the coronavirus to go away and never ever ever ever come back."
Mum Laura says she – like many other families – will be keeping their children at home to try and reduce the risk of contracting coronavirus.
And she would urge others to consider doing likewise.
Said Laura: "I would advise other parents to keep their kids safe and not send them to school. Schools are breeding grounds. No mass gatherings – what are schools? It makes no sense."
Sign Up To Our Newsletter