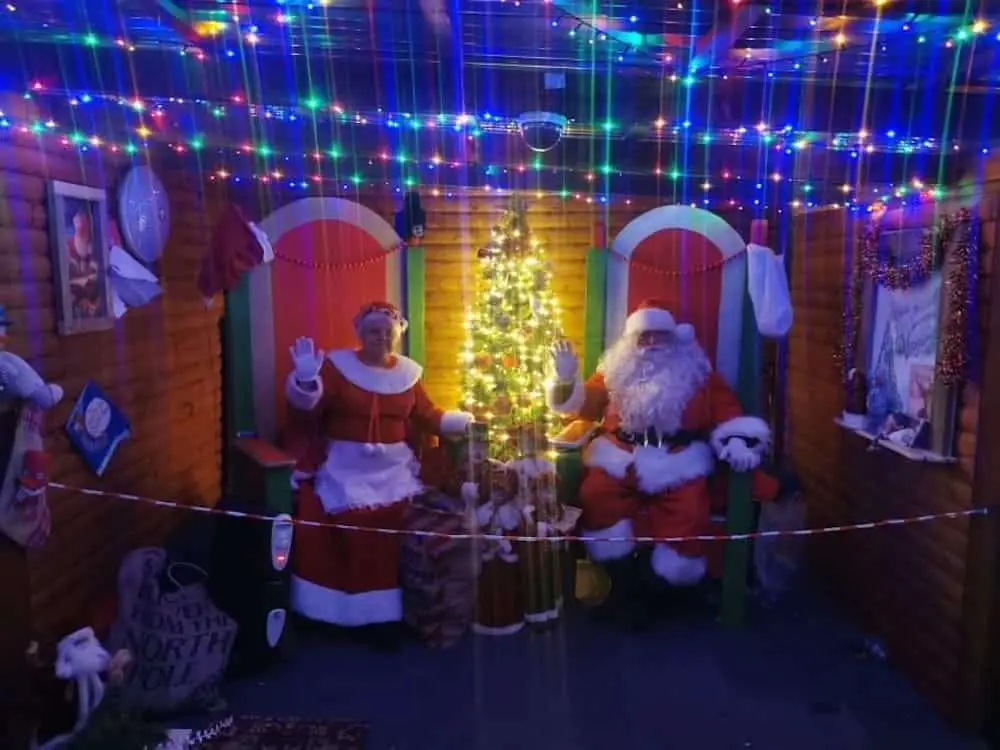 The ever-popular Santa's Grotto North Lurgan is returning from the end of next month.
And taking full cognisance of the current financial climate, it will be open to everyone, no matter what the donation.
This year the beneficiary will be a most worthy cause which has saved so many lives and relies heavily on the kindness and generosity of individuals and events such as this.
The Air Ambulance NI will be boosted by the proceeds of the Grotto, which will be launched on Monday, November 28.
St John Ambulance Portadown will be coming along on the evening as the festive season gets off to a flying start.
They will be gathering at North Lurgan Community Centre at 6pm and making their way to the famous Santa's Grotto, which is located at Kilwilkie Road (BT6 7 9EN).
Started in 2018 by local resident Conor Thompson, the first two years of donations went to PIPS Upper Bann, a local charity which offers help to those with suicidal thoughts, mental health and family bereavement.
Last year, post-Covid, money was raised for the Friends of the Cancer Centre.
A massive success since its inception, the event just seems to be getting bigger and bigger but this is down to the hard work of local residents.
The sleigh, train, Santa's log cabin along with Mr and Mrs Clause's chairs have all been made and  hand crafted by Conor himself.
But typical of Conor, he is quick to point out: "It's a team effort!"
Speaking to Armagh I last year, he said it was a wonderful opportunity for all to come along and help a really worthwhile cause.
"The community spirit is absolutely buzzing," said Conor. "We want this to be a complete cross-community event for everyone to enjoy."
This year, the decision has been made to donate money raised to Air Ambulance NI.
But nobody should feel put off and should simply give what little they can.
In typical Christmas fashion, nobody will be turned away and told there's no room at the inn!
"This year is going to be extremely hard for many many families with huge pressure of buying food, electricity, heating, presents etc," said Conor.
"Santa's Grotto North Lurgan will be opened to everyone, no matter how small your donations may be. We totally understand that things will be very tough this Christmas. Please do not hesitate to come along to the Grotto this year, you are more than welcome no matter of your situation.
"There will be no pressure put on any families who will be coming along to Santa's Grotto. It makes no difference what your kind donations may be. All we wish for is to see you all filled with joy and happiness."
As said, year on year the team keeping adding to what is a spectacular sight and experience to behold.
And this year, the promise is that it is "going to be absolutely amazing".
For all who have been previously, you will know that is going to be worth seeing given the hard work and wow factor achieved by the hosts of Christmas past!
"Every child deserves to have a magical Christmas and we will be most definitely provide that at our Grotto."
Now that, dear reader, is what we call the true meaning of Christmas!
Best of luck to Conor and the entire team for a record-breaking year!
Santa's Grotto will launch on Monday, November 28, and is available to visit every night until Tuesday, December 22, from 6pm until 8.30pm each evening.
Sign Up To Our Newsletter