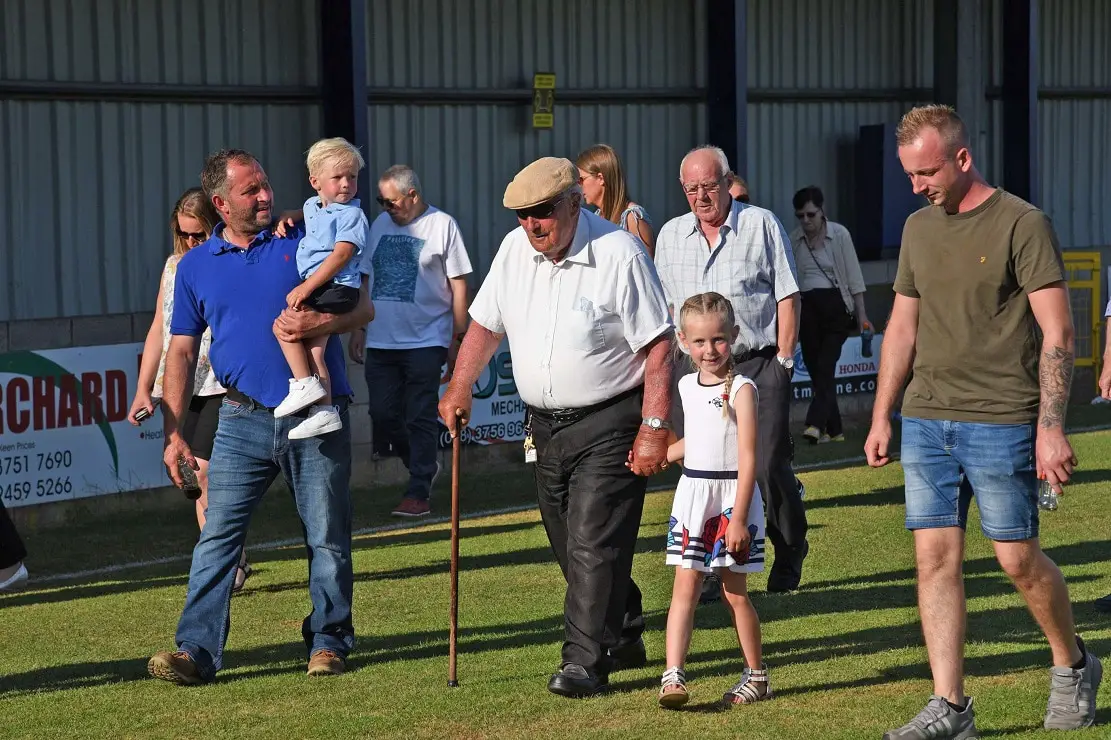 A man who has given more than 50 years' service to Loughgall Football Club has gone the extra mile for them again by raising more than £27,000 for improvements to the clubhouse and grounds.
Hilbert Willis (97) completed the 'Hilbert's Goal' challenge on Saturday by walking the last two of  his 100 lengths of  Lakeview Park stadium.
He took up the challenge in August last year, inspired by 100-year-old Captain Sir Tom Moore who raised millions for the NHS by walking 100 lengths of his garden.
Over the course of the year, Hilbert was joined in his walk by a number of well-known faces in football, including Roy Carroll and David Healy.
Family, friends and club members attended the weekend event where the Roadside Stand was officially renamed the Hilbert Willis Stand in tribute to the club stalwart.
Hilbert, who lives just outside the village, served as groundsman for 30 years and was vice-chairman and then chairman.
His son Leslie, who took over as groundsman, accompanied his dad on his penultimate length as did committee member Neil Anderson, the driving force behind 'Hilbert's Goal'.
In the final lap, he was joined by everyone who had come to celebrate his achievement, including his grandchildren and great-children.
The event was followed by a barbecue and fireworks display while the Rev Peter Smith from St Luke's Parish Church in the village spoke about Hilbert's life.
Club chairman Sam Nicholson described him as a "legend".
"People sometimes use the word legend loosely but in this case that's what he is," he said.
"He's as sharp as a tack. I drive the minibus sometimes to the away matches and he sits beside me and navigates. He never misses a match.
"His service to the club is second-to-none and to do what he did is very special. The committee are so thankful. The goal was to raise £25,000 and he has passed it and money is still coming in."
As well as the JustGiving page, other events were held, the proceeds of which went towards Hilbert's Goal.
Mr Nicholson said the club had been doing a lot of work during lockdown – including installing new dug-outs, disabled seating and refurbishing the changing rooms – and the money raised by Hilbert would enable them to continue with the improvements.
"Our first team are challenging for the Championship, we have got a youth set-up that is second-to-none and everything Hilbert has done is going to add to that," he said.
Sign Up To Our Newsletter