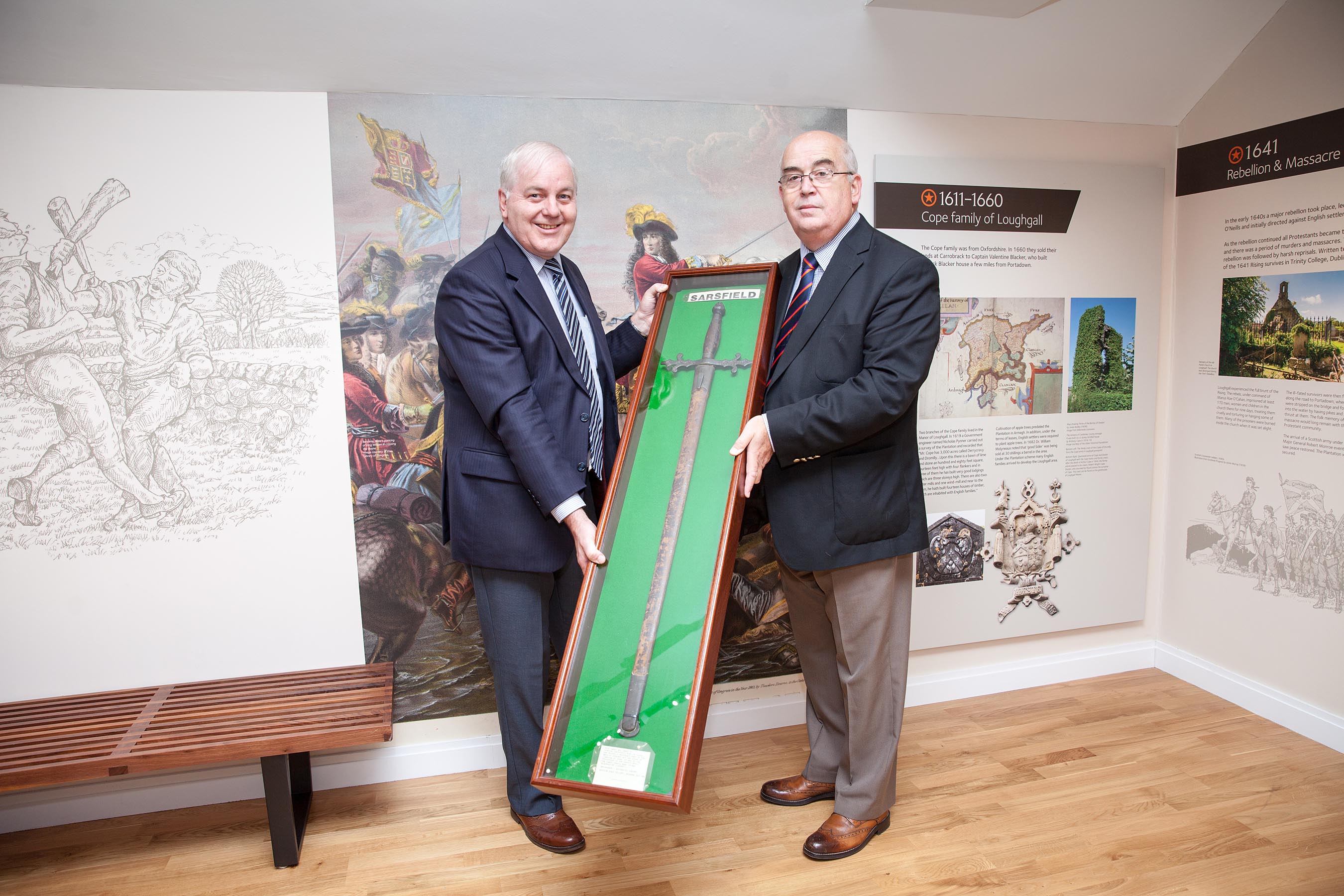 An historic sword once belonging to a senior Catholic Jacobite soldier, who fought against King William at the Battle of the Boyne, has gone on public display at the birthplace of Orangeism.
The artefact, over 300-years-old, was owned by Patrick Sarsfield, 1st Earl of Lucan, who played a prominent role in the Williamite war in Ireland and the Siege of Limerick in 1690.
The sword is the latest addition to the collection of the Museum of Orange Heritage in Loughgall.
Belonging to an Anglo-Norman family long settled in Ireland, Sarsfield accompanied James to Ireland in 1689 and served in the Jacobite Irish Army.
He became one of the celebrated Jacobite leaders of the war, noted in particular for Sarsfield's Raid shortly before the Siege of Limerick. James rewarded him by making him an Earl in the Peerage of Ireland.
After the war's end following a second siege of Limerick in 1691, he led the Flight of the Wild Geese which took thousands of Irish soldiers into exile in France where they continued to serve James. Sarsfield latterly served in Flanders and was killed at the Battle of Landen in 1693.
Co Armagh Grand Master Denis Watson said obtaining Sarsfield's sword was a "tremendous acquisition" for the Orange museum at Sloan's House.
He said: "The County Grand Lodge of Armagh is the proud custodian of a significant number of items relating to the early history of Orangeism.
"This Jacobite artefact is a major addition to our growing collection which belonged to or date to the period of William of Orange.
"It is tremendous to have an artefact from the period of the Boyne, relating to a leading figure from the other side of the contest between the two kings."
In recent weeks, the Loughgall facility received a four-star visitor experience award from Tourism Northern Ireland.
Mr Watson added: "Our latest prominent exhibit underlines the growing quality of our museum, which aims to educate and create a great understanding about the origins of Orangeism, and its importance within our shared history."
The Loughgall museum officially opened in 2015 as part of the REACH Project (Reaching out through Education and Cultural Heritage), which received £3.6 million from the EU's PEACE III programme, managed by the Special EU Programmes Body (SEUPB).
The refurbishment of Sloan's House – where the first Orange warrants were signed over 200 years ago – included a major extension to cater for additional museum exhibition areas and provision of detailed information relating to the early history of the Orange Order. The expansion incorporates a display of the original Sloan's Parlour, illustrated in a similar way it would have looked when the Institution was first formed in 1795.
Sign Up To Our Newsletter