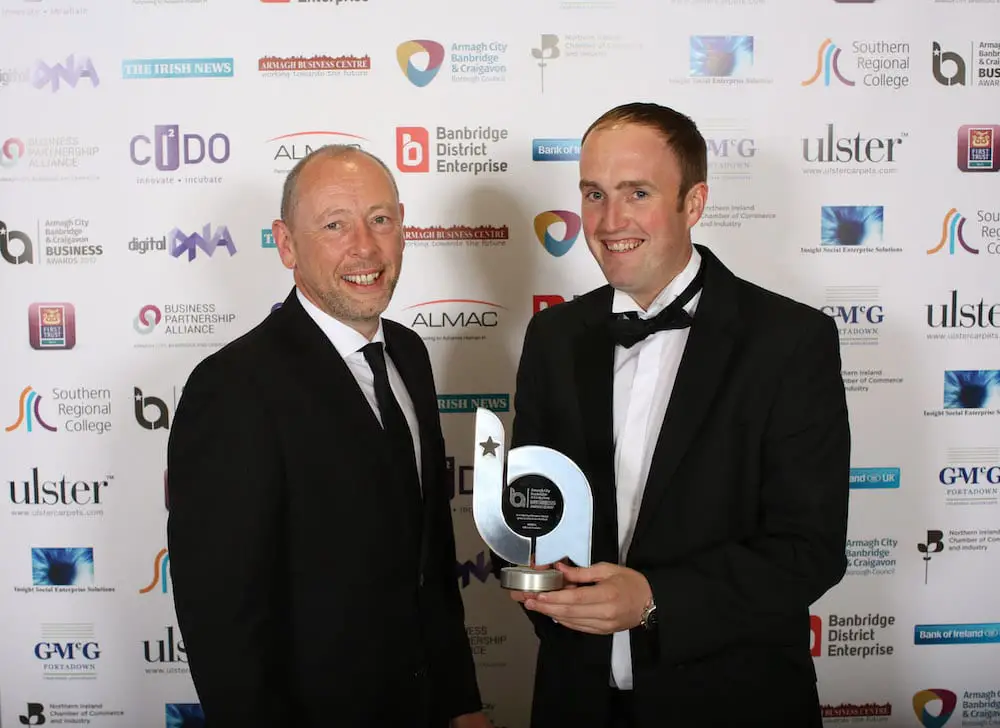 Loughgall's own Gilfresh Produce came out on top at the recent Armagh City, Banbridge and Craigavon Borough Council Business Awards, winning the Best Agri-Food Business Award.
The Business Awards are a major first for the Borough Council as they reflect the diverse local and regional businesses firmly located in the heart of Northern Ireland's economy.
From well-established start-ups, family owned and operated to corporate multinationals, the awards perfectly showcased the exciting business community across the region at the recent ceremony in Craigavon.
Gilfresh were presented with this particular award in recognition of their services to the industry and CSR contribution.
As well as having solar panels, water recycling facilities and consolidating surplus products for distribution to local food banks, in 2016, Gilfresh introduced an Anaerobic Digester to create electricity from arable crops and waste vegetables. In 2017, this was joined by a wind turbine.
By utilising the renewable energy on site, Gilfresh are now completely self-sufficient in powering the factory and offices.
Gilfresh, based on the Creenagh Road in Loughgall, employs 150 staff and has 40 growers across the island of Ireland producing a range of vegetables for multiple retailers, convenience stores and food service providers including M&S, Tesco, Lidl, Spar, Iceland and SuperValu.
Gilfresh regularly launches new products, including juicing packs, and more recently a range of carbohydrate replacements such as cauliflower rice and carrot spaghetti.
Owner Thomas Gilpin was awarded an MBE in 2013, recognising his services to agriculture in Northern Ireland, the only agricultural representative in the UK to be awarded this honour at this time.
The same year, Gilfresh developed its product offering and technology to utilise crops, providing a range of peeled, sliced, diced and shredded products, positioning them at the top of the market.
Thomas grew up on a farm in Portadown and started his career in 1965 growing vegetables on a four-acre site.
By the 1980s, Thomas began commercial vegetable production, growing vegetables for the local wholesale market and building a processing plant to meet the growing demands of the retail outlets.
A family run business, Thomas' son William, had been trained from a young age to join the business. He operated the agricultural production side of the organisation once he left school before becoming General Manager.
For more information on Gilfresh Produce please visit their website at www.gilfreshproduce.com.
Sign Up To Our Newsletter