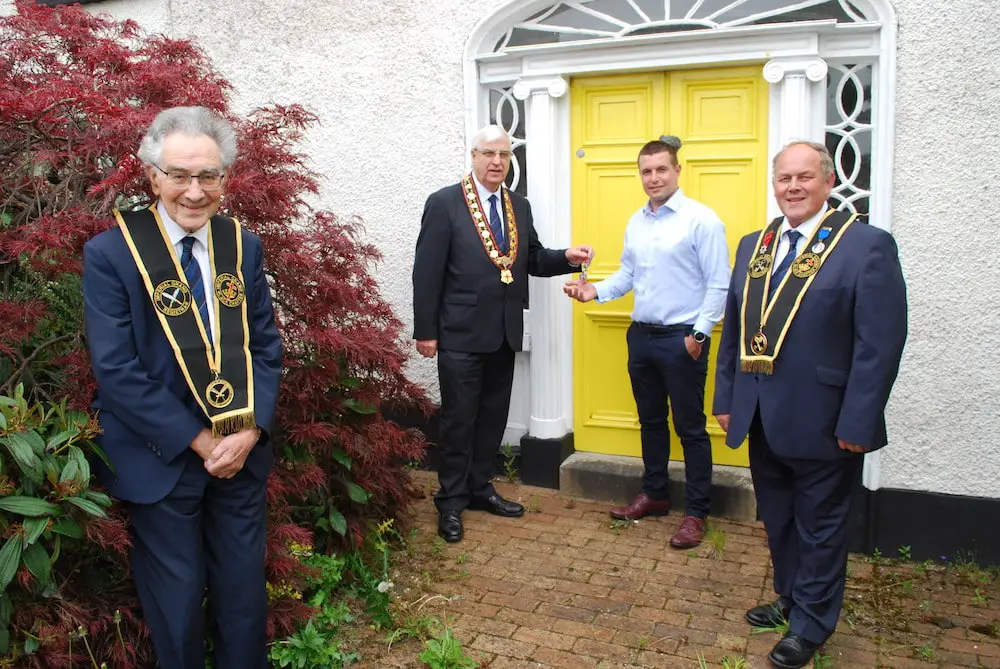 The appointment of a building contractor to deliver the Royal Black Institution's new headquarters has been hailed as "an exciting milestone" in the history of the Loyal Order.
The Sovereign Grand Master, Rev William Anderson, made the comment after it was revealed that Weir Bros Construction (NI) Ltd have been awarded the contract to transform an historic property in Loughgall into a modern new base for the Institution.
Under the design plans, the B1 Listed Building, situated at 45-47 Main Street in the Co Armagh village, will be sympathetically renovated, with original listed features restored to their original character.
However, the project will also see the current building – understood to date back to 1820 – substantially refurbished to include a host of modern facilities and amenities, which will allow the Royal Black Institution to flourish in the 21st century.
The keys to the property have been handed over to the Aughnacloy-based construction firm, and it is hoped that – barring any delays due to possible future coronavirus restrictions – the work will be completed by next spring.
The Sovereign Grand Master said: "I am delighted that we have reached this stage in the journey towards developing modern, new headquarters for the Royal Black Institution. It is an exciting milestone to appoint a contractor who will begin the process of turning our innovative plans into a reality.
"Weir Bros Construction is a highly-experienced firm with an impressive track record of delivering new church buildings and Orange halls, so I am looking forward to seeing the finished product next year."
Plans for the new headquarters include the construction of administrative offices, a library to house the Institution's collection of books and artefacts, a new hall with associated kitchen and toilets, an exhibition area, and an outdoor memorial space. Car parking facilities will also be provided.
The Loughgall building – purchased by the Institution in 2017 – is the first time the Loyal Order has ever owned its headquarters.
The Institution was previously based in Dublin and Belfast, before becoming a tenant in the majestic Brownlow House, Lurgan, in the late 1920s.
Last year, the Institution moved from Brownlow House to temporary premises beside the Museum of Orange Heritage in Loughgall. The move will allow senior officers of the Institution to follow the progress of the new headquarters as it takes shape over the coming months.
"Undoubtedly, the development of a new administrative base is one of the most important projects ever embarked upon by the Imperial Grand Black Chapter," said Rev Anderson.
"We hope that with state-of-the-art facilities, the Institution will be well equipped to meet the challenges of the future, and we will be better placed to explain our Christian beliefs and principles to the wider public."
Rev Anderson added: "I am acutely aware that this piece of good news for the Institution comes against the backdrop of the awful coronavirus pandemic, which has brought many deaths and great sadness to our society.
"While our summer demonstrations, services and meetings have been cancelled due to coronavirus, I hope that these plans for our new headquarters will reassure Sir Knights and our supporters that the Institution is looking forward with confidence to a bright future ahead."
Sign Up To Our Newsletter