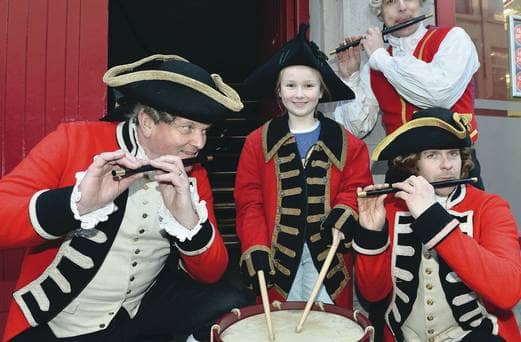 Lessons need to be learned from this year's Georgian Day for next year according to one former Armagh City mayor.
SDLP's Thomas O'Hanlon has said Councillors must have a greater input into the event.
Councillor O'Hanlon, who was speaking after the Council's Public Services Scrutiny Committee on Monday night, said: "Georgian Day in Armagh has become a huge event and is probably a victim of its own success but we must learn the lessons from this year's event so the problems experienced this year don't reoccur next year.
"This year's Georgian Day was bigger than ever, but there were significant problems with controlling the crowds though some of the streets and indeed litter became quite a big problem and it is not good enough to tell us there was a breakdown in communication, that someone else was responsible for litter or the crowds were bigger than expected.
"Also not all businesses and all areas of Armagh City reaped the benefits of the day, with many traders in places such as Thomas Street, Ogle Street, Lower English Street, Barrack Street and the Mall totally frustrated as they missed out on some really important trade.  Despite the best efforts of some of the officers involved, traffic and parking remains a major problem on the day.
"I have also been contacted by some young mothers who did attend on the day who said they couldn't get through the crowds with prams and when they did get through the crowds they couldn't get to the stalls."
He added: "In essence, the event has become a victim of its own success, but we must learn from this if we are to attract the same crowds and even more next year.  I want to see the event expanded, possibly over a weekend as opposed to just Georgian Day, I want to see the more stalls and more events spread across more streets and into more areas of the city, let all the traders of this city embrace and benefit from a bumper festival in the city.
"The Council have agreed to form a new Events Committee to oversee the event and indeed other events such as St Patrick's Day, Apple Blossom, Giro d'Italia, the Brian Boru festival and Georgian Day which are all planned for next year.  I have strongly criticised the lack of elected member involvement in this event and its planning.
"At no stage during the last twelve months has this event been brought before Councillors for approval or to seek direction though any Council Committee, this is a council event and not a council officer event and councillors must be involved in planning events.  It is us who meet the public and it is us who the public contact with complaints, suggestions for improvement or indeed congratulating the organisers and as the body who are responsible for managing the councils finances this simply isn't good enough.'
Councillor O'Hanlon concluded saying: "This is a great event which has grown in popularity year on year, but we must learn lessons each year and indeed from other events in neighbouring towns and cities as we seek to make the event even more successful in the years ahead."
Newsletter
Sign up for our weekly newsletter here.