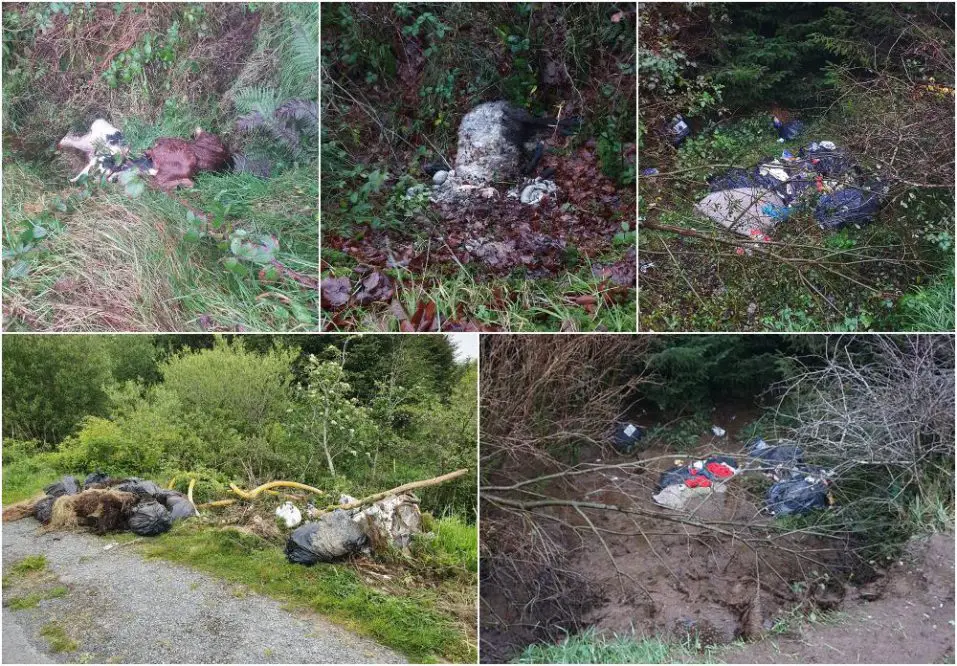 A number of animal carcasses have been found strewn along the roadside near a Co. Armagh beauty spot in what has been described as something akin to a horror movie.
The remains of livestock were discovered near Carrigatuke Viewpoint – a hot spot for fly-tippers between Newtownhamilton and Keady – and have subsequently been reported to the relevant authorities.
Friends of Sliabh Fuait, a community group, working to help eradicate this type of behaviour in the area have labelled this latest incident " a disgrace".
"These images look like something from a horror movie but the real horror here is that this is happening on our back doorstep," the group posted on social media.
"These poor animals have either died on farms or been humanely euthanised and then dumped on the side of the road! Rubbish is being dumped every week and this is beyond a disgrace.
"We dread to think what diseases these animals could be carrying and passing onto our wildlife. Not to mention if they have been humanely euthanized this drug will pass onto any animal eating the meat causing them to go into a coma and eventually pass away."
The area attracts dog walkers and the carcasses, the group believe, could have deadly impact for pets.
They added: "In our area of beauty we have a variety of wildlife but unfortunately we believe if this dumping continues there could be a dramatic decrease of wildlife in the years to come.
"Wildlife can be very curious which means when there is something put into their habitat they will naturally check it out. This can lead to animals getting trapped and potentially starving to death.
"We have some beautiful wildlife in this area; red squirrels, hares buzzards, rooks, ravens, kestrels, sparrowhawks, owls, foxes, pine martens, badgers and not to mention the seasonal visitors such as woodcock and cuckoo.
"Please, to anyone who is dumping, think of others and our amazing nature."
Sign Up To Our Newsletter