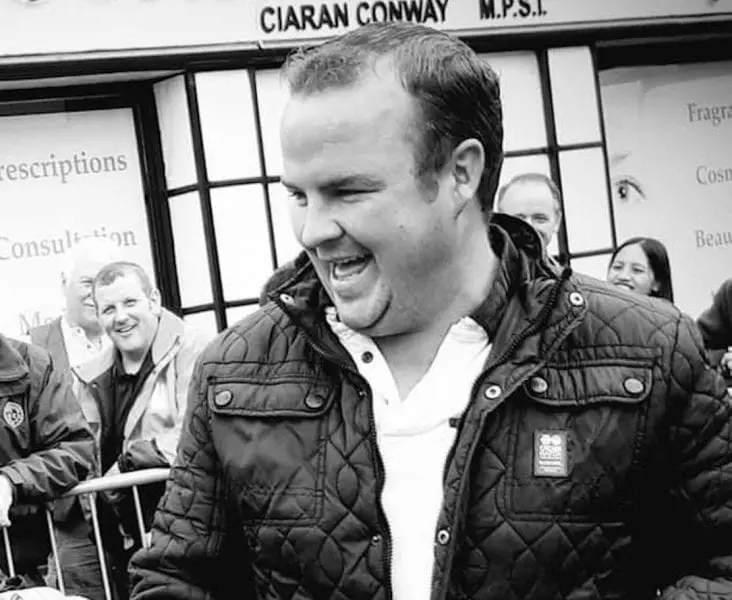 Hundreds of mourners lined the streets of Keady on Sunday morning to say a final farewell to a popular and well-known young man who was taken far too early.
Eamon Nugent, who was just 32, tragically passed away on Monday morning – shocking an entire community.
Heartbroken mourners, both in St Patrick's Church, and those who watched online heard Fr Brian White say the crowds that gathered to watch Eamon's funeral cortege on its final journey – and those that welcomed him back to his family home in Darkley earlier this week – was testament to his and his family's popularity within that community.
"If you saw the crowds that lined the streets the other night and today, it just says how much affection there is for Eamon and Nugent family in Keady," said Fr Brian.
"We shouldn't be here today," he proclaimed. "He's too young."
And simply put, he added: "It's just crap – it's the only word we can use! For his parents Frankie and Caroline, for his partner Laura. For Sinead, Louise, Cathy and Colm and for his nieces and nephews. Our prayers are with you at this time."
Despite his young years, Fr Brian said he "achieved so much in those 32 years".
"He was probably the youngest bricklayer that Armagh county has ever seen as his father Frankie got him started at such an early age with the trowel," he recalled.
"He was so accomplished that by the time he went to tech, the teachers were wondering how this young fella knew how to lay bricks the way he does and that's because Frankie taught him his craft."
Fr Brian spoke of Eamon's love for his parents, "his ma's dinners", his grandparents and for his horses and dogs.
"We can't leave the Church today without acknowledging Eamon's love for his horses," he said. "He loved being out in the horse and trap and was looking forward to the birth of his wee foal," hoisting a framed picture of his beloved horse at the altar.
Eamon also built his own house on the Dunlarg Road in Keady.
"He was so proud of his house he built," said Fr Brian. "And after talking to his family I took a spin out the other day.
"He has built a lovely house for himself, but the house is only bricks and mortar. The Nugent family built up a home and you all loved Eamon and he loved you."
Eamon was laid to rest in the adjoining cemetery as mourners watched on from a distance. May he rest in peace.
Sign Up To Our Newsletter