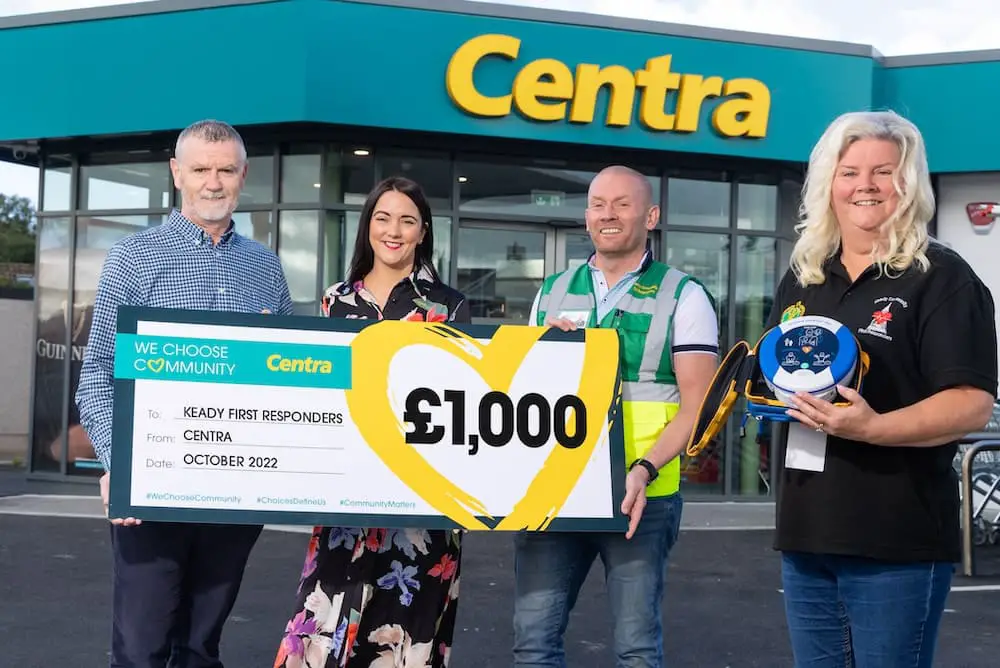 Keady Community First Responders have received £1,000 from the Centra Choices Community Fund which will help them to buy a defibrillator, a vital life-saving piece of equipment.
Keady Community First Responders are a group of volunteers who are trained to attend certain types of emergency calls in their area. Their goal is to reach potential life-threatening emergencies in the first vital minutes before the ambulance crew arrives.
Adrian Cassidy, Keady First Responders Volunteer said: "We are absolutely delighted to have been selected as a recipient of this donation which will buy vital equipment and undoubtedly help to save lives. We have responded to 114 calls from people in need in the local area, demonstrating the importance of our service. We would like to say a huge thank you to Centra for supporting us and helping people in our community".
Jennifer Morton, Centra Brand Manager, added: "At Centra, we choose community. We launched this fund in order to give back to the neighbourhoods in which we operate and show support at a grassroots level. I am thrilled to see Keady Community First Responders as one of the five recipients of this fund. We hope this money will help them to continue their important and life-changing work."
Community groups The Hygiene Bank Moira, Craigavon Lakers Wheelchair Basketball Club, Hands That Talk and St Matthews GAC Drumsurn have also been awarded Choices grants.
The £5,000 Centra Choices Community Fund was launched by the leading convenience retail brand as part of the Centra Choices campaign, celebrating the choices that define us. The campaign focused on four behaviours that promote happiness in ourselves and others – Positivity, Kindness, Respect and Attitude.
Applicants for the grants had to demonstrate how their group benefits the wider community and how their work aligns with one of the four behaviours celebrated in the campaign. With five individual pots of £1,000 available, Keady Community First Responders were selected from more than 150 applicants.
Sign Up To Our Newsletter