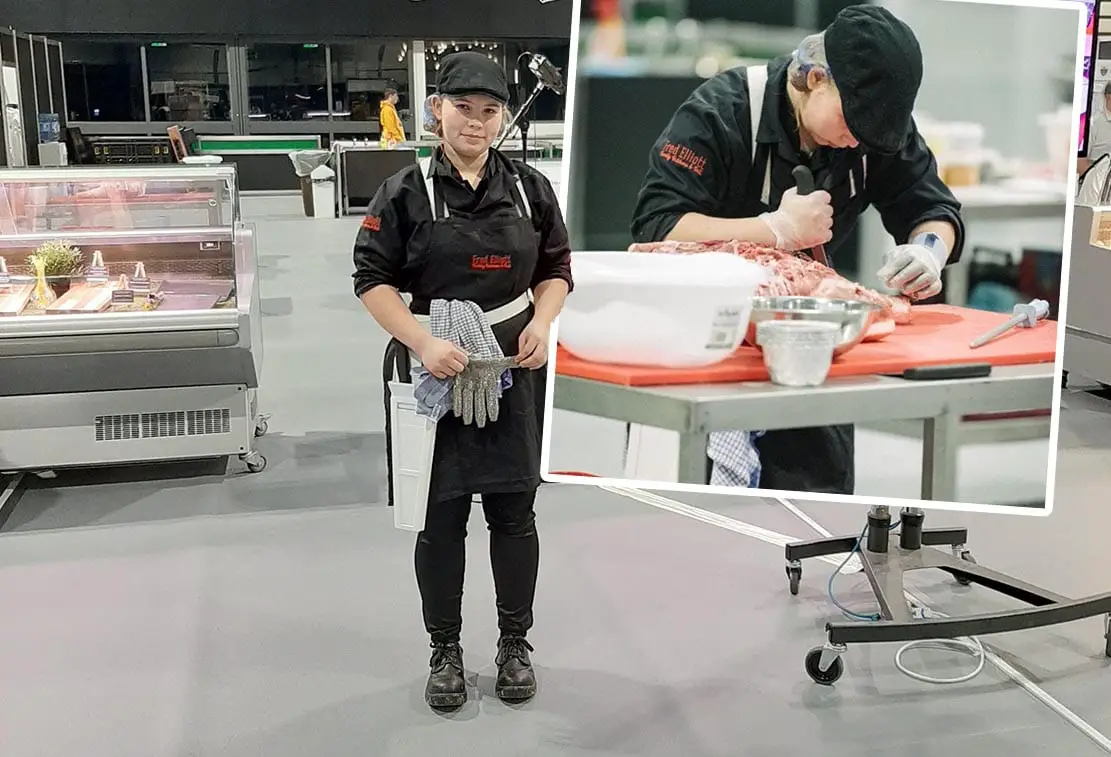 Meet the Co. Armagh teenager who is proving that the world of butchery is not a 'closed shop' for women.
Codie Jo Carr, from Keady, is already making waves in the meat industry and was head hunted by Fred Elliott's in Banbridge, after competing at the Butchery WorldSkills UK Competition final.
Speaking to Armagh I, the 18-year-old SRC student said she has always known from a young age that she wanted to have a career in food.
"My favourite thing to get creative with was food and I think that is what inspired me in that way," she said.
"I tried cookery throughout High School and did a course at GCSE; I did like it but it just wasn't for me, so in the second year of my GCSE, I did a week's work experience and tried a butchers in Markethill, at the JD Hunters counter.
"I really enjoyed it; a few months later a job came up there and I applied for a part time position and I've loved it ever since."
Codie quickly picked up the tricks of the trade and found that she was a deft hand with the cleaver.
"It did come quite easy," she said, "but my ones also have their own business; its a wholesale retail business with raw foods, and with working with mummy and daddy it just came more naturally to me.
"They didn't start the business until I nearly finished primary school, but even before that I would always had been at my auntie's house, she would always be baking and trying out new things just for fun".
Codie says that her favourite part of butchery is coming up with something new and different when cutting meat.
"There is an art to cutting meat and it is all about catching customers' eyes", she said.
Codie was one of six butchers from across the UK who competed in the Butchery WorldSkills UK Competition final at the NEC Birmingham at the end of 2019.
She said: "After the Glasgow heats, I was sort of headhunted for it; they liked what they seen and they offered me a job.
"I went for it because it was a butcher's shop as opposed to a supermarket counter; I did learn a lot from Hunters but I am learning a lot from Fred, in a way it is the same but different, if that makes sense."
Butchery is seen as a male dominated industry, but Codie says there hasn't been any closed doors for her.
"If you are willing to put the work in, work hard and not be lazy about it, anything is open to you. It does not matter about your gender."
Speaking about what is next, the Co. Armagh teen has high hopes and aspirations for the future.
"I am in my last year of level two qualification, then I will go into level three, a few years down the line I would like to open my own butcher's shop and, if that goes well, I might even open my own restaurant.
"I've plans to travel a bit before I settle down, and any shop would be in the Armagh area, but I am really excited to travel the world and learn other skills from different places."
It's safe to say, Codie is a cut above the rest!
Sign Up To Our Newsletter